Analysis
ALDS Preview: White Sox vs Astros
An ALDS preview and prediction for the White Sox vs. Astros matchup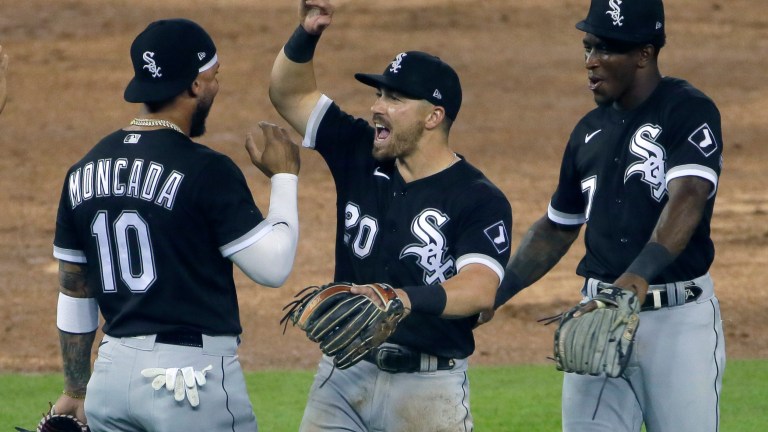 All everyone is talking about is Yankees/Red Sox, Dodgers/Cardinals, the Giants somehow finishing with the best record in baseball, and blah, blah, blah. But this one, folks, is the series to be watching: One of baseball's most exciting and diverse rosters versus, arguably, the biggest supervillain in North American sports over the last two years.
That's right, folks, it's the Chicago (who didn't tank like its crosstown rival) White Sox taking on the Houston (who didn't ever actually apologize for their crimes, really) Astros in the ALDS.
In a lot of ways, it's not that surprising to see either of these two teams here. Heading into the season, the White Sox were already expected to make a leap after an encouraging 2020, and then they added both Liam Hendricks and Lance Lynn to bolster their pitching staff. On top of that, they're lit, which is perhaps the most important factor in all of this.
On the other end of the spectrum, the Astros felt like a team that — due to their genuine villainy and people's insatiable appetite for dunking on them and getting easy Twitter engagement — people didn't want to accept as being a genuine contender. Well, who's laughing now?
The Astros obliterated their competition en route to the second-best record in the American League trailing only the Tampa Bay "They Will Literally Always Find a Way to Be Good" Rays.
Despite it not garnering as many headlines, this is easily the series I'm most curious to watch play out in the first round of this year's playoffs. Are the Astros due for more karmic retribution? Are the White Sox a fraudulent team whose record was inflated by playing in a bad division? Are we sure the Astros rotation can hold up in a playoff series? Are we sure the White Sox are consistent enough? Let's break it down.
Pitching: Dynamic White Sox Rotation vs Steady Astros
In theory, the White Sox should have a tremendous advantage when it comes to pitching in not just this ALDS matchup, but the entirety of this year's American League playoffs. Lucas Giolito, Lance Lynn, Carlos Rodón, and Dylan Cease are about as dominant a starting four (pour one out for my guy Dallas Keuchel, the homie is quite simply washed) you're going to get absent the Dodgers.
Sure, if you consider there were some Cy Young-level expectations for Giolito heading into the season, you might think his 2021 was a bit of a disappointment; for the first-half (4.15 ERA), you'd be right. But in the second-half, Giolito pitched to the tune of a 2.65 ERA, which is obviously a lot better. His strikeout rate took a dip from his previous two seasons, but he's balanced it out by posting his lowest walk rate since 2017 (7.1 %).
But really, Giolito isn't exactly the star of the show here; that honor goes to either Cease or Rodón. The former secretly has some of the best swing-and-miss stuff in the game, finishing fifth among all qualified pitchers in strikeout percentage (31.9%) and second in K/9 next to the definitely-not-human Corbin Burnes. He's certainly not as good as some of the other top-tier aces in the league, giving up some big hits and being in the bottom percentiles for barrel rate and exit velocity, but at just 25-years-old there's plenty of reason to be optimistic.
As for Rodón, the former No. 3 overall pick was arguably an even bigger breakout star in 2021, notching a 4.9 WAR in 132.2 innings pitched.
If you're a romantic about a baseball, there's something special about this Sox rotation. Both Rodón and Giolito are perhaps the premiere examples of late-bloomers among top-tier starting pitcher prospects (Kevin Gausman being another). Plus, you've still got Lance Lynn there as well, so if there's going to be a rotation, on paper, that can help mitigate the damage of the Astros wrecking crew, it's the White Sox.
But don't let that give you the idea that the Astros are eons behind when it comes to their staff. Despite the predictable decline of Zach Greinke, the Astros have an assortment of guys whose names don't jump off the page, but get the job done in Lance McCullers Jr. (finally healthy!), Framber Valdez, José Urquidy, and Luis Garcia. They don't have a guy that gives you the feeling of being a sure-fire ace, but they don't have a starter that feels like a liability. In a way, they have a motley crew of pitchers that simply deliver the technical term of a quality start (6 innings, 3 runs or less) and let their bats do the rest of the talking.
But then there's the bullpen, which is where things get interesting. You'd think that a pen featuring Liam Hendricks, Craig Kimbrel, and Michael Kopech would be dominant, but the latter of the bunch haven't been as dominant in the second half.
Kimbrel, who enjoyed an improbably epic career revival while with the Cubs (0.49! ERA!) has struggled mightily in 24 appearances with the White Sox to a tune of a 5.09 ERA. It's reasonable to have expected some regression, but it's concerning all the same. Outside of Hendricks, there aren't many arms that you particularly trust, which goes goes the same for the Astros, who rely heavily on closer Ryan Pressly. They acquired Kendall Graveman at the deadline (a move that, apparently, almost caused WW3 in the Mariners locker room), which initially was a disaster (4.91 ERA in August) but his numbers evened out and haven't been nearly as dreadful as Kimbrel's.
I always find it odd when teams that struggle with relief pitching are, near inexplicably, unable to make enough moves at the trade deadline for relievers. But then again, the White Sox trade for Kimbrel is the epitome of how volatile the position is, so maybe that's something I need to remember every time I ask myself that question.
A lot of this series may depend on whether or not guys like Kopech and Kimbrel deliver; it's not inconceivable that, in the bright lights when things actually matter, Kimbrel pitches like the high-end reliever he's been for the better part of the decade.
If that doesn't happen, then a lot of this series could come down to how quickly the Astros bats can hit the White Sox starters out of the game. Just go ask Yankees fans about how fun it is when their ace gets shelled after only 2 innings!
So while I have to give the advantage to the White Sox here, it is worth nothing that I could see a scenario in which the White Sox lack of true competition in their division could be inflating the numbers of their supposedly dominant rotation. In an effort to end this section in the most cliché way possible I'll say: only time will tell.
| | | | | |
| --- | --- | --- | --- | --- |
| WHITE SOX | 3.80 ERA (7TH) | 3.94 FIP (7TH) | 7.3 WAR (5TH) | 4.03 Bullpen ERA (15th) |
| ASTROS | 3.94 (9th) | 4.33 FIP (12th) | 4.4 WAR (12th | 4.02 BULLPEN ERA (14th) |
*2nd half stats
Offense: Oft-Injured White Sox vs Superhuman Astros
I mean, isn't this part pretty obvious? The Astros are genuine world-beaters. They've gone scorched earth on the entire league — seemingly in an effort to spite all of the trash can bangers, proprietors of the Asterisk Theory, and Yankees/Dodgers fans — and are, quite easily, the most deadly offense in all of baseball. How deadly?
They ranked first in .AVG, first in .OBP, first in runs, ninth in HRs, and third in SLG%. Led by the probably-too-prideful Carlos Correa, the Astros offense is so stacked that even Jacob deGrom might (MIGHT) fear it if (IF) he was mortal (which he ISN'T, but you get my point).
Out of all the Astros batters that played in at least 100 games, only one player (catcher Martin Maldonado) has a wRC+ that's lower than 100, while five of them have a mark above 130. Whether it's the barrels king in Yordan Alvarez, or the perpetually underrated Michael Brantley, the Astros come at you like a rhinoceros.
Plus, these numbers might've been better if Alex Bregman were healthy all season (only 91 games played), but even still you can't undervalue what he could bring to a postseason series regardless of what his output of the regular season was. And, as a little treat, they're also a stellar defensive team with the second-most defensive runs saved (78) in baseball next to the Cardinals (86).
The White Sox, meanwhile, have a talented, albeit discombobulated group. Suffice to say, the team has dealth with its fair share of injuries. Players like Yasmani Grandal, Luis Robert, and Eloy Jiménez all missed significant portions of the season, with the lattermost being the most infamous.
Even Nick Madrigal, who was eventually traded at the deadline as part of the package for Craig Kimbrel, was a decent piece. I actually think Nick Madrigal — while infamously having about the same amount of power as I would at the major league level — was the kind of player the Sox could've used in the postseason if not for suffering a season-ending injury early on. I could so easily imagine him being an annoying little punk type that grinds out at bats and makes his way on base somehow.
But even with all that, the White Sox still have a very capable offense, with players like the electric Tim Anderson, last year's MVP Jose Abreu, and Yoan Moncada proving to be genuine stars. Moncada, I'd argue, is one of the more underrated players in baseball. He reminds me a lot of how someone like, say, Justin Upton was viewed once upon a time, because a lot of people viewed him as a disappointment only because of how he felt short of sky-high expectations rather than appreciating what he definitively was: an extremely solid, and occasionally magnificent player. Not everyone needs to be an MVP quality asset to be valuable, just ask the San Francisco Giants (and more on them a little later).
But in the end, destiny still arrives. The Astros batters are just so complete, so tough, and so hungry that they get the clear advantage here. Plus, they're a team that's filled with veteran players that you don't really feel will completely poop their pants under the bright lights. They're hungry for blood and have been here before. The White Sox lineup may be more healthy now, but it feels like we're trusting their batters to perform based more on potential, rather than the output they've already displayed this season.
| | | | | | | |
| --- | --- | --- | --- | --- | --- | --- |
| WHITE SOX | 796 Runs (7th) | .444 SLG%(3rd) | .339 OBP (1st) | 109 wRC+ (3rd) | 25.3 WAR (6th) | -39 DRS (26th) |
| ASTROS | 863 Runs (1st) | .422 SLG% (10th) | .336 OBP (3rd) | 116 wRC+ (1st) | 33.9 WAR (1st) | 78 DRS (2nd) |
Prediction
If, like me (cool), you buy into the idea of a narrative, this series is chock full of them. Often times in sports, we assume that the younger, inexperienced team isn't going to show up until they actually do. The White Sox could very well announce themselves to the baseball world, with their swagger and raw talent leading the way despite not having been all the way together.
But then, there's the Astros side of things, which could revolve around a team with a true chip on its shoulder announcing "Just because of the scandal doesn't mean everything we did doesn't count/was a fluke; we're coming for EVERY.SINGLE.ONE.OF.YA'LL, and collecting the heads of the doubters and displaying them in a trophy case like we're The Predator" to the baseball world.
I see it going either way, and perhaps it's because the former of those two options seems a lot more pleasing that I'm siding with the White Sox in this one. I understand the criticisms; I literally had to scour FanGraphs and [shudders, tears streaming down face] MLB.com for info before writing this.
The White Sox are 27-29 against teams with a record above .500, and went 2-5 against the Astros during the regular season. Meanwhile the Astros have the best record in baseball against teams with a record above .500. It's rare that teams that don't perform against the best advance far, let alone win a World Series (the 2014 Giants were the last team to do it), so history isn't exactly on their side.
But, true believers, I don't care. The White Sox roster feels more balanced, and just a tad more complete than that of the Astros. Often times, up-and-coming teams have their first signature win before everyone officially takes them seriously. Things change in the postseason — they slow down to a halt, occasionally feeling like you can hear your own heartbeat — so while on paper the Astros should probably take this series, anything can happen.
Heck, if you told someone ten years ago the Dodgers would only finally win a World Series in a truncated 2020 season and suffer a bevy of heartbreaking losses, they would've sent you to Arkham Asylum. Who's to say White Sox/Astros will be any different?
White Sox in five, and don't be surprised if we get some of the most memorable plays of the entire postseason in this one.