Analysis
Juan Soto is Carrying the Padres Offense, But Will it Be Enough?
Since the start of May, Juan Soto has finally gotten red-hot in a Padres uniform. The problem is it isn't helping them much in the standings.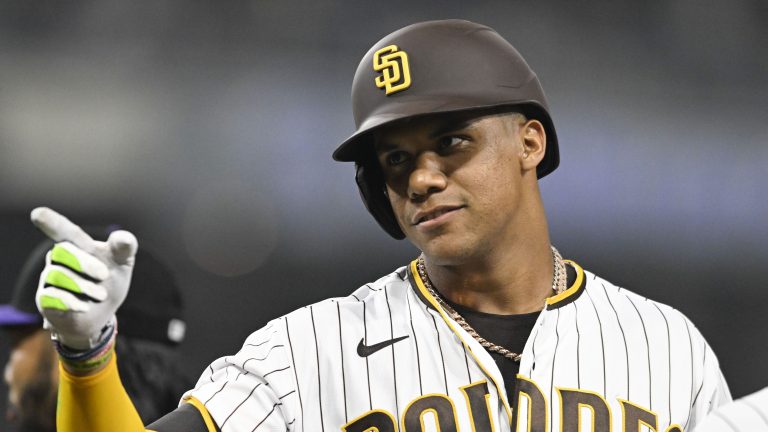 We've gone from oh no, Soto, to yo ho-ho, it's Soto! Apologies, but it feels like an Actually Good nickname/pun for Padres outfielder Juan Soto is right in front of me, I just can't quite see it yet. That'll have to do for now unless I think of something better over the course of writing this.
In terms of Soto himself, though, the young superstar is in the midst of his own apology in the form of playing a WHOLE lot better after a poor start to the 2023 season. 
There was some worry, understandably, about Juan Soto after he started the year slashing just .202/.373/.384 with a 115 wRC+. Not the worst numbers, but a far cry from what has come to be expected from a superstar of his stature, especially with a multi-year sample size of awesome production on his resume.
He'd been channeling Eric Hosmer — a requirement of every Padres player, apparently — hitting fewer fly balls (his infield fly-ball rate, the not-great one, is up from his career norm of 7.6% to 10.3% with the Padres) and line drives in favor of hitting it into the dirt. This was not ideal. And he, much like his teammates, was incapable of hitting with runners in scoring position. 
But even when things were going poorly, Soto's hard-hit rate and plate discipline remained excellent (especially the latter, where his outside-zone swing percentage of 19% trailed behind just Connor Joe and Mookie Betts). Perhaps this means his torrid stretch in May should've been expected, but it's still joyous to experience anyways.
Since May 1st, Soto is slashing an immaculate .346/.485/.679 to pair with the fourth-best wOBA (.486), fourth-best wRC+ (213), and tied for the best fWAR (1.6) among all qualified players.
Evidently, he seems to have overcome whatever kind of batting order or pitch clock issues that might've been responsible for his mojo being so down the first month.
However, that doesn't mean all of Soto's issues have been solved and can be shoved back into a storage locker and dealt with, either. Juan Soto's tenure in San Diego still has three separate issues to go with it.
The first is something that can be illustrated with his overall output with the Padres being worse than his career averages.
For his career, Juan Soto sports a .285/.424/.525 slash line to go along with a 153 wRC+ that is, in a word, remarkable. In the 103 games he's played with the Padres since the trade, he's rocking a .251/.405/.451 slash line with a 144 wRC+.
It's certainly not bad, but it's a reminder that it's worth looking into why seemingly every major player the Padres have brought over has gotten worse. Or, more interestingly, why no player seems to get better. Is it the confines of Petco Park? Maybe.
But it's possible there needs to be some soul-searching done in the front office for why this consistently keeps happening, with some exceptions being Manny Machado and Joe Musgrove.
The second issue is Soto's defense. Anyone who watches Padres games will notice how consistently flat-footed he is in the outfield, looking like a tree that suddenly gained sentience and isn't fully aware of where it is.
He doesn't make great jumps, fumbles the ball like a game of hot potato, and makes mistakes that are only minimized thanks to the Padres' overall excellent defense at other positions.
After his poor showing last year, Soto has followed that up -5 defensive runs saved and an outs above average mark of -1. 
If Soto is going to be an MVP-caliber player — as he favored to be in odds and statistical projections prior to the start of the season — he needs to iron out this part of his game.
The last issue is perhaps the most important. While this conflicts with the jumbling of words you've read up until now, most of the complications with Soto don't have as much to do with his on-field play. He's a fantastic player, even with his defensive miscues and overall lesser output with the Padres.
The real problem is, despite the rebound, it hasn't exactly amounted to more wins for this Padres ball club. Currently fourth in their division with a 24-27 record, they've been unquestionably the most disappointing team in the league.
But let me be clear before that's misconstrued as a Chris "Mad Dog" Russo zero-research type of take: this is not Juan Soto's fault. Baseball simply isn't a sport designed to highlight team wins as part of what makes an individual player great. The Soto trade is, in a vacuum, more than fine.
The problem is that once you exit that vacuum and take a glance at just how many trades the Padres have made over the years, it looks a lot more ruinous. Their once-treasure-trove of prospects looks more like a halfway-depleted pack of Trident gum (nothing particular against Trident, just happens to be what's next to me while I'm writing).
The Padres traded away not just assets, but their flexibility, with the Juan Soto trade. 
Coupling that with extensions to Manny Machado, Yu Darvish, and Jake Cronenworth gives the team's future nary an ounce of wiggle room. The moves the Padres are adding up, and while it can be expected that wheeling-and-dealing king AJ Preller will try to make some moves at this year's deadline — his history shows that he simply can't help himself — there may not be much they can do.
Knowing now that the Padres were prepared to spend on a free agent of Xander Bogaerts' stature, are we sure that the Soto trade is still something you'd do again if given the chance?
The on-field value is clearly — and I can't emphasize this enough, CLEARLY — there, but in the context of the Padres his presence feels like an avatar for questionable team-building strategies. 
Juan Soto has been on fire, and may very well earn himself an MVP finish — or, at the very least, something close to it — but in the context of this Padres team it might not even matter.