Analysis
Arizona Diamondbacks Trade Deadline Outlook
Christian Walker and All-Star Joe Mantiply headline a short list of viable trade chips the Arizona Diamondbacks have to sell at the deadline.
The Arizona Diamondbacks once again find themselves at the bottom of the NL West standings with a 40-52 record. While there's plenty of prospects to be excited about in the future, the Diamondbacks still have to go through some growing pains.
Arizona lacks the high level veterans many rebuilding teams trade at the deadline. Their options profile more as depth and fall back options than a contenders missing piece. With another lost season in the books, Arizona will be looking to ship their few assets out and continue their rebuild.
Christian Walker – 1B
2022 Stats: .207/.321/.466, 22 HR, 45 RBI, 117 wRC+
Potential Fits: Brewers, Mets, Red Sox, Rays, Padres
After bouncing around the league to begin his career, Walker has found a home in Arizona. The slugging first baseman brings plenty of power and patience to the plate. In 2022, his 13.4% walk rate and 19.2% strikeout rate are both career highs.
There's no doubt Walker hits the ball hard, but it is often home run or nothing.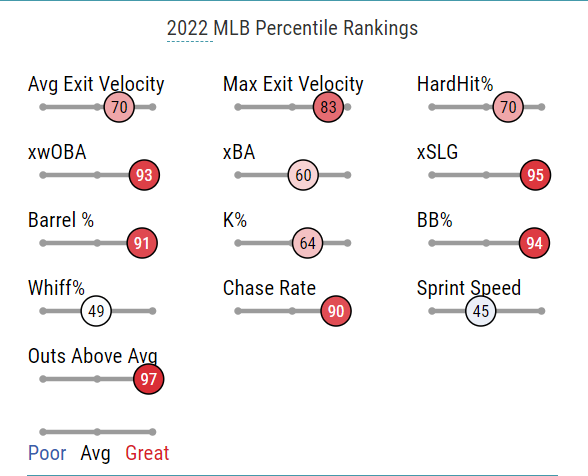 Walker is only due $2.6 million in 2022 and is under team control through 2024, his age-33 season. One think Walker does well is hit lefties. A slash of .293/.400/.587 would make for a nice platoon situation at first or DH. Any team looking for some extra pop in their lineup would happily welcome Walker and his 22 home runs.
An acquiring team will not have to trade away a top-five prospect for Walker. A mid-tier prospect and back-end of top 30 type might do the trick. Maybe even less with the depth and strength at first base across the league. The Diamondbacks should look to capitalize on his big year while also getting a young option as a replacement.
Merrill Kelly – SP
2022 Stats: 8-5, 3.36 ERA, 1.22 WHIP, 104.1 IP, 84 SO
Potential Fits: Twins, Phillies, Brewers, Cardinals
After looking like a Cy Young pitcher to start the season, Kelly had returned to earth recently. The 33-year-old starter does not bring high velocity or strikeout numbers to the rotation. Instead, Kelly relies on limiting hard contact and trusting his defense. His profile and production match a number four or five starter, and not a top three option.
Any team interested in Kelly will be acquiring him not only for 2022, but for the future. Kelly's contract carries an $8 million salary in 2023 and 2024 with a $7 million option for 2025, his age-36 season. That number is around the same as Jordan Lyles, Wade Miley, and Jake Odorizzi. I'd say Kelly is a better option than many free agents in that price range making him worth acquiring.
With starting pitchers on reasonable contracts being difficult to come by, Kelly should have a decent market. More contenders are looking for higher level starters, and could either settle on Kelly or go with a rental option. Perhaps a deal involving Kelly is more likely in the offseason.
Joe Mantiply – RP
2022 Stats: 1-2, 2.27 ERA, 0.98 WHIP, 35.2 IP, 37 SO
Potential Fits: Mets, Mariners, Astros, Twins, Red Sox
If you do not know who Joe Mantiply is, we have you covered. The crafty lefty has experienced career-highs across the board, dominating lineups without using much of a fastball. Mantiply relies on movement and soft contact to limit damage, surrendering only a single barrel all season. He also does not walk batters, making him an attractive southpaw for the back of a contenders bullpen.
Mantiply, 31, comes with a cheap contract and years of control. Due to his lack of track record, Mantiply could come at a cheaper cost than other bullpen options around the league. The Diamondbacks will look to cash in on Mantiply's unlikely year and flip him for younger players with a higher upside.
The return will not shoot the Diamondbacks system up prospect charts. However, getting a pair of young prospects with tools is usually a good return for a bullpen option. The Diamondbacks will continue to stockpile assets as their rebuild is still a couple of years away from true contention.
David Peralta – OF
2022 Stats: .235/.301/.435, 11 HR, 37 EBI, 99 wRC+
Potential Fits: White Sox, Mets, Guardians, Rays, Yankees
The veteran outfielder has been with Arizona since 2014. Throughout his career, Peralta has been a solid hitter who's shown some pop at times. He's no longer a .290 batter, but can provide some depth to an outfield. The advanced metrics, such as his .345 wOBA and .265 xBA, show that Peralta could be a better option than the surface stats show.
Peralta is in the final year of his contract earning $8 million in 2022. Due to his age and declining production, it is hard to see him as more than a rental. A veteran lefty bat off the bench who's shown decent pop often has a place on a contenders roster. Again, not a high level return but getting anything for an expiring contract at his age would be a win.
Jordan Luplow – OF
2022 Stats: .182/.272/.448, 11 HR, 23 RBI, 96 wRC+
Potential Fits: Mariners, Angels, Dodgers, Yankees, White Sox
Luplow will not put a contender over the top. The outfielder struggles against righties but holds a career .240/.352/.549 slash line against lefties with 31 home runs. In 69 at-bats against lefties in 2022, Luplow is slashing .217/.313/.594 with eight home runs.
His profile is very straight forward. Power and patience against lefties. There is not much else to his game, making his the lesser side of a platoon option. Because of this, the price to acquire Luplow should not be very high. A lesser top 30 prospect prospect or interesting minor league bullpen arm likely gets the deal done.
With such few trade deadline assets, Arizona needs to trade Walker, a player some think they should keep. Finding a power option at first base is typically somewhat easy to find. With the amount of questions surrounding the Diamondbacks lineup and rotation going forward, adding to the farm seems like the smart move.