News
Alek Manoah Finds His Rhythm in Strong Showing for Double-A Fisher Cats
Struggling Blue Jays starter Alek Manoah had a good outing at Double-A, striking out ten in five innings of one-run ball.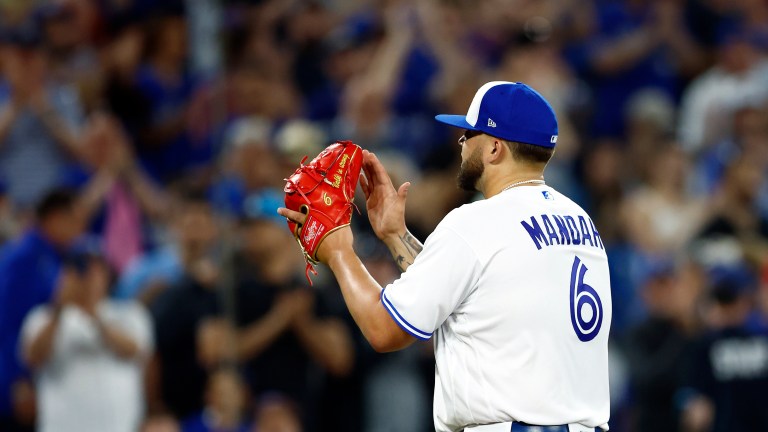 Alek Manoah's quest to return to the big leagues took a turn in a positive direction yesterday, as the Blue Jays right-hander made his first-ever start in Double-A for the New Hampshire Fisher Cats. He performed well, going five innings and allowing just one earned run.
The Florida product would finish the game with three hits, three walks and one hit batter on record, while also striking out ten. Two of his K's came against the Red Sox's third-ranked prospect Nick Yorke. Manoah posted a 57.3% strike percentage across 82 pitches and generated 13 swings and misses on the day, while also hitting the mid-90s with his fastball.
Speaking to Sportsnet's Shi Davidi following the outing, Manoah discussed his progress on the mound: "The biggest thing I've learned through this whole thing is that you can kind of get down on yourself, you can think you're not good, you can get emotional about it, but nobody cares. Just got to go out there and compete, and when your back's against the wall, don't lay down. Just keep fighting."
A Long Road for Manoah
It's been a long road for the right-hander this season. Manoah started the year as the Jays' Opening Day starter and found himself in the Florida Complex League by early June, amassing a 6.36 ERA and 6.5 BB/9 through 58 innings at the MLB level. He struggled to keep the ball close to the plate, especially with his slider, and opponents were able to wait him out and capitalize as he tried to battle back into favorable counts.
His first start in the FCL didn't go smoothly either, as Manoah allowed 11 earned runs off of ten hits across 2.2 innings, which included two home runs and four extra-base hits on the day.
This brought critics out in droves, as the former Cy Young finalist and vocal personality was shelled in an outing against batters that are just beginning their professional careers. Fans and others also came out in droves to support him, including former Blue Jay starter Marcus Stroman, who coincidently wore the same number #6 jersey as Manoah during his days in Toronto.
The move to the FCL may have been confusing for some, but the demotion to Florida was calculated, as the club's Player Development Complex is located in Dunedin.
Manoah went to the minors for more than just a few outings away from the big league stage. His demotion gave the training staff a chance to look over and revamp his entire game plan in the so-called 'pitching lab' at the newly renovated facility. A player known for gritting his teeth and grinding it out was now being told to do the opposite, in a move similar to what the Jays did with eventual Hall of Famer Roy Halladay back in early 2001, when he too was struggling mechanically.
The 25-year-old had some positive things to say after his latest start:
"Being able to figure everything out and understand that there are a lot of people that are rooting for me, having a great support system around me, and also understanding there are a lot of people that like to kick me when I'm down. And that's good because that means a lot of people want to see me down and that means they don't want to see me come back up. And I'm ready to come back up. I'm ready to be a tiger. I'm ready to be a horse on that mound and I'm ready to help our team win, you know?"

Alek Manoah, following his first career outing at Double-A.
Looking ahead, there is still no real timeline for when Manoah will be re-joining the Blue Jays; the organization likely wants to try and build on his solid first outing at Double-A (he went right from Single-A to Triple-A following the canceled 2020 season). While the rush isn't there, the club will hopefully have him back sooner than later, as the Jays look to try and capture another postseason berth in a crowded AL East division.