Analysis
ALDS Playoff Preview: Texas Rangers vs. Baltimore Orioles
Two teams who broke long playoff droughts with their best regular seasons in years will now square off in a high-powered ALDS matchup.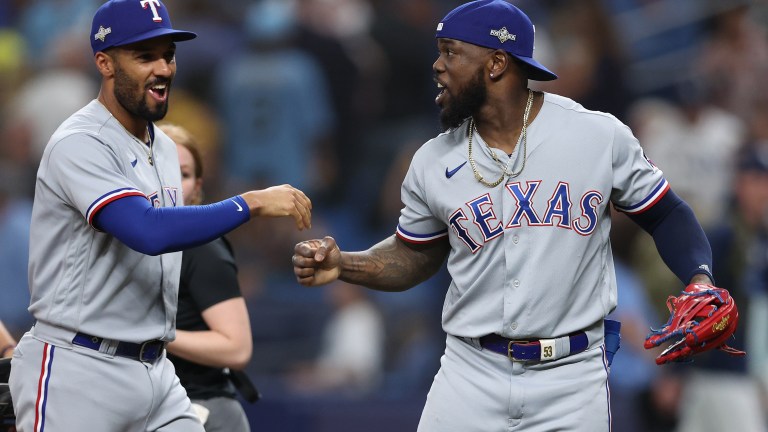 With the Rangers' sweep of the Rays wrapping up, we look toward the ACLS now with the Rangers set to travel to Baltimore for a best-of-five series. Both teams are in the playoffs for the first time in a while and looking to make a deep run which starts in the division series.
Texas comes in smoking hot after dismantling a 99-win Rays team that many expected to take the series and set up a divisional matchup in the next round. With Texas not only raking on offense, like they have all season, but limiting the Rays' offense behind Jordan Montgomery and Nathan Eovaldi, the Orioles have a tough opponent ahead of them.
Baltimore has had plenty of time to rest and prepare for this series after earning the top seed in the American League with an excellent season, one of the best in franchise history.
The Orioles roster is filled with youth and their pitching has exceeded all expectations when the offense was assumed to be their strength.
This series should provide plenty of excitement with talent all over the field and the energy at an all-time high among these fan bases.
The Season Series: 3-3 Tie
The last time these teams matched up, things looked very different for both rosters. After facing off in Texas during the second series of the season in April, they played once more in late May for the last time this year.
The Orioles took the first series but the Rangers bounced back to win the second one with each team winning three games total. The matchup was fairly even but it's hard to gauge how the teams stack up given the change we have witnessed among numerous key players.
April 3-5 (Orioles won 2-1)
April 3rd: BAL 2, TEX 0
April 4th: BAL 7, TEX 2
April 5th: TEX 5, BAL 2
May 26th-28th (Rangers won 2-1)
May 26th: TEX 12, BAL 2
May 27th: TEX 5, BAL 3
May 28th: BAL 3, TEX 2
One of the most notable games was when the Rangers put up nine runs in less than four innings against Grayson Rodriguez, which prompted Baltimore to send their young pitcher back down to Triple-A after a brutal start to his career through the first two months.
With that being said, it's safe to say that start can essentially be disregarded given that Rodriguez has been an entirely different pitcher since being recalled in July and will be a staple in the Orioles' rotation for many years to come.
Andrew Heaney put together a quality start in the game following against the Orioles, which is interesting to note because the Rangers are still missing Jon Gray and Max Scherzer from their rotation and may need to turn to the left-hander for a start.
Meanwhile Kyle Bradish helped the Orioles avoid the sweep in their last matchup of the year as he began to cement himself as the ace of the staff this season. Bradish took his game to the next level this year and will be in line to start the first game of the series and potentially a winner-take-all game five if it comes to that.
Projected Pitching Matchups
Nothing has been officially announced from either side regarding the starting pitchers, but this is what seems most likely based on what we saw throughout the season from both rotations. These could all change based on the results of games.
ALDS Game One: Dane Dunning vs. Kyle Bradish
Saturday, October 7th, 1:03 P.M. ET
The aforementioned Kyle Bradish seems likely to open the series for the Orioles as he comes into the playoffs red-hot after finishing the year with a 2.83 ERA as the leader of the staff. The Rangers won't have either of their co-aces available with both of them playing a pivotal role in their sweep of the Rays.
It seems like Dunning and his 3.70 season ERA is most likely to start the game, but he could get a short hook with a rested bullpen and some off-days to play with in this five-game series.
With their home crowd amped for the first playoff game in Baltimore in some time and their ace on the mound, the Orioles enter this game as clear favorites. The Rangers offense is scorching though and left-handed star hitters Corey Seager and Evan Carter will try to make a difference against Bradish who has struggled more against lefties.
ALDS Game Two: Jordan Montgomery vs. Grayson Rodriguez
Sunday, October 8th, 4:07 P.M. ET
Grayson Rodriguez was one of the most exciting pitching prospects in baseball entering the season and while it didn't start well at all, he's going to be massive part of their playoff run.
The Orioles could opt to go with veteran John Means, who has been impressive since returning but Rodriguez seems like the second-best starter on the roster right now. In his last seven starts of the season, Rodriguez had a 2.20 ERA in 41 excellent innings of work.
Considering how well he pitched in the Wild Card round, there is no chance the Rangers won't use Montgomery as soon as he's ready to go. He was unbelievable in so many ways in the first game against a good lineup in Tampa, really setting the tone for that series.
Available to pitch on full rest, Montgomery would be in-line to start Game 2 and Game 5 of this series if it were necessary.
This matchup is a true battle of veteran stability against young firepower, which represents many elements of this series well. The edge goes to the Rangers slightly given Montgomery's recent performances but Rodriguez could very easily turn in an electric start and lead the way to a victory.
ALDS Game Three: Nathan Eovaldi vs. John Means
Tuesday, October 10th, 8:03 P.M. ET
If the Orioles go with their young star in the second game of the series, it seems like John Means could be the option for the Orioles.
One of the few players around when Baltimore was one of the worst teams in baseball, Means settled in since returning from Tommy John Surgery late in the season. He finished with a 2.66 ERA in his four starts in September and looks a lot like his former self who led the Orioles staff for a few seasons.
Nathan Eovaldi was dominant during much of the season but struggled down the stretch after recovering from an injury. That did not matter this past week as he led the Rangers to their series-clinching win with nearly seven innings of excellent work. He's the co-ace alongside Montgomery for the time being and will be deployed either in game three or game four.
This pitching matchup would be an exciting one between two veterans who have dealt with injuries but will be trusted by their teams to put together a quality start.
ALDS Game Four (If necessary): TBD vs. TBD
Wednesday, October 11th, TBD
Game four would present a challenge to both teams and the pitching matchup would depend on which team was in position to clinch at this point. It seems like veteran Kyle Gibson would be the most likely choice for Baltimore but Dean Kremer could be an option as well. This would become more of a bullpen game than anything else in Baltimore with one of those two pitchers being the bulk arm on a short leash.
The Rangers could have many options from Dunning to possibly using Heaney or Martín Perez as an opener. None of these arms are a surefire quality start but have all been great at different times this season or last.
ALDS Game Five (If necessary): TBD vs. TBD
Friday, October 13th, TBD
Game five in this series is something that would be beyond electric for the entire baseball world. The matchup would certainly be Bradish against Montgomery with both teams ready to utilize the entire bullpen in order to advance to the ALCS. If this happens, legitimately anything could happen.
Lineup Comparison
The Rangers have slugged their way through the season all year and the Orioles have a consistent young offense that seems to come through every time they need to do so.
Texas proved just how dangerous their lineup can be top-to-bottom in the Wild Card round with their stars producing and young players like Evan Carter delivering in big moments. Statistically, the Rangers have the edge in almost every offense statistics aside from stolen bases. But the Orioles offense is one that has a level of consistency and composure fit to make a run in October.
| | | | | | | | | |
| --- | --- | --- | --- | --- | --- | --- | --- | --- |
| TEAM | AVG | OBP | SLG | OPS | wRC+ | HR | BB | SB |
| Orioles | .255 | .321 | .421 | .742 | 105 | 183 | 512 | 114 |
| Rangers | .263 | .337 | .452 | .789 | 114 | 233 | 599 | 79 |
We have seen that the Rangers will go as far as Corey Seager, Marcus Semien, Adolis Garcia, and Evan Carter can take them, but who will be the difference-makers for the Orioles?
Obviously, Gunnar Henderson and Adley Rutschmann are the young faces of the franchise, but veterans Cedric Mullins and Anthony Santander will be necessary offensive pieces for the Orioles to keep up with the loaded Rangers lineup.
The Rangers will ultimately live and die by the offense, but the Orioles have the ability to maintain pace in their first playoff opportunity since rebuilding their entire core. It will be interesting to see which young players come through when the lights shine bright in Baltimore.
Bullpen Comparison
Coming into the postseason, the Orioles' biggest advantage over the Rangers was their bullpen, which has been consistently strong all season as opposed to Texas. However, Felix Bautista is now out for the season and likely all of next with Tommy John Surgery. But the Orioles still have a clear bullpen advantage with Yennier Cano and a variety of other arms ready to go.
Furthermore, the Orioles have a few starter-type pitchers in Jack Flaherty and Tyler Wells who could be great multi-inning options if starters get in trouble.
The Rangers bullpen was not tested much in the Wild Card series and will need to continue to perform following the lead of Jose Leclerc and Aroldis Chapman. The Rangers figuring out who they can rely upon past those two will be crucial in this series.
| | | | | | | | | |
| --- | --- | --- | --- | --- | --- | --- | --- | --- |
| PITCHER | IP | K/9 | BB/9 | GB% | ERA | XERA | FIP | XFIP |
| Yennier Cano | 72.2 | 8.05 | 1.61 | 58.0% | 2.11 | 3.23 | 2.84 | 3.01 |
| Danny Coulombe | 51.1 | 10.17 | 2.10 | 43.7% | 2.81 | 3.04 | 2.83 | 3.46 |
| Cionel Pérez | 53.1 | 7.43 | 4.56 | 60.7% | 3.54 | 3.63 | 3.84 | 4.53 |
| DL Hall (as reliever) | 19.1 | 10.71 | 2.33 | 49.0% | 3.26 | 2.98 | 3.00 | 3.11 |
| Shintaro Fujinami | 61.1 | 10.13 | 4.84 | 39.5% | 5.14 | N/A | 3.88 | 4.51 |
Via FanGraphs
| | | | | | | | | |
| --- | --- | --- | --- | --- | --- | --- | --- | --- |
| PITCHER | IP | K/9 | BB/9 | GB% | ERA | XERA | FIP | XFIP |
| Aroldis Chapman | 58.1 | 15.89 | 5.55 | 47.7% | 3.09 | N/A | 2.52 | 2.59 |
| Will Smith | 57.1 | 8.63 | 2.67 | 29.6% | 4.40 | 3.23 | 3.36 | 4.30 |
| José Leclerc | 57.0 | 10.58 | 4.42 | 29.4% | 2.68 | 3.14 | 3.63 | 4.72 |
| Chris Stratton | 82.2 | 8.82 | 2.72 | 38.6% | 3.92 | N/A | 3.54 | 4.36 |
| Brock Burke | 59.2 | 7.84 | 1.36 | 38.6% | 4.37 | 4.13 | 4.90 | 4.12 |
Via FanGraphs
Baltimore will rely on their bullpen more heavily while the Rangers will look to get at least six innings out of Montgomery, Eovaldi, and even Dunning. The Orioles' depth in the bullpen could be what sets them apart if they're able to keep up offensively.
Series Prediction
After picking the Rangers against the Rays because of how much I valued their offensive depth, it feels wrong to turn my back. But the Orioles are a much better team in some facets than Tampa and I can't see their offense crumbling the way that the Rays did.
The starting pitcher advantage out of the gate will benefit the Orioles to start the series, but the Rangers' offense and co-aces set them up well in the second and third games. This series is too close to not predict going to five games and I think the Orioles could just be a year too soon still.
If Montgomery is on the mound, the Rangers' offense will do enough to send them to the ALCS.