Analysis
William Contreras Was the Ideal Offseason Addition for the Brewers
The Brewers acquired their catcher of the future this winter without taking a serious hit to their big league roster or minor league system.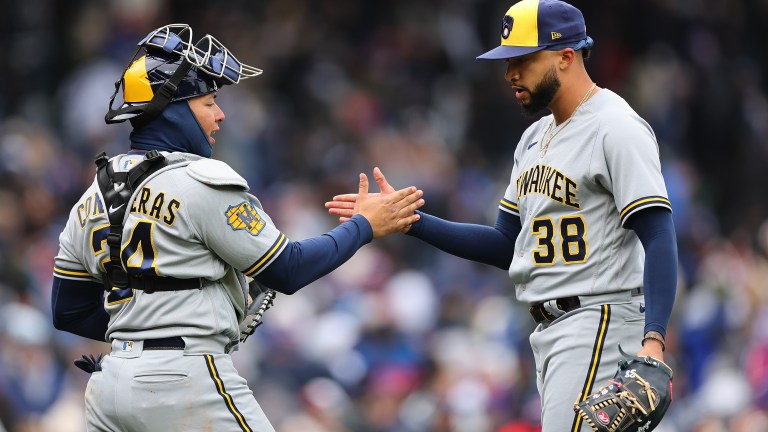 Back in December 2022, a blockbuster three-team trade occurred between the Oakland Athletics, Atlanta Braves, and Milwaukee Brewers. The Braves grabbed headlines, and rightfully so, for acquiring one of the more sought-after players of the offseason in catcher Sean Murphy. For a Braves team that was already one of the top dogs in Major League Baseball, they upgraded the catcher spot with one of the best at the position.
However, it was more than just the Braves who reaped substantial benefits from the deal. While the Athletics received a flurry of prospects in return for their star catcher, the Brewers also worked their way into the conversation. In doing so, Milwaukee significantly improved not only the outlook of their 2023 season but also the outlook of their catcher position for years to come.
Here is the full breakdown of the three-team deal that occurred on December 12th, 2022:
Team
Received:
Departed:
Atlanta Braves
C Sean Murphy
LHP Justin Yeager
LHP Kyle Muller
RHP Freddy Tarnok
C Manny Piña
RHP Royber Salinas
Oakland Athletics
OF Esteury Ruiz
LHP Kyle Muller
RHP Freddy Tarnok
C Manny Piña
RHP Royber Salinas
C Sean Murphy
RHP Joel Payamps
Milwaukee Brewers
C William Contreras
RHP Joel Payamps
LHP Justin Yeager
OF Esteury Ruiz
Both Atlanta and Milwaukee found themselves with a surplus of talent in certain areas on the roster and a positional need in another. In the end, both teams did an effective job of improving their club. So, what were the perspectives of those two teams that led to the eventual trade of William Contreras?
Atlanta's Perspective
For the Braves, they are in win-now mode. While William Contreras wouldn't necessarily hold them back from the goal of winning a World Series in 2023, Atlanta saw an opportunity to upgrade their catcher position with one of the better catchers on the trade market. Murphy, still just 28 years old, has the potential to be a building block for a championship contender.
With Atlanta having a surplus of both big league and minor league arm talent, they were in a luxurious position to make a deal come to fruition. With Murphy in the mix, Atlanta would no longer have a need for William Contreras, their 2022 All-Star catcher.
While Contreras possesses an explosive bat, he had kinks in his game that needed ironing out following the 2022 season. Being a more well-rounded and all-around polished catcher, Sean Murphy was a better fit for the Atlanta Braves moving forward. Sequentially, there happened to be an organization that was looking for an upgrade at the catching position that has historically excelled at developing backstops.
Milwaukee's Perspective
Milwaukee was rumored to be in the market for an upgrade at the catcher position in the offseason. Omar Narvaez was departing via free agency. This would leave Victor Caratini as the only established catcher on the big league roster.
As mentioned in the team's 2023 season preview, the Brewers were in a unique situation heading into the year. They were anticipated to be in the playoff mix come September, as they still retained several All-Star caliber talents on the team. They were also expected to see an influx of exciting prospects make their way onto the major league roster.
However, much of Milwaukee's youth resided in the outfield. Garrett Mitchell debuted at the end of 2022, and the Brewers appeared ready to move forward with Mitchell as their center fielder. Additionally, the organization already had exciting talent in top prospects Sal Frelick and Joey Wiemer, who, at the time, appeared to be ready for the majors. Add left fielder Christian Yelich into the mix, and it's clear this team had an excess of talent in the outfield.
This ultimately led to the departure of Esteury Ruiz, a top-ten prospect in the Brewers' system. Ruiz was acquired in a package for Josh Hader at the 2022 MLB trade deadline. While he brings an exciting set of tools to the game, his future was not in Milwaukee's outfield.
Ruiz has electrifying speed and an enticing skill set as a young player. However, he was buried on the list of outfield prospects in the Brewers' system. Yet, he appeared ready for a role at the major league level. The Brewers realized this and cashed in on an opportunity to trade from a surplus and help their big league roster in an impactful way.
Contreras perfectly fit the vision for the team heading into 2023, and he helped address some holes in the lineup, considering where the team struggled last season.
Hole #1: A lack of production from the catcher position
The Brewers did not receive much offensive production from their catchers in 2022. Victor Caratini and Omar Narvaez saw most of the playing time at the position, and overall, both failed to contribute offensively.
Their catchers slashed .202/.297/.322 on the season, and the .619 OPS from the position was the worst of all nine spots in the batting order. Additionally, Milwaukee's catchers had a wOBA of just .279 to go with a disappointing wRC+ of 78.
However, it's noteworthy that Caratini and Narvaez were valuable contributors defensively. Both were well above average according to defensive metrics and pitch-framing stats. With that being said, their contributions on defense weren't enough to overcome their lack of offensive production.
Hole #2: Milwaukee's struggles against left-handed pitching
Milwaukee was extremely susceptible to left-handed pitching last season. They found themselves amongst the worst teams in the league when it came to OPS, wOBA, and wRC+ versus lefties:
Brewers RHP/LHP Splits in 2022
OPS
wOBA
wRC+
Versus LHP
.674
(23rd)
.300
(22nd)
92
(22nd)
Versus RHP
.743
(6th)
.323
(6th)
108
(8th)
The Brewers' splits were noticeable. They found themselves in the top 10 in MLB in OPS, wRC+, and wOBA against righties last season. However, it was a different story versus lefties, against whom they ranked in the bottom 10 in baseball in the same three categories.
Not only was it an area where the Brewers struggled all year long, but it was also an area that fans thought the team would address at the trade deadline. Therefore, it's notable that William Contreras was one of the best hitters in the entire league when facing left-handed pitching last season.
Contreras had a wRC+ of 187 against lefties in 2022, which was the ninth-best in baseball (minimum 70 plate appearances). Additionally, he had an OPS of 1.036 and a wOBA of .442 against left-handed pitching, which were both the best amongst catchers league-wide.
Contreras made perfect sense for Milwaukee, and he has thrived so far with his new club. Just 25 years old, he is a young, talented catcher whom Milwaukee is willing to build around.
Contreras' 2023 Production
It is clear William Contreras has a knack for impacting ballgames in several different ways. We'll start by looking at his production with the bat.
Offensive Contributions
When he was acquired from Atlanta, fans expected Contreras to immediately slot in as one of, if not the best, power bat in the Brewers' lineup. Somewhat surprisingly, he hasn't tapped into his power yet in 2023. However, that shouldn't take away from how impactful he has been for this Brewers lineup.
Through 19 games, Contreras has a slashline of .309/.390/.412, good for an OPS+ of 123 and a wRC+ of 125. Amongst everyday players for Milwaukee, he has the highest OBP on the team and has safely reached base in 18 of his 19 games this season. Contreras has impressed with his approach at the plate, specifically when hitting with two outs.
Contreras has 21 hits on the year, with 10 of those coming with two outs. In 21 plate appearances with two outs this season, Contreras is hitting .526 with an OPS of 1.308. While it's a small sample size, he has demonstrated an excellent ability to hit to the opposite field and take what the pitcher is giving him. He has shined at spraying the ball all over the field, which is further illustrated by analyzing his spray chart this season: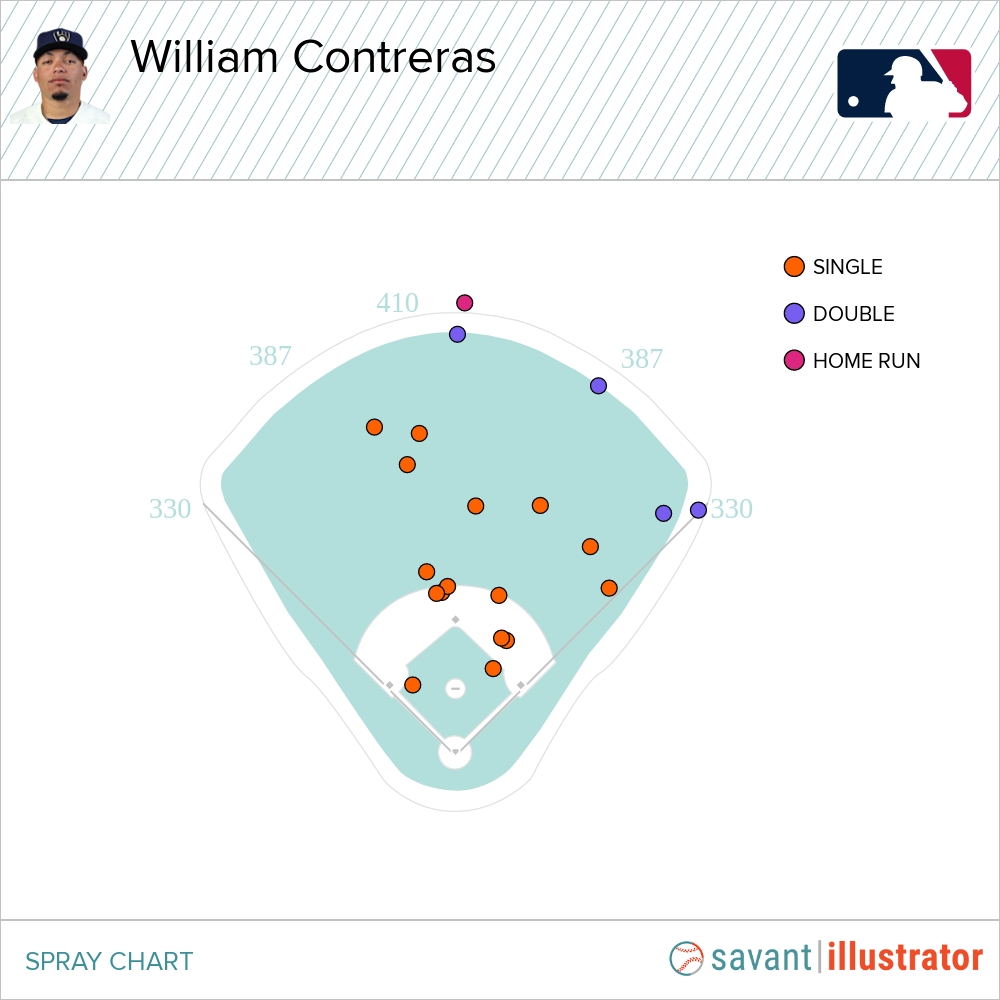 Additionally, Contreras has exemplified a disciplined approach at the plate thus far in 2023. There were concerns regarding his strikeout numbers heading into the season, so it's encouraging to see improvements in this aspect of his game.
His strikeout rate sits at just 16.9% this season. That is in the 77th percentile and is significantly down from his 2022 strikeout rate of 27.7%. Relatedly, both his whiff rate and zone contact rate have improved considerably.
Contreras sports a whiff rate of 23.5%, down over 10% from last season. His zone contact rate, the percentage of pitches within the strike zone that a hitter makes contact with, has grown every year he's spent in the big leagues. That trend is continuing in 2023, as his zone contact rate sits at 85.7%, up 11.5% from a season ago.
Contreras is making contact more frequently while also cutting down his chase rate, which is down over four percent from 2022. In turn, he is walking at the best rate of his career, with an excellent walk rate of 11.7%. Having this sort of approach and consistency in the heart of their lineup has been extremely valuable for this Brewers team and is something Milwaukee missed last season.
As I mentioned, Contreras has yet to tap into his power. Despite posting the best hard-hit rate of his career at 47.3%, the home runs haven't been coming. He hit his first homer of the season on Monday night versus the Tigers, so it might not be long before he starts racking up the long balls.
That being said, Contreras is still a true power threat. In 2022, he finished the year with an impressive slugging percentage of .506 and an ISO of .228. He hit 20 home runs in just 97 games and is a real threat for 30+ home runs at the catcher position.
This season, he has an ISO of just .108, which is abnormally low compared to his career average of .199 and his impressive number from a year ago. Early in this 2023 season, it appears Contreras could be sacrificing some of his power to improve other areas of his game. This goes to show how productive he has been without tapping into his power quite yet.
Refining his bat-to-ball numbers and approach at the plate aren't the only improvements Contreras has made. The most significant development in the young catcher's game has been his step forward behind the plate.
Defensive Production
A major limitation to Contreras' ceiling as a player relates to his defensive attributes. Prior to this season, Contreras had been one of the bottom catchers in the league when it came to pitch framing. He ranked in the 13th and 20th percentile in pitch framing in 2021 and 2022, respectively. However, it appears he has fine-tuned that aspect of his game this season. Through his first 19 games, he ranks in the 66th percentile in pitch framing.
Additionally, Contreras was one of the worst catchers by Defensive Runs Saved (DRS) a season ago, but it's been a different story in 2023. Contreras ranks first amongst all 18 qualified catchers with a DRS of 6. It is still very early in the season to be looking at defensive stats, but these numbers are promising.
As mentioned earlier, Milwaukee has been one of the best in MLB at developing catchers defensively. They consistently get the most out of their catchers behind the plate and excel at refining a player's defensive skillset. It appears Brewers' catching instructor Charlie Greene and company have done it again with William Contreras.
It speaks volumes about a player's character when teammates attest to his work ethic. Milwaukee's pitching staff acknowledges how hard Contreras is working to improve his defense, and it has contributed to the success of the pitching staff.
Wade Miley is the latest pitcher to speak of how impressed he has been with Contreras. Following Miley's dominant performance versus San Diego, he acknowledged how hard Contreras has been working to improve his craft behind the plate:
"He's working his tail off. From the first day I saw him in spring training, he's been out there everyday just trying to improve his craft, and it shows. As pitchers, we respect that. It's aweasome to see, and it's helping us a lot."

Wade Miley, on the work Contreras has done behind home plate.
Contreras has found ways to impact the game with more than just the long ball. He has reduced his strikeout numbers, refined his approach at the plate, improved his bat-to-ball numbers, and made significant developments defensively. It's no surprise he has quickly become a fan favorite and a key contributor to the locker room camaraderie.
Contreras, who is in pre-arbitration until 2025, is under contract until 2027. The Brewers managed to sneak him out of Atlanta without having to sacrifice a major asset to the organization. The move has paid enormous dividends thus far, and the Brewers seem to have found their catcher of the future in William Contreras.