Analysis
A Six-Week Slump Is Nothing New for Nolan Arenado
Cardinals' superstar Nolan Arenado is stuck in a deep rut, but he has proven time and again that he knows how to snap out of a slump.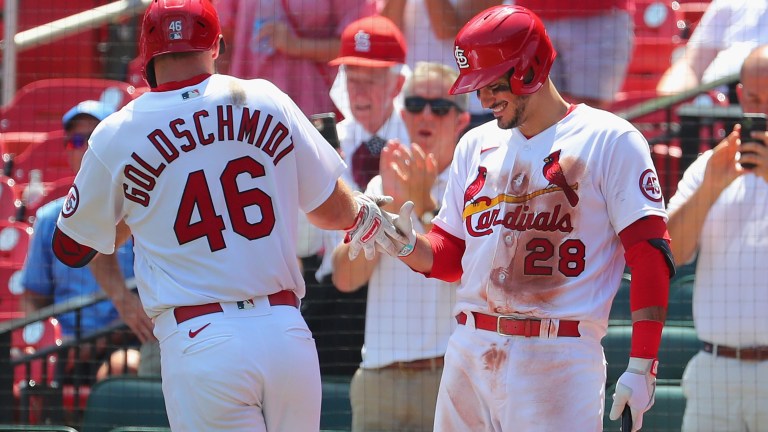 If you haven't been living under a rock, you've surely heard about the Cardinals' struggles by now. However, for the sake of our readers who do spend their time beneath boulders, let's do a quick recap: The St. Louis Cardinals are 13-25, dead last in the National League. They've given up more runs than every NL team save the Rockies, and their offense hasn't done enough to compensate. Their postseason odds are falling faster than a penny dropped from the top of the Gateway Arch.
Without a doubt, the biggest disappointment for St. Louis has been Nolan Arenado. While Arenado is far from the only Cardinal struggling, his slump has had a much more detrimental effect than, say, Tyler O'Neill's or Dylan Carlson's. Along with Paul Goldschmidt, Arenado was supposed to carry this offense. Goldschmidt has lived up to his end of the bargain. Arenado has not.
The 2022 MVP finalist is slashing .233/.285/.336 with a 72 wRC+. He has just eight extra-base hits and a shocking 33 strikeouts in 36 games. The only hitter on the active roster with worse numbers is catcher Andrew Knizner. Typically, it's not great when your cleanup hitter performs like a second-string backstop.
Keep Your Hands Away From the Panic Button
Alright, now that I've got all that bad stuff out of the way (and filled in our friends from under the rock), I'd like to offer Cardinals fans a glimmer of hope. Yes, Arenado has been awful this season; there's no two ways about it. But this is a guy with a ten-year track record of being one of the best players in baseball. He has more than earned our trust, and he deserves the chance to work through his struggles without all this scrutiny. Besides, if history is any indication, he'll find his way out of this slump sooner rather than later.
Arenado looks unrecognizable at the plate these days, and his cold streak feels unprecedented. The truth, however, is that he has had a slump like this in almost every season of his career. This one is just more noticeable because it's happening at the beginning of the year.
Here are a few examples of his worst 36-game stretches (and remember, these numbers would look even worse if he didn't play so many of his games at Coors Field):
In 2015, his breakout season, Arenado hit .236/.288/.382 with a 58 wRC+ from June 29 to August 12. He went on to earn MVP votes for the first time in his career.
In 2018, his first MVP-finalist campaign, Arenado hit .255/.316/.411 with a 73 wRC+ from August 16 to September 25. He won his fourth consecutive Silver Slugger that November.
In 2019, his fifth straight All-Star season, Arenado hit .242/.310/.383 with a 65 wRC+ from June 21 to August 2. He still went on to finish sixth in MVP voting.
In 2022, perhaps the best year of his storied career, Arenado hit .221/.289/.346 with an 83 wRC+ from May 7 to June 15. He finished first in the NL in bWAR, second in fWAR, and third in the MVP race.
My apologies if that was a bit repetitive, but that's precisely the point I'm trying to make. This is nothing new for Arenado; the only difference is that it's happening so early in the season.
Unusual, But Not Unprecedented
Here's a closer look at how his latest slump compares to those of years past in some important statistical categories:
| | | | | |
| --- | --- | --- | --- | --- |
| Slump | K% | BB% | SwStr% | Chase% |
| 2015 | 17.9% | 6.4% | 9.7% | 41.9% |
| 2018 | 20.8% | 8.8% | 13.5% | 43.7% |
| 2019 | 16.9% | 8.5% | 10.0% | 33.9% |
| 2022 | 11.2% | 8.6% | 9.2% | 38.1% |
| 2023 | 20.9% | 7.0% | 11.3% | 40.3% |
Arenado's plate discipline numbers during selected slumps
| | | | |
| --- | --- | --- | --- |
| Slump | Hard-Hit Rate | Barrel Rate | max EV |
| 2015 | 32.5% | 1.7% | 107.1 |
| 2018 | 35.7% | 5.4% | 108.5 |
| 2019 | 38.1% | 5.7% | 108.9 |
| 2022 | 35.5% | 5.0% | 114.4 |
| 2023 | 31.6% | 3.5% | 108.1 |
Arenado's quality of contact numbers during selected slumps
After looking at these numbers, I'm even less worried. Arenado's plate discipline hasn't been as terrific as usual, but it hasn't been awful by any means. While his K-rate this year stands out compared to some of the other slumps, he has had six-week stretches with a K-rate above 20% in almost every season of his career.
His hard-hit rate is notably low, but not so low that I'm concerned. Arenado has never been a particularly hard hitter, and his 95th-percentile exit velocity this season is actually higher than his career average. Even better, his average exit velocity has been steadily rising since hitting a low point at the end of April: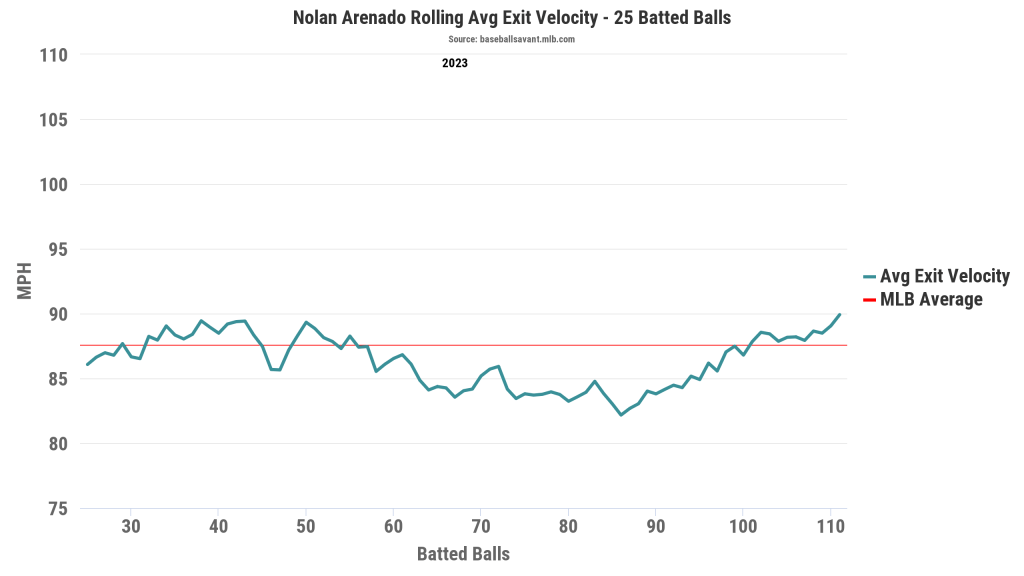 With all this in mind, I'm not going to waste any time worrying about Nolan Arenado. Can I say for certain he'll bounce back? Of course not. He's off to a dismal start, and at 32 years old, it's not out of the question that he's starting to decline.
However, the point that's worth repeating until I'm blue in the face is that Arenado isn't doing anything he hasn't done before. He has gone through rough periods like this in almost every season of his career, and he always comes out the other side. If Arenado is still slumping this badly by the end of May, I'll have to reassess, but for now, I'm just going to ride it out and wait for superstar Arenado to return.