Analysis
New-Look Edward Cabrera Dominates At Coors Field
Another talented Marlins arm is primed to contribute for one of the best rotations in baseball.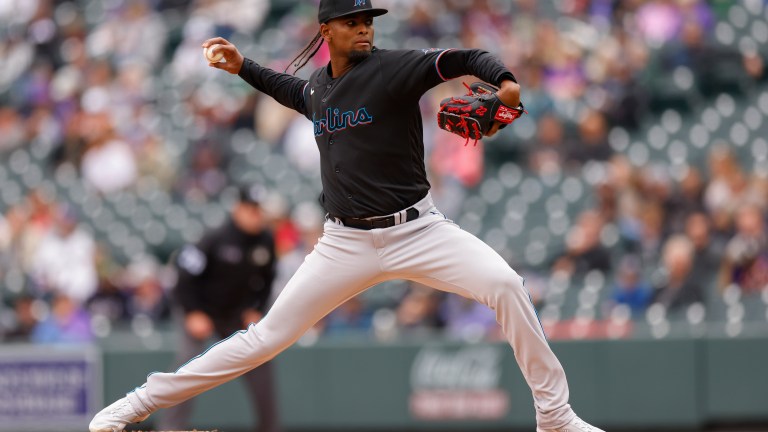 Marlins fans had to wait until the first day of June to get their first look at the new-and-improved Edward Cabrera, who was out with a biceps injury. Even with the wait, the 24-year-old proved to be well worth the wait.
After a rough first seven starts to his career in 2021, Cabrera went back to the drawing board, tinkering with his stuff in the offseason. Full disclosure, I was prepared to take Cabrera's first start with a grain of salt. After all, the altitude at Coors Field is known to stifle vertical movement on pitches, and Cabrera was dominating with a new-look banger of a curveball in the minors during his rehab assignments.
Well, so much for that. Cabrera took a no-hitter into the sixth inning and finished with a career-best line of six innings, one hit, four walks and nine strikeouts. What was different about Cabrera, even in difficult elements?
Let's dive into it!
A Mid-90s Changeup?!
You can imagine how social media reacted when Cabrera broke out his 95 mph changeup in the first inning to get some early swings and misses. The thing is, Cabrera averaged 92 mph on his changeup last year, but it got hammered by hitters so accounts like Pitching Ninja didn't have much to work with.
Cabrera threw his changeup a tick harder in Wednesday's start. Surely the added velocity resulted in a bit more discomfort for hitters, but it was the movement profile of the pitch that made it way more effective than what we saw in 2021.
Even at altitude, Cabrera's changeup featured more vertical drop, giving it more of a gyro-changeup profile. This is important because part of Cabrera's struggles with his changeup last year was the fact that it didn't differentiate enough from his fastball in the velocity and the shape department. While the velocity is still closer to the fastball than most would like, the increased vertical drop, thanks to the lower spin rate on the pitch, helps it dive under barrels to both lefties and righties.
Cabrera racked up 10 whiffs on his changeup last start while also using it as a weak contact inducer. Comparing the pitch's movement to his preceding starts in the minor leagues this season–not at altitude–Cabrera actually boasted more horizontal movement with a similar decrease in spin and vertical profile.
Basically, the positives we saw from the 24-year-old's changeup should continue away from Coors and other characteristics could get even better. Most importantly, Cabrera threw the pitch for a strike 28 out of the 35 times he went to it in his outing.
Improved Breaking Balls
After watching Cabrera in his minor league outings, one of the most notable differences for the righty was the shape of his curveball. While his slider is the better offering and was even a fantastic pitch for him throughout his big league struggles in 2021, the curve gives Cabrera another look at a different speed.
The pitch was more of a slurve last time we saw it, and it blended with his slider a bit. As a result, Cabrera had two sets of pitches that mirrored each other a bit too much at similar velocities. The fastball was too much like the changeup and the curveball was too much like the slider.
Cabrera kept the curveball in his back pocket for the most part on Wednesday because the improved depth and sweep he has found with the pitch just would not be realized at altitude. Digging back into his several minor league starts prior to Wednesday, it is more than clear that Cabrera's curveball is new and improved.
Even with the improvement of the pitch, I don't expect Cabrera to lean on it nearly as heavily as his slider. Still, it is important to give hitters another look as most of his stuff moves horizontally. Having a pitch with more depth just gives hitters another thing to think about in the box.
Building off of the horizontal point, Cabrera's slider works extremely well off of his changeup and fastball, which both feature an absurd amount of arm side run.
Cabrera boasted much of the same horizontal movement last year, but he didn't quite have the east-west command that he displayed in Wednesday's start. Imagine having to worry about upper-90s heat diving in on your hands–and/or mid-90s heat with even more arm side run–while also having to be weary of the slider diving away from you.
Command of the secondaries will always be something to monitor with Cabrera, but when he has the fastball command like he had at times in his 2022 debut, he can get away with missing his spots when ahead like he did with this slider below.
If the tall, lanky right-hander can continue to refine his east-west command, hitters will continue to look as uncomfortable as they do in the GIF's littered throughout this article. The amazing thing about Cabrera is that with the quality of stuff he boasts with his entire arsenal, he can get away with even fringy command.
If Cabrera was able to do this at Coors Field, I can't wait to see what is in store for his next start.