Analysis
MLB Best Bets Today: Predictions, Odds, NRFI for Royals vs. Cardinals, Diamondbacks vs. Marlins (5/2/22)
Three MLB Best Bets for Today, May 2, 2022.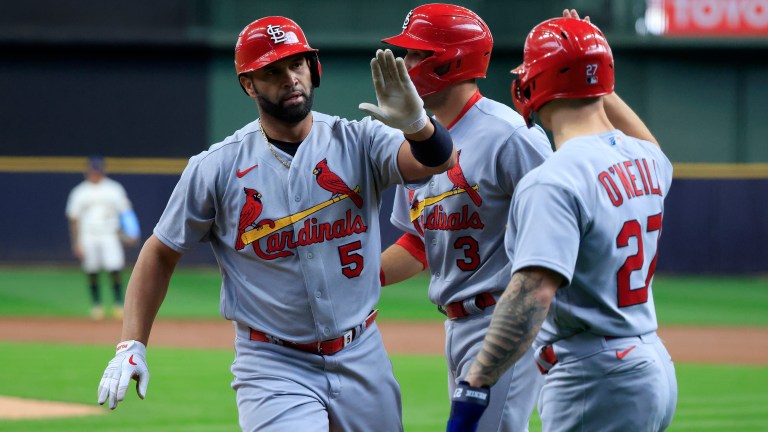 We were decent yesterday but could have been better. We went 2-1 on our official picks, but the bonus pick I gave out lost. The Rockies and Angels won on the money line, but the Braves lost to the Rangers, and the Mets & Phillies went over the total through the first five innings. There aren't many games to choose from today, so I have two picks and an NRFI. Let's have an excellent start to the week with three MLB Best Bets.
Peter's 2022 MLB Regular Season Record: 48-26 (65%) +21.24 units
Subscribe to my new Gambling/Fantasy Baseball Podcast: Not Gambling Advice.
St. Louis Cardinals F5 Innings -0.5 (-105)
Zack Greinke (RHP, Royals): [0-1, 2.86 ERA, 1.09 WHIP, 22 IP, 6 K, 3 BB]
Steven Matz (LHP, Cardinals): [2-1, 6.11 ERA, 1.70 WHIP, 17.2 IP, 23 K, 5 BB]
This afternoon, two veteran pitchers take the hill in an interleague matchup between the Cardinals and the Royals. Zack Greinke will get the ball for the Royals to face off against Steven Matz at Busch Stadium. Both starters succeed against their opponent, but one pitcher is due for regression while the other is not. The Royals will also have to travel without an off-day from New York to St. Louis, while the Cardinals have been on a homestand.
Zack Greinke has had an excellent start to the season, but his underlying metrics and peripherals lead me to believe he could get rocked in this one. Greinke is rocking a 2.86 ERA through four starts, but his xERA is 6.07. He's allowing the hardest contact of his career so far, which doesn't bode well against this Cardinals offense. He has a substantial sample against these Cardinals bats, as the St. Louis offense is filled with veterans, and Greinke has been around for a while. I don't put a ton of stock into prior years, as Greinke has turned into a different pitcher. He averages less than 90 MPH on his fastball and doesn't have the stuff to strike out batters anymore. Through 277 PA, Greinke has pitched to a 2.79 FIP, a .307 xwOBA, and a .417 xSLG.
Corey Dickerson brings down Greinke's total stats, as he is just 3-22 against him in his career. Arenado, Goldschmidt, and even Albert Pujols have solid numbers against him. Not to mention, Greinke was better at home last year and so far in 2022, but he'll be on the road today.
The Royals have also been dreadful against left-handed pitching this year. The offense isn't good, but with a Team OPS under .600 against lefties, I'm confident riding Matz at home. Matz has pitched well against the Royals as well. Through 66 PA against the Royals' current roster, he has a 2.77 FIP, .209 xwOBA, and a .235 xSLG. The Royals just played in the Bronx last night and now have to travel without an off-day, and they'll be playing a day game. I doubt the bats come to play in the early goings, especially against a pitcher they have no success against.

The Royals have not been consistent to begin the 2022 season. They lost eight of their last ten games overall and dropped five of their last seven games on the road. The Cardinals have a decent 3-2 record in their previous five games. Royals starter Zack Greinke is no longer throwing hard, and the Cardinals have scored 27 runs in their past five games. I think they will jump out to a hot start in this one. I am backing the Cardinals F5 -0.5 for this afternoon's game, and I would take it to -115.
Diamondbacks vs. Marlins Under 6.5 (-105), NRFI (-145)
Zac Gallen (RHP, Diamondbacks): [0-0, 0.60 ERA, 0.67 WHIP, 15 IP, 14 K, 4 BB]
Pablo Lopez (RHP, Marlins): [3-0, 0.39 ERA, 0.73 WHIP, 23.1 IP, 23 K, 4 BB]
This afternoon, we have a matchup of two under-the-radar NL Cy Young candidates. Pablo Lopez has been fantastic in his first four starts to begin his 2022 Marlins campaign. The same can be said about Diamondback's Zac Gallen. The total is meager, but it's low for a good reason. This is a great pitcher's duel; we have two struggling offenses and projected lousy weather in Miami. Miami plays in a dome, but according to ballparkpal.com, the indoor humidity calls for a projected drop of 5% in run scoring. I will be taking the under in the first game, but I also want the NRFI. An "NRFI" is a "No Runs First Inning" bet, where all we need is zero runs scored in the first inning. We need six outs, just six.
The Marlins' current roster has only faced Gallen in three at-bats, and none of those at-bats resulted in a hit. While we don't have much "hitter vs. pitcher" data, we can see that Gallen is pitching at the top of his game. Gallen has always had potential, but now at 26 years old, he's putting it all together. He throws his fastball a full mile per hour harder and with more spin. His command has improved, and his curveball looks unhittable. He'll face a Marlins lineup averaging under four runs a game on offense. Also, Zac Gallen hasn't allowed a hit in the first inning this year. He should have a clean first inning against this Marlins team.
Pablo Lopez takes the ball for Miami, which has been an automatic win for them. The Marlins have won all four of his starts, and in those starts, three of the games went under, and the NRFI hit in three of them. While Lopez's advanced numbers against the Diamondbacks aren't stellar, he's a different pitcher this season. His arm path is smoother, and his changeup is one of the best. Not only will Pablo limit them throughout his start, but the first inning should also be the cleanest. The Diamondbacks have the batting average in baseball during the first inning.
As for the offenses, The Diamondbacks are averaging 3.09 runs per game and hitting .181 as a team. They rank dead last in overall team batting average and the second to last in average runs scored per game. They aren't getting many hits right now, making it even more impressive that they have ten wins on the season. The Marlins have been a lovely surprise to begin their season. They sit at 12-9 as they look to make a legitimate postseason push. A key element to their early success has been their starting rotation, especially Pablo Lopez.
These two offenses have struggled to string runs together, and against these two pitchers, runs will be even more challenging to come by. Neither of these pitchers has allowed a run in the first inning all season. We are rolling with the NRFI as well as the entire game under.
____________________________
I've written up a quick guide with critical terms and helpful advice if you choose to tail my daily picks. This daily column is updated every day between 9:00 AM – 12:00 PM EST.