News
Zack Greinke Is Staying in Royals Blue
Future Hall of Famer and Kansas City Royals icon Zack Greinke is returning for another season with the team that drafted him.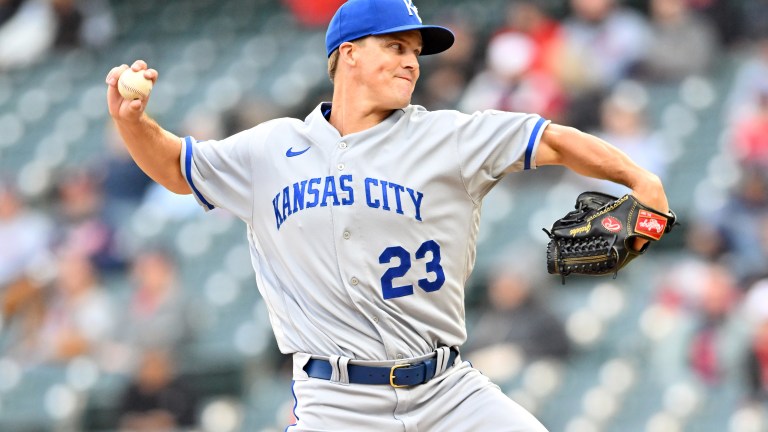 Zack Greinke made his big league debut in 2004. Shrek 2 was the number one movie in the world that year. Usher was topping the charts. Michael Phelps won his first gold medal. Bobby Witt Jr. was just learning to read.
A 20-year-old Greinke made 24 starts for the Kansas City Royals, putting up a 3.97 ERA. He finished fourth in Rookie of the Year voting, behind Bobby Crosby, Shingo Takatsu, and Daniel Cabrera. Suffice it to say, he has outlasted them all.
On January 30, Greinke signed a one-year deal to remain with Kansas City in his age-39 season. It will be his 20th MLB campaign. When he throws his first pitch, likely on Opening Day, he will become the 61st pitcher in major league history to reach that milestone. And as impressive as his longevity is, don't let it distract you from the fact that Greinke remains a talented pitcher to this day. He's not just sticking around thanks to his famous name or a long-term contract. Greinke is going to be a valuable contributor to the Royals' rotation in 2023.
Zack Greinke 2022 by the Numbers
Traditional Stats: 26 GS, 137 IP, 3.68 ERA, 73 K
Advanced Stats: 4.80 K/9, 1.77 BB/9, 4.03 FIP, 4.54 xFIP, 4.78 xERA, 4.84 SIERA
Zack Greinke finished the 2022 season with an ERA under 4.00 for the first time in three years. However, his xERA and xFIP have risen in each of the past two seasons, and those advanced numbers may be more indicative of his true talent.
Greinke posted a shockingly low strikeout rate last year and struggled to limit hard contact, which isn't exactly a recipe for success. Fewer strikeouts means more balls in play, and more hard contact leads to more damage. The veteran allowed 82% of batters he faced to put the ball in play, the highest rate in baseball (min. 130 IP). He also posted the highest average exit velocity, max exit velocity, and hard-hit rate of his career.
Thankfully, there is cause for optimism. Greinke spent a few weeks on the injured list last season, and some of his worst starts came right before his two stints on the IL. In late May, he landed on the 15-day IL with a right flexor strain. His two prior starts had been his worst of the season. A few months later, he wound up back on the IL with tightness in his right forearm. Greinke had been pitching very well since his previous injury, but he struggled again right before going back on the IL.
| | | | | |
| --- | --- | --- | --- | --- |
| Date | IP | FIP | xFIP | SIERA |
| 5/23 | 3.2 | 10.75 | 4.47 | 5.39 |
| 5/29 | 4.0 | 13.36 | 7.31 | 6.36 |
| 8/21 | 4.0 | 6.11 | 5.45 | 5.30 |
Zack Greinke game logs via FanGraphs
Were it not for those few injury-hampered starts, Greinke's full-season numbers would look noticeably better. He wasn't ever an ace, but when he was fully healthy, he was pitching like a capable mid-rotation starter. Now, of course, at his age, we can't ignore the potential for more injury issues, but Greinke has been the most durable pitcher of his generation. Hopefully, he'll leave those nagging arm issues behind him in 2023.
Zack Greinke's Place in the History Books
Zack Greinke has already earned himself a spot in Cooperstown, if he ever chooses to retire that is. He's accumulated 76.5 career WAR per Baseball Reference, while the average Hall of Fame pitcher has 73 WAR. Greinke also has a Cy Young, six Gold Gloves, and two Silver Sluggers, to go along with an ERA title in both leagues.
The veteran could further pad his resume this season by reaching a few big milestones. In addition to hitting the twenty-year mark, Greinke is getting close to 3000 strikeouts. He needs 118 more to get there, and while that's a little high given his low K/9 in 2022, it's certainly doable.
What's more, Greinke is just 3.5 bWAR away from 80 bWAR for his career. Every pitcher with at least 80 bWAR (and no PED allegations) has made the Hall of Fame. It's highly unlikely Greinke has a 3.5-win season in 2023, but he could get there in 2024 if he keeps going at his current pace.
Zack Greinke is a tremendous pitcher, and it's fantastic he's sticking around for his twentieth big-league campaign. Here's hoping he has another solid season and pitches well enough to stick around in 2024.