Analysis
2023 Free Agent Profile: Zack Greinke
Zack Greinke is no longer the ace he once was, but he remains a solid starting pitcher and should be able to find another one-year deal.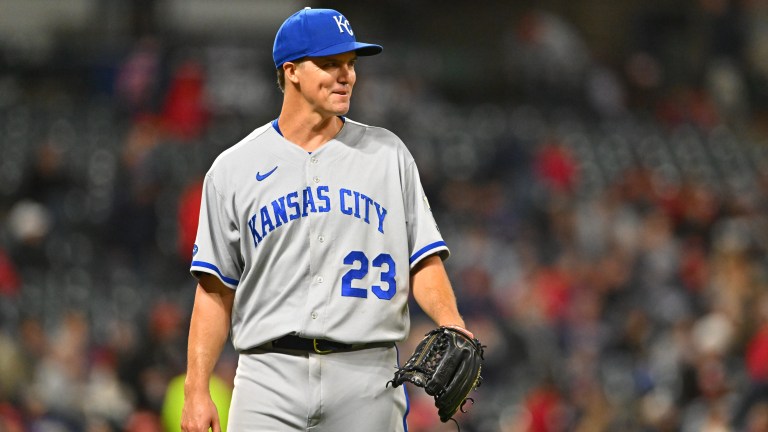 Position: SP
Throws: R
Age: October 21st, 1983 (39 years old)
2022 Stats: 137 IP, 3.68 ERA, 73 K, 4.03 FIP, 4.78 xERA, 4.80 K/9, 1.77 BB/9, 1.9 fWAR
Zack Greinke returned to where it all began in 2022, signing a one-year contract with the Kansas City Royals. He last pitched for the Royals – the organization that drafted him sixth overall in 2002 – more than a decade ago. He was happy to be back.
Now, he will hit the free agent market once again, looking for another team to take a chance on his arm. A reunion with Kansas City isn't out of the question, but one has to think Greinke has postseason aspirations. While he already has a Hall of Fame resume, he has yet to win a ring. That's surely something he'd like to do before he hangs up his cleats for good.
Greinke may no longer be an ace, but he still has gas left in the tank. As his performance this past season showed, he has plenty to offer a contending team. He shouldn't have any trouble finding another short-term deal this winter.
Zack Greinke's Path to Free Agency
Greinke Signs Six-Year Deal with Arizona
In December 2015, Zack Greinke signed a six-year, $206.5 million deal with the Arizona Diamondbacks. It was, at the time, one of the richest free agents contracts ever signed by a pitcher. It's up for debate whether or not Greinke quite lived up to his massive deal, but he pitched well for all six years, first with Arizona and then with the Houston Astros.
Greinke ranked second among all starting pitchers with 1015.1 IP during that time. He posted a 3.55 ERA and 18.7 Fangraphs WAR. The right-hander was named to three-straight All-Star teams from 2017 to 2019, won four-consecutive Gold Gloves from 2016-2019, and finished fourth in Cy Young voting during the 2017 season.
He began to show signs of his age around the end of the contract, as he lost velocity on his fastball and his strikeout rate dropped. Nevertheless, he remained a solid starting pitcher, averaging close to six innings per start with a 4.16 ERA in 2021. He hit free agency that offseason.
Greinke Signs One-Year Deal with Kansas City
His performance in 2021 was enough to warrant a one-year, $13 million offer from his old team. At the time, many saw the contract to be a slight overpay – and perhaps it was – but if you have to pay a little extra to sign a hometown hero and future Hall of Famer, you pony up the dough.
Greinke, for his part, pitched exactly as well as Kansas City could have hoped in 2021. In 26 starts, he threw 137 innings with a 3.68 ERA. The Royals went 13-13 (.500) in his starts and 52-84 (.382) in all other games. The advanced metrics weren't quite so impressive – 4.03 FIP, 4.54 xFIP, 4.78 xERA – but they still paint the picture of a competent big-league starter.
It's also worth mentioning that a couple of Greinke's worst starts came right before he landed on the injured list with forearm pain. If you remove those two outings from his stat line, his numbers look a little bit better (3.58 ERA, 3.70 FIP), suggesting Greinke can still be a middle-of-the-rotation starter when healthy. Then again, his injury concerns are certainly something to watch out for in the future.
The veteran ended his season on a high note, posting a 1.81 ERA in his final eight starts. His full-season ERA dropped from 4.58 to 3.68 in that time. That level of performance, however, might not be sustainable.
Greinke only gave up two home runs in his final 44.2 IP, but he still allowed a ton of hard-hit fly balls. He won't be able to keep those balls in the yard forever, and when he gives up more home runs, his ERA will inevitably rise. Nevertheless, Greinke's agent should be able to parlay his strong finish into a couple extra million when he hits the free agent market this offseason.
Contract Projection for Zack Greinke
Zack Greinke was every bit as good in 2022 as he was the year before, so he should be able to find a similar contract offer for next season. That being said, he will be another year old and he will be coming off his first injury-shortened season since 2016. Teams could use that to their advantage in negotiations, shaving a million or two off his asking price, or perhaps including incentives for a certain number of starts made.
It can be a little difficult to project contracts for players of a certain age, since the available comparisons are few and far between. Last offseason, for example, only three pitchers age-37 or older signed one-year free agent deals: Justin Verlander ($25 million), Rich Hill ($5 million), and Greinke ($13 million). Neither Hill nor Verlander is a useful comp in this case, except to say that Greinke's next contract should land somewhere in the middle.
Perhaps the best recent comp is Adam Wainwright, who signed a one-year, $8 million pact with St. Louis ahead of 2021, his age-39 season. Alternatively, Greinke's own contract from last winter is a good comparison as well. Expect him to sign another one-year deal somewhere in between the $8 million Wainwright received two years ago and the $13 million Greinke got last offseason.
Zack Greinke's Top Five Landing Spots
Most of the top free-agent pitchers available this winter will come with a substantial degree of risk. Jacob deGrom, Carlos Rodón, Justin Verlander, Clayton Kershaw, and Luis Severino have all had recent struggles with injury. Tyler Anderson, Ross Stripling, and Martín Pérez all had career-best seasons in their early thirties, and it's hard to know for sure if they can maintain that level of success in 2023. José Quintana fits both descriptions.
Zack Greinke, therefore, despite his advanced age, may be one of the safest bets on the market. Although he missed some time with forearm issues this season, he still made 26 starts. He has qualified for the ERA title in thirteen of the last fifteen seasons, missing out only this past year and in 2016. He made 26 starts that season as well. Greinke has never been worse than a league average pitcher, and he was an All-Star as recently as 2019. Thus, any team looking for a reliable presence at the back of their rotation should give Greinke some careful consideration.
Kansas City Royals
If Greinke is going to sign with a non-contending team, the Royals seem to be the most likely option. He's clearly comfortable pitching at Kauffman Stadium, and he has no shortage of fans in the Royals organization. Kansas City has room in their rotation, and it's hard to imagine they wouldn't be happy to welcome Greinke back.
Tampa Bay Rays
The Rays have been known to sign older starters in recent years, including Corey Kluber, Rich Hill, and Charlie Morton. With Kluber's contract expiring this winter, Greinke could be the next name on the docket.
Los Angeles Angels
Are the Los Angeles Angels a contending team? That's always a tough question to answer, but as long as Mike Trout and Shohei Ohtani are on the roster, the Angels should do everything they can to make the playoffs. They have room for Greinke next season, and LA could certainly use another reliable veteran presence in their rotation.
Greinke last played for the Angels in 2012. He posted a 3.53 ERA in 13 starts after a midseason trade from Milwaukee.
Baltimore Orioles
The Baltimore Orioles were surprise contenders this season, and so they should be genuine contenders come 2023. In order to do so, they'll need to improve their starting pitching, and Greinke could be a perfect fit.
Chicago White Sox
The White Sox should have their rotation mostly set for 2023, with Dylan Cease, Lance Lynn, Lucas Giolito, and Michael Kopech all under contract for at least another year. Johnny Cueto, however, will be a free agent, and Greinke could be an option to fill his role.
Final Prediction for Zack Greinke
Zack Greinke signs a one-year, $10 million deal to remain with the Kansas City Royals
It's impossible to say with much certainty where Zack Greinke will end up. Almost every team could use him, and any team could afford him too. Therefore, the Royals seem like the safest bet, simply because we already know that they like him and he likes them. However, my personal preference would be for Greinke to sign with the Orioles. He would make a fun addition to such a young and exciting team, and his veteran presence could really help anchor the pitching staff.