Analysis
Fantasy Baseball: Recent Roster Trends, Isaac Parades' on the Rise
Here's who's trending in your fantasy league, and who to go after.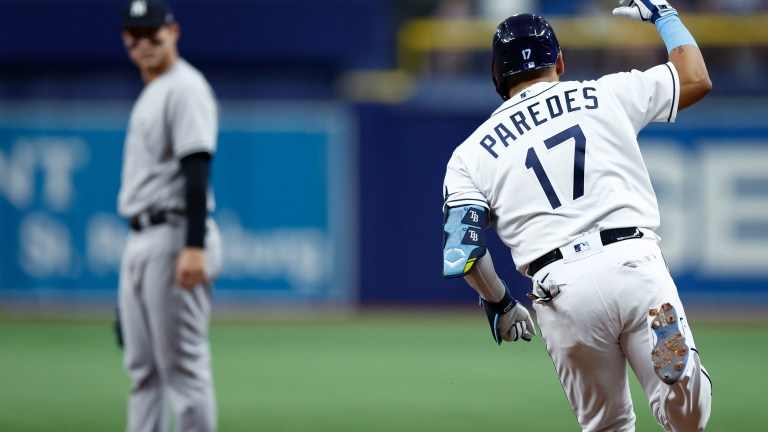 A key to winning your weekly matchups is getting out in front of trends like picking up players moments before their breakout or trading off of a hot player while their value is high. However, blindly following trends can get in you trouble. Let's take a look at the most recent roster trends and see if you should follow or fade.
*To qualify for trending up the player must be rostered in 50% or of ESPN leagues
Trending Up
Isaac Paredes – 2B/3B – Rays (+27.7 ESPN)
2022 Stats: .243/.307/.583, 154 wRC+
Anytime a player hits .344/.400/.875 with five home runs over a two-week span, people are going to scoop him up. His max exit velocity, Barrel percentage, and hard hit rates are significantly higher this season with the Rays than in his short stint with the Tigers.
Have the Rays found another diamond in the rough or is this just a hot streak?
Paredes has batted all over the batting order, most recently hitting third against Eric Lauer, a lefty. Once Brandon Lowe returns, it will be interesting to see how much Paredes plays. The designated hitter spot has been a rotation and we know the Rays will tinker with the lineup more than most teams. Paredes is a pick up, even if it is short term. If you have him, consider trading him at the top of his value.
Jon Berti – 2B/3B – Marlins (+14.1% ESPN)
2022 Stats: .281/.371/.399, 125 wRC+, 22 SB
We have covered Berti's fantasy impact on the Not Gambling Advice show, along with other articles. The massive increase in stolen bases since June started makes him a must roster in category leagues. He's hitting well enough to be an option in shallow leagues as well.
While his home run numbers are not attractive, Berti is collecting enough base hits to earn extra points in a point league. Playing time and batting order are also in your favor. Follow the trend and scoop Berti up while he's hot.
Nico Hoerner – 2B/SS – Cubs (+9.5% ESPN)
2022 Stats .304/.341/.425, 111 wRC+
Each season Hoerner goes on a streak, get's rostered in most leagues, then becomes one of the first to drop when the next hot hitter comes up. Over the past month, Hoerner is slashing .333/.380/.452. The problem is, only six of his 28 hits are for extra bases, one of which went for a home run.
Hoerner will not strike out much (10%) and his dual eligibility can help you get through an injury. Hoerner has more value in category leagues where you need a bump in average and can give you a few steals as well. For points leagues, especially shallow points leagues, I think there are other options I would consider first.
Josiah Gray- SP – Nationals (+10.8% ESPN)
2022 Stats: 6-4, 3.83 ERA, 5.05 FIP, 9.80 K/9
Over the past month, Josiah Gray's ERA sits at a beautiful 1.13. During those four starts he has 28 strike outs in 24 innings pitched with a 0.88 WHIP. You can never have too much pitching, and Gray has pitched his way onto 50% of leagues.
Has the 24-year-old turned the corner or has he taken advantage of a softer schedule?
Since his seven-run blow up against the Dodgers in late May, Gray has face the Rockies, Reds, Marlins, Phillies, and Rangers. Not exactly top-flight offenses. His walks and strikeouts have been a mixed result. Gray is set to face the Marlins, Phillies, Mariners before the All-Star break.
Take advantage of his hot streak and upcoming schedule, but don't marry yourself to him in shallow leagues.
David Peterson- SP- Mets (+10.5% ESPN)
2022 Stats: 4-1, 3.10 ERA, 3.76 FIP, 8.60 K/9
David Peterson spent some time in Triple-A this season, but when injuries opened the door for some turns in the big league rotation, the left-hander took full advantage. Even with Scherzer set to return soon, Peterson has earned his spot to stay in the rotation.
After a rough May, Peterson bounced back in June posting a 3.18 ERA and 1.32 WHIP. While I do not see him as a high-upside pick up, Peterson is a solid option to round out your roster and will likely steal some wins playing for the Mets.
New York faces the Rangers, Reds, Marlins, Braves, and Cubs before the All-Star break. With a schedule that favorable, follow the trend and pick up Peterson. He's effectively a three-week streamer option who can help in any league you play in.
Trending Down
Santiago Espinal – 2B/3B (-12.6% ESPN)
2022 Stats: .268/.321/.392, 100 wRC+
Recently Espinal was on the trending-up side of the fantasy world. After slashing .140/.189/.140 over the past two weeks, he now finds himself on the wrong side of the trend. His strikeout rate has started to climb and the lack of power will not make up for it.
Espinal is still an option in deeper leagues, but playing time is something to monitor. Cavan Biggio has shown promise recently and could be an option to take time away from Espinal at second. Biggio has played all over, and if the Blue Jays add a lefty bat via trade, Biggio might need to play second to get him in the lineup. In shallow leagues, Espinal can be replaced but keep him on your watch list.
Christopher Morel – OF/2B (-9.3% ESPN)
2022 Stats: .261/.324/.453, 115 wRC+
If you have been reading my fantasy articles you know I love Morel. His hot start and spark pug game brought some juice to this Cubs lineup. His strikeout rate over the past two weeks is approaching 50%, while his average dropped to .231. While it could just be a rookie slump, Morel's approach has looked worse than when he entered the league.
Morel has batted leadoff for the majority of the season, increasing his fantasy value. In his last game, he was bumped to ninth. The stolen base numbers have decreased as well, making him an easy drop in everything but very deep leagues.
Luke Voit- 1B/DH – Padres (-8.3%)
2022 Stats: .231/.318/.420, 110 wRC+
Luke Voit is the most frustrating type of fantasy player. A streaky hitter. One week he can propel your team to a win and the next week be a hole in your lineup. One home run and four doubles over the past two weeks with a .209 average lead to him being dropped in many shallow leagues.
Players like Voit will always appear on trends list. Shallow leagues can more or less stream streaky players making Voit an easy drop candidate. Before the All-Star break, the Padres play nine games at home where Voit is batting .190. First base has too many good hitters to keep Voit in shallow leagues. If you need him to fill in for an injured Ty France, sure. He's hitting the ball hard without much luck. Other than that, deep leagues only.
Carlos Carrasco – SP- Mets (-15.1% ESPN)
2022 Stats: 8-4, 4.85 ERA, 3.73 FIP, 8.93 K/9
The 35-year-old's best days are behind him. Carrasco has given up five or more runs in five outings this year, including three of his past four. Of his six starts in June, Carrasco has only made it past five innings twice. The advanced metrics are not showing a likely turn around as well.
With Scherzer coming back soon, deGrom starting his rehab stint, and Taijuan Walker and David Peterson pitching well, we have to wonder if Carrasco is in danger of losing his rotation spot. I would drop Carrasco in favor of a higher upside roster spot, or simply streaming week-to-week.
Eric Lauer – SP – Brewers (-8.4% ESPN)
2022 Stats: 6-3, 4.02 ERA, 4.78 FIP, 9.19 K/9
Lauer has a chance to really prove himself and show his worth due to the Brewers injury situation. However, Lauer allowed four or more runs (including an eight-run outing) in three of his past five starts. The strikeout numbers have gone down as well, not recording more than five strikeouts in any of those starts.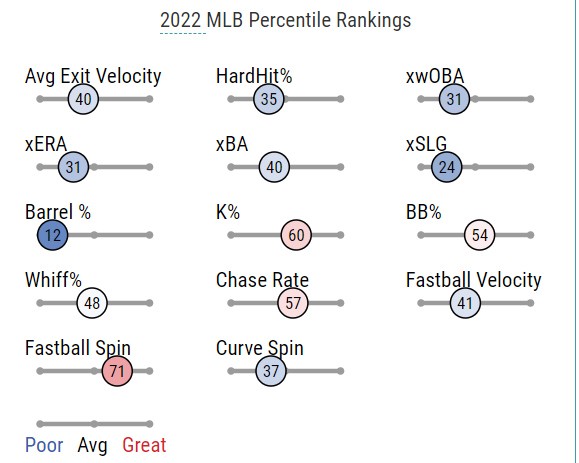 As you can see from the image above, Lauer is not pitching to the Brewers standard. He's shown signs of upside at times, while looking like a back-end innings eater other times. Especially with the strikeout numbers down, Lauer is a drop in shallow leagues. The Brewers next nine games are against the Pirates and Cubs making the case to hold on a little longer more reasonable.