Analysis
Fantasy Baseball Roster Trends: Harrison Bader is Red-Hot
Looking around fantasy baseball, here are roster trends to follow when it comes to players who are being added and dropped in most leagues.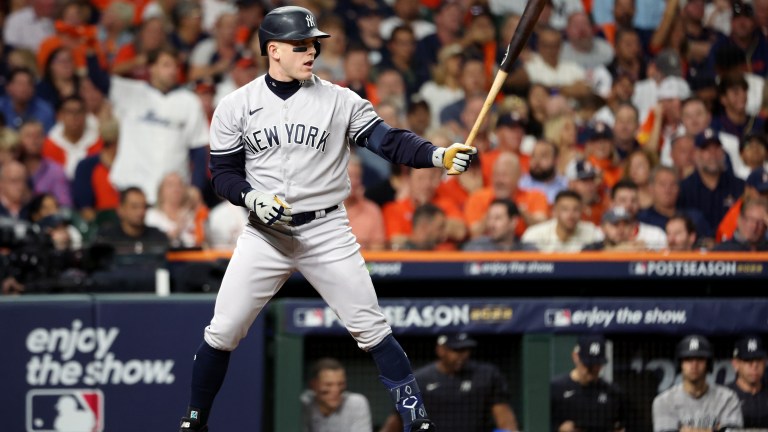 As we near mid-May, most of the hot start players have already been scooped up. Your focus likely has shifted to players who are working towards a bounce back or prospects getting promoted. I wanted to walk through the roster trends we are seeing across fantasy baseball and let you know if it's time to follow the crowd, or stand clear.
*To qualify for "trending up" the player must be owned in 40% or less of leagues*
Trending Up
Lourdes Gurriel Jr – OF – Diamondbacks (+21% ESPN)
2023 Stats: .306/.366/.512, 5 HR, 22 R, 19 RBI, 1 SB
Gurriel Jr. has already matched his home run total from 2022 in 359 less at-bats. He's always been a pretty underrated hitter and 2022 was simply a down year. He's increased his barrel rate back to career numbers, more than doubling last year's rate. His expected stats show signs for regression, but still offer fantasy value.
This is an add for all leagues. His playing time is more stable ever since Jake McCarthy was sent down. He's been hitting third against lefties, and fifth against righties. I think he will go on to prove 2022 was not the new norm.
Bailey Ober – SP – Twins (+20% ESPN)
2023 Stats: 0.98 ERA, 2.55 FIP, 18.1 IP, 16 K
Ober opened the year in the minors and injuries have pushed him into the rotation. With Tyler Mahle done for the year with Tommy John, I expect him to stick. His 6'9″ frame allows his 91 mph fastball sneak up on batters due to a freakishly long extension. While he's not striking out many batters, he's inducing extremally weak contact and missing barrels.
With his rotation spot locked up, Ober is another add. Across 11 starts in 2022, Ober posted a 3.21 ERA and 2.92 FIP showing this start to 2023 is not just luck.
Harrison Bader – OF – Yankees (+16% ESPN)
2023 Stats: .429/.448/.893, 3 HR, 7 R, 11 RBI, 0 SB
It has only been eight games, but Bader has made a statement. Obviously, these numbers will not continue. I am weary of him being anything more than what we have seen in the past – a 12+ team league option only. His exit velocity is still poor (84 mph) and his 26.9% hard hit rate doesn't show much improvement.
Yes, catching lighting in a bottle is important in fantasy. Picking up Bader and seeing how long a streak can ride is not a bad idea. However, do not hold on to him too long. I see the numbers regulating toward career norms soon.
Yennier Cano – RP – Orioles (+16%ESPN)
2023 Stats: 0.00 ERA, 1.11 FIP, 18.2 IP, 22 K
Has Baltimore found another unknown turned elite reliver? It's looking that way. Cano has only allowed three hits and zero barrels on the year. In leagues that reward holds, he's already on a roster. In more traditional formats, he's an add.
Cano has shown the ability to go multiple innings, doing so seven different times. With Felix Bautista struggling to find the zone (6.88 BB/9), Cano could very well take over the closers role if Baltimore feels uneasy with Bautista.
Esteury Ruiz – OF – Athletics (+12% ESPN)
2023 Stats: .265/.325/.340, 0 HR, 16 R, 16 RBI, 17 SB
The speedy Oakland outfielder has already proved to be one of, if not the best, base stealer in the league. The bat is still the question. He is not going to hit for power, but his speed allows him to steal a few would be outs. His .429 average with RISP is going to go down, which will effect his run production.
Ruiz is a deep league only option in points leagues, and an add if your league has a higher value on stolen bases. It's hard for me to see a roster spot in shallow leagues for someone who doesn't really drive the baseball.
Trending Down
Graham Ashcraft – SP – Reds (-14% ESPN)
2023 Stats: 3.82 ERA, 3.92 FIP, 37.2 IP, 30 K
DO NOT DROP ASHCRAFT! Of his seven starts, six have been a quality start. Although he will not rack up strikeouts, you can usually count on six innings of three or less runs. He pitches to weak contact and produces groundball rates over 50%. I think Ashcraft is a safe pitcher who will be consistent enough to provide above average value.
Johan Oviedo – SP – Pirates (-13% ESPN)
2023 Stats: 5.59 ERA, 3.80 FIP, 37 IP, 33 K
The surprise start has gone ice cold. Oviedo has allowed four, seven, and six runs in his past three starts. The runs have added up and the swing and miss has disappeared. His fastball is only producing a 18% whiff rate and batters are hitting .364 off the pitch. He's becoming a streaming option only.
Brandon Marsh – OF – Phillies (-11% ESPN)
2023 Stats: .311/.416/.575, 4 HR, 19 R, 16 RBI, 1 SB
Another hot start we all knew would not last. His expected stats were always much lower than his traditional stats. Striking out 30% of the time with a 48% groundball rate is not ideal. I would drop Marsh is shallow formats, and hold in deeper leagues.
Nolan Gorman – 2B – Cardinals (-11% ESPN)
2023 Stats: .255/.346/.518, 8 HR, 11 R, 24 RBI, 3 SB
I assume this trend is more about playing time than performance. Gorman sits against lefties, but has been in the three hole against righties. He's cut his K% by seven percent without losing any power. Although the vibes around the Cardinals are bad, I would hold onto Gorman. He's also playing some third base and will gain positional flexibility soon.
Andres Gimenez – 2B – Guardians (-9% ESPN)
2023 Stats: .214/.288/.317, 2 HR, 21 R, 8 RBI, 6 SB
This one is tricky. Gimenez broke out last season but has not been able to replicate it early. His hard hit rate has dropped from 37% to 22% with a large drop in average exit velocity. I expect his run production to increase overtime, and his speed can help keep some value for the time being. Don't expect him to replicate last season, but an improvement seems likely.