Analysis
Fantasy Baseball: Best Waiver Wire & Streamers to Watch
Top players on the waiver wire that fantasy owners should be targeting this week.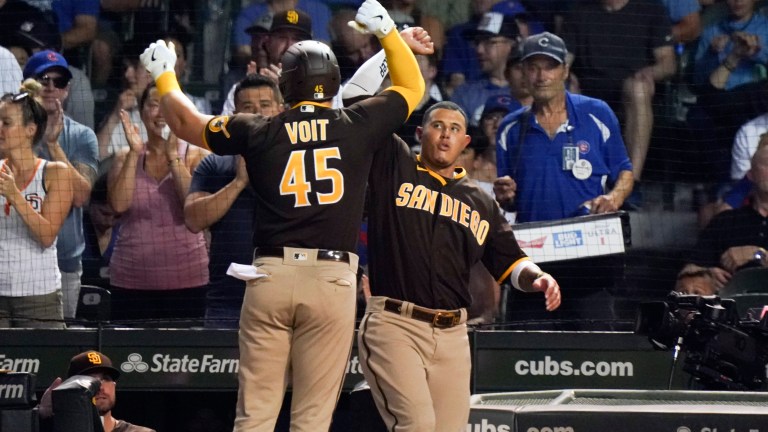 Welcome back to the weekly waiver wire. Last week's article had some hits and misses, but we are back this week with new names to consider adding. The further we get into the season, the more challenging it becomes to find productive players on the wire.
Today, I have four players that I think will help your team right now. In addition to the waiver wire options, I have two streamers that might help push you over the top.
Luke Voit – 1B – Padres (35.8%)
2022 Stats: .245/.332/.457 9 HR 123 wRC+
Voit is likely owned in most deep leagues and is quickly being scooped up in competitive shallow leagues. The slugger began heating up a month ago, but really took off this last week, slashing .333/.429/.833 with three home runs.
Why Voit is not rostered in more leagues beats me. Across six seasons, Voit holds a 131 wRC+. This season his barrel rate is a tick up and sits in the 92nd percentile. Simply put, Voit is mashing the ball, just like always. Manager Bob Melvin has cemented Voit in the clean-up spot, giving him plenty of opportunities to rack up RBIs and help your counting stats.
Jon Berti – Utility – Marlins (14.3%)
2022 Stats: .282/.382/.402 18 SB 130 wRC+
If you do not know by now, I love positional flexibility. On ESPN, Berti has eligibility at second and third and is four games away from gaining outfield, five away from gaining shortstop. While is .378 BABIP will likely come down, his 13.2% walk rate is sustainable. Once he gets on base, he's a major threat to steal. In only 37 games, his 18 steals are already a career-high.
Manager Don Mattingly has started to slot Berti in the leadoff or two-hole while giving him the greenlight on the base paths with 14 stolen bases this month, compared to four prior to June.
While Berti is more valuable in a categories league, the bump in the batting order, combined with the frequency of stolen bases, makes him a pick up in points leagues as well,
Zach Davies – SP – Diamondbacks (7%)
2022 Stats: 3.78 ERA, 1.20 WHIP, 69 IP, 57 SO
Zach Davies is better than most think he is. In his eight seasons, Davies has an ERA+ over 100 in six including 2022. Davies is still prone to a bad outing from time-to-time, and might be more of a matchup dependent starter. Luckily he's pitching better with a higher strikeout rate and lower walk rate than last year, leading to more trust starting him in over 75% of matchups.
Davies has found success pitching to weak contact. He currently ranks in the 91st percentile in average exit velocity and 88th percentile in hard hit percentage. Only rostered in 7% of leagues, you can pick up a solid starting pitcher to round out the bottom half of your fantasy rotation. Oh yeah, Davies faces Detroit this week so scoop him before the streamers do.
Tanner Scott – RP – Marlins (5.9%)
2022 Stats: 4.85 ERA, 1.35 WHIP, 26 IP, 40 SO
Hunting for mid-season saves is one of the more difficult parts of playing fantasy. Anytime you see a trend of a new player picking up saves, run to roster that player. Tanner Scott's past four outings all have been save situations, converting three and blowing one.
Scott might not be the most reliable option, but sometime you have the roll the dice in order to up your saves in a category league. In eight June appearances, Scott has only allowed runs in just one outing. His 13.9% strikeout rate will help in any league and makes Scott an attractive option for your fantasy bullpen.
Streamers
Cole Irvin – SP – Athletics (11.5%)
@ Kansas City June 24th
Irvin is one of the players just about everyone has rostered at some point in their fantasy baseball careers. If you have not yet, I expect that to change. Irvin faces the Royals this week who rank 27th in OPS, 29th in home runs, and 25th in wRC+. Against lefties, the Royals are slashing .233/.303/.363, making this matchup for Irvin attractive.
Irvin has pitched at Kauffman (KC) once in his career going seven innings of one-run ball. In three career starts against the Royals, Irvin has a 1.40 ERA. Pitching for the Athletics makes getting a win difficult, but I like the chances with Irvin on the mound this week.
Tyler Wells – SP – Orioles (10.3%)
June 22nd vs. Nationals
Baltimore's 6'8″ starter has quietly put together a solid season. A 3.62 ERA, 1.07 WHIP, and 6.8% barrel rate has helped position the Orioles to win anytime he's on the mound. In five home starts, Wells has a 2.66 ERA and 0.93 WHIP, making this home matchup against the struggling Nationals one to target.
Washington currently ranks 22nd in wRC+. They have the second-most hits in the league, but rank 21st in slugging. The Nationals pitching ranks last in the league in ERA (5.28) and Baltimore's bats can take advantage and hopefully push wells to a win.