Analysis
Dynasty Mailbag: Buying or Selling Jarred Kelenic's Hot Start
Jarred Kelenic has started the season red-hot, while Brady Singer has not and Mason Miller is up. We discuss it all in the Dynasty Mailbag.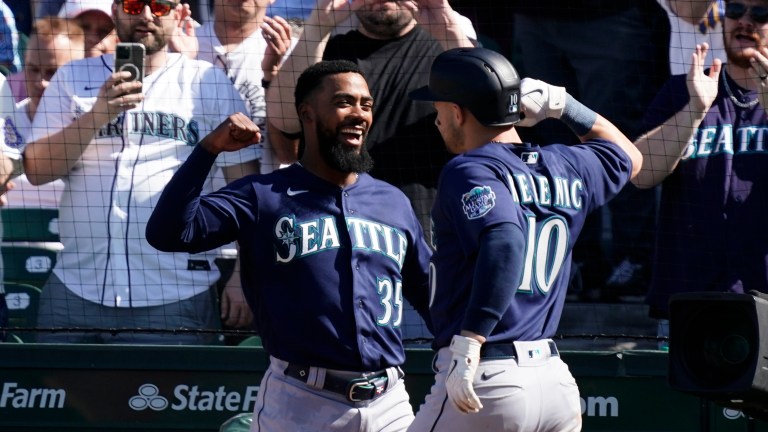 Hello and welcome to the second iteration of the Dynasty Mailbag. Every week I shall put out a tweet requesting your questions you may have and I will answer them here. Remember, this can be whatever you the reader wants it to be; dynasty, redraft, keeper questions, trade advice, interesting stories.
Feel free to also DM on twitter @RhysBWhite with any questions you may want answered on the next mailbag.
What in the world has happened to Brady Singer? Never the biggest fantasy baseball darling but in the early goings of the season things have gone horrifically bad for the former Florida Gator. His K-rate is sort of in line with his career norms to this point, always hovering below 25% K-rate, but this year it has dipped down to 20.4% which doesn't play. All the other stats have ballooned and this is because Brady Singer is getting hit, and hit HARD. 
He is in the bottom 1% of pitchers with exit velocity given up, he has always been around the average of 88.4 mph in his career but thus far it has been horrifically bad at 97.5 mph! A big reason for that is his sinker, which is his most-used offering, isn't being put in spots where it can play.
He is leaving a large majority of his sinkers over the heart of the plate and they are getting hit hard. The sinker getting hit hard has hurt the rest of the arsenal and has resulted in the dip in strikeouts and the ballooning of his HR/9 to 2.14. 
As far as what to do with Brady Singer, I think you have to ride it out. It sucks but maybe pick and choose the starts you use him in. There never was much fantasy upside, he was never going to be the next ace but in the right matchup he is a more than serviceable SP4.
I for one am super excited that we are getting a Jarred Kelenic that does not look utterly useless at the major leagues. He is hitting the ball extremely hard, with a 16.7% barrel rate at the time of writing this and a max exit velocity of 111.7 MPH. He is finally making good on the contact and that is allowing him to tap into his power on a more consistent basis. He looks leaner and more trim. He is also not useless against righties, hitting .364 against lefties, and even has a homerun against a southpaw. They can pick and choose when to use him against tougher lefties as well with AJ Pollock there. 
To answer the question, I am tepidly buying the Jarred Kelenic bounceback and as someone who ranked him ahead of Wander back in the day, I have always held out hope for him. He definitely isn't the .310/.386/.603 that he is hitting now, but at this point I will take an above-average hitter from Kelenic. I am glad I held onto a few shares. There is 20-20 upside here, and it is looking like he might finally be showing that promise we all hoped. 
What does one even do with A's pitching prospects? They aren't exactly in the greatest environment to thrive. Think of the last player the A's have truly made better at the major league level…I will wait. That being said, Mason Miller is awesome. His fastball will eat up hitters and his slider is not too shabby either. The upside here is immense, we are talking about maybe the next Spencer Strider…but he's always hurt. 
The greatest predictor of injuries is previous injuries and it's not fun to mention but Miller has been hurt a lot. Fun little tidbit before this week's start, if I gave you an O/U of 40.5 career MiLB innings, what would you take? If you took the under you would be correct, he has only thrown 33 innings in his professional career before his MLB debut. This is alarming.
To answer your question, he might already be the Vegas Athletics ace, but that is because someone legally has to be the ace of that staff. In the fantasy realm he is super exciting but the risk is out of this world. We could be talking about an SP2 who racks up crazy high strikeouts, just he has never shown an ability to stay healthy. The risk in my opinion (since this is my mailbag after all) is worth it. Also keep an eye on how crazy people go in redraft FAAB for him, I won't be partaking in this. I mean look at this whiff on the 102 mph heater, that does things to me!
Please everyone in @PeepMySlashline's league, take off his roster dead weight. Will Brennan, David Villar and Alec Burleson would look so good on your roster and think of your pal's team. Nah but in all seriousness there has to be better options on your waiver wire, and if you need help with that sort of thing that is what the mailbag is for. This thing can be as big or as little as you guys want, shameless self promotion I know.
Adam Laroche may have had the most interesting retirement there has been. He didn't believe in sending his child to traditional school, which whatever more power to you I guess, and he would bring his son to the clubhouse. I went to traditional school and look at me, I don't think Adam LaRoche's son is writing the best mailbag article there is with an emerging baseball brand…but to each their own. The problem was the White Sox told him to stop doing that, so he just pulled an Eric Cartman and said, "Screw you guys I am going home," and retired.
The things I do for the people, I love you all.