Analysis
Dynasty Mailbag: Graham Ashcraft, James Wood, and the Future of Second Base
Roster advice, prospect insight, and a glimpse into the future of second base for the first edition of the Dynasty Mailbag at Just Baseball.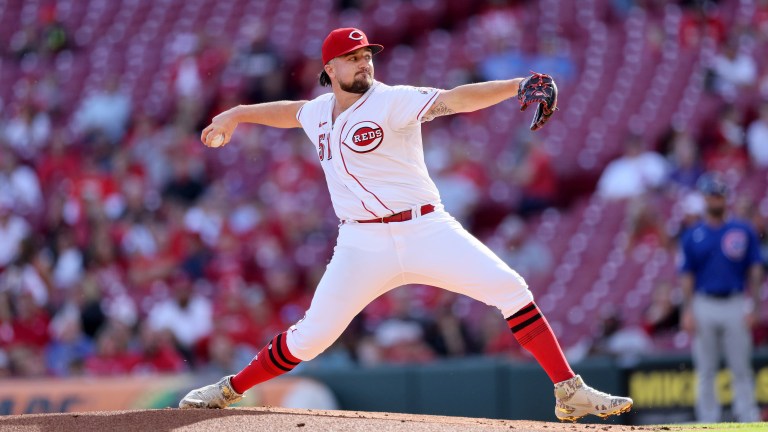 Welcome to the first edition of the dynasty mailbag here at Just Baseball. Once a week, I will take to Twitter and ask for any dynasty baseball questions you may have. Feel free to ask any questions regarding dynasty fantasy baseball: roster questions, trade advice, prospect thoughts — you name it, I will answer it. Without further ado, let's get into this baby!
Elijah is awesome, make sure to go and read what he puts out, I have been enjoying reading his content! This is like picking between which of my kids is my favorite, not that I have kids. I went in thinking I was going to lean Wesneski because he had more prospect pedigree, but I lean toward Graham Ashcraft as things stand. The way I see it, the upside with Ashcraft is a touch higher than Wesneski. 
I believe both will be solid starters that are viable in almost any format, and while Wesneski pitches behind a better defense and in a better ballpark, Ashcraft's stuff is just better. Ashcraft mitigates his terrible ballpark with a career 54.9% ground ball rate and solid enough command to remain a starter. His 97-mph sinker isn't an offering that will rack up strikeouts, but it will help with ratios and allow him to pitch further into games; luckily, the slider and cutter will help him rack up the K's. He is able to sequence both of them to make hitters guess which is coming, which will help those offerings play up. 
Wesneski has a bunch of solid pitches with no real standout offering, but that doesn't mean he will be a bad pitcher. He just doesn't have the upside that I think Ashcraft has. Wesneski kinda reminds me of someone who you draft past 150 in redrafts and don't get too excited about. I believe Ashcraft can turn himself into a pitcher who is routinely drafted as a top-100 pitcher in redrafts. 
While I don't ever envision either starter being anything more than an SP4 or SP5 type in fantasy, I like the strikeout upside more with Ashcraft. I think both will be hovering around 9.5-10 K/9 soon, but I like the ratio chances with Ashcraft a touch more to go along with more strikeout upside with the cutter and slider combination. 
Andrew Abbott had himself a fantastic start to the season, punching out 11 batters in one of his first outings. His stuff was reportedly up as well, which is encouraging to hear as someone who has Abbott rostered in a few different spots.
Speaking of the Reds, Leonardo Balcazar is definitely a prospect that has stood out; he has been hitting the ball hard. The Reds do a good job with these middle infield types. Given Abbott is relatively close, I would start contemplating stashing him, especially if he isn't going to walk a bunch of people. Balczar is worth keeping on your watch list, as he has some speed and even a touch of power. 
The season is relatively young, so we can check back in on a few prospects later. He's not a prospect anymore, but Jo Adell is smashing the ball: seven homers in his past six games. Free Jo Adell! Kumar Rocker has also pitched well, punching out eight batters in his five innings of work, which is awesome to see. 
Not a lot of prospects have really shocked me with how bad they have been doing, which is awesome!
James Wood is definitely the man; he is a top-10 prospect in all of baseball. He is massive and he has crazy power and will hit enough to tap into said power. The ultimate upside here is a guy who routinely hits 35-40 homers and is an asset in the triple-slash. I even think he can steal a few bases here and there and may end up with 15-20 in his first few seasons. It's like Giancarlo Stanton with a touch of speed is the 99th-percentile outcome. 
So I prefer Jud Fabian for a few different reasons. He is a fantastic defensive outfielder, so that will help him get onto the field and may allow him to have a bit of leeway while he learns to hit the best pitchers in the world. Plus, the tools on Fabian are better than Beavers, even if I think Beavers will hit more. Fabian may very well be plus power and plus speed, which could translate to a few 20/20 seasons for Fabian. 
Between Rhodes and Trimble, I really think it is a coin flip, but as I am writing this, I prefer Rhodes. I like his ability to hit a touch more, and his ability to draw a walk helps out, especially in OBP formats. Neither is going to be a consistent starter for the O's, but I like Rhoades's chances to be a fourth-outfield type who pitches in here and there. 
Well, who knows if we will all be alive in 2026, but if @MLBPR2 asks, the least I can do is go through and look at what every team's second base spot will look like. And boy oh boy, the second base position looks like it will get better, but only slightly. I did not include anyone who is draft eligible or could be acquired in a trade or free agent signing because that's a fool's errand.
Arizona Diamondbacks: Ketel Marte
Atlanta Braves: Ozzie Albies
Baltimore Orioles: Connor Norby
Boston Red Sox: Nick Yorke
Chicago White Sox: Some stopgap type, the 2026 version of Elvis Andrus
Chicago Cubs: Nico Hoerner
Cincinnati Reds: Jonathan India
Cleveland Guardians: Andrés Giménez
Colorado Rockies: Adael Amador
Detroit Tigers: Wenceel Pérez
Houston Astros: Jose Altuve or the next Hall of Famer off that prospect production line
Kansas City Royals: Nicky Lopez
Los Angeles Angels: Zach Neto
Los Angeles Dodgers: Miguel Vargas
Miami Marlins: Jazz Chisholm Jr., when the Marlins free us from the Jazz in center experiment
Milwaukee Brewers: Brice Turang
Minnesota Twins: Brooks Lee
New York Yankees: Oswald Peraza
New York Mets: Jett Williams
Oakland Athletics: Zack Gelof
Philadelphia Phillies: Bryson Stott
Pittsburgh Pirates: Termarr Johnson
San Diego Padres: Xander Bogaerts
San Francisco Giants: Please not Thairo Estrada, but honestly, who knows here
Seattle Mariners: Probably someone outside the org, but I do like Kaden Polcovich a bit
St. Louis Cardinals: Brendan Donovan
Tampa Bay Rays: Some platoon, or most of their roster will have eligibility here
Texas Rangers: Marcus Semien
Toronto Blue Jays: Addison Bargner
Washington Nationals: CJ Abrams
The future of second base is a bit brighter than its current state of grossness in fantasy baseball. A lot of young players will be playing this position because of the banning of the shift and the focus on athleticism at the spot. A lot of these teams seem relatively set at second base, and the next few free agency crops don't have any outstanding second basemen. I do think this is a position that we are going to see more steals from, which will help out fantasy production. All in all, the position is in a meh state right now, but it might get a touch better.
I am gonna be completely honest, I had no idea who Didier was before this outing, and I still don't have a concrete idea of what I think he will be. This could be a Royber Salinas situation, where he comes out hot and fades down the stretch. I do know a 17-year-old in a full-season affiliate is definitely worth monitoring. We will circle back on this one. Ugh, I hate corporate speak.