Analysis
Dynasty Mailbag: An Acceptable Trade for Elly De La Cruz?
A potential trade package for Elly De La Cruz, a timeline for Marcelo Mayer, and more in this week's Dynasty Mailbag.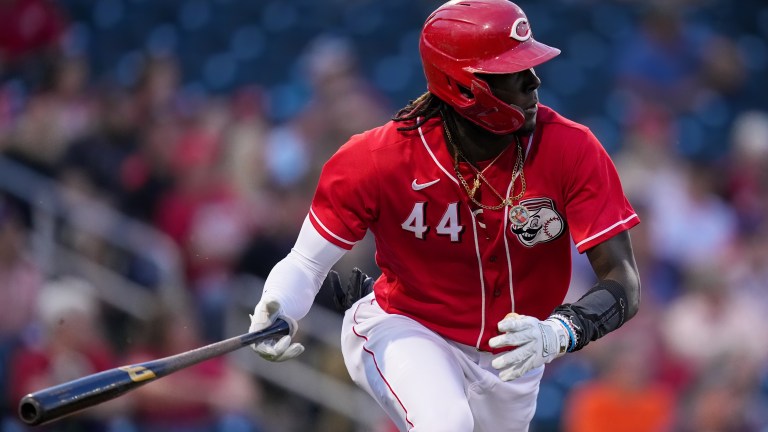 Normally, I would begin by stating that I posted a tweet requesting your questions, which I will answer in the next Dynasty Mailbag.
However, I would like to take a slightly different approach to start this off.
Shoutout to the Cal State San Bernardino baseball team! As you are reading this, they may be gearing up to play for the Natty in Cary, North Carolina. Let's go, Yotes! Special shoutout to my younger brother, Conner Batzer. He's a freshman reliever who frankly has that mother f'ing dog in him lately – he's HIM. I am incredibly proud of all that you have accomplished, my brother.
Anyhoodle, back to your regularly scheduled program, the Dynasty Mailbag. (The best one out there, if I do say so myself. The author is super smart, insightful, and rather handsome.)
Or, more accurately, back to the Dynasty Mailbag: Colby Olson Edition. Don't forget to get your questions to me as trade season picks up and the complex leagues really start heating up with the stars of tomorrow.
This is an exceedingly challenging question to answer for various reasons. The least important reason among these is that it's not fun to contemplate trading Elly, as he is just electric. This player has recorded exit velocities exceeding 110 mph from BOTH sides of the plate and is also one of the fastest players in Major League Baseball. The upside here is about as high for a prospect as I can remember.
But if you are dead set on selling high on his untapped potential and hedging your bets that he can't be this awesome forever, I've got you. Even if that makes me the least fun person to show up at a party, which frankly might be true, but who else knows every Minor League Baseball team at the party? But I digress.
I would require a top-30 player in exchange for trading Elly in a dynasty league.
Side note, while doing research for this: Ryan Noda has been one of the best Rule 5 picks in recent memory. A 155 wRC+? Where did this come from? Now, let's get back to our regularly scheduled conversation about Elly De La Cruz!
While scrolling through some leaderboards, I came across Josh Jung, who has been fantastic. His upside is not nearly as high as Elly's. This is because Elly possesses the kind of "best player in baseball" upside that few others have.
However, Jung's floor, especially in the fantasy game, is much higher because I have more confidence in Jung's approach and contact skills. Jung is hitting .291/.343/.511 with 12 homers and a steal. In this scenario, you are sacrificing potential for certainty and a higher floor.
Another option to consider, although I do not fully endorse it, is to acquire a young ace if you require pitching. Whew, definitely not Alek Manoah. How the mighty have fallen.
I would target Hunter Brown because even if this is his ceiling, he has the potential to be a top-15 pitcher in baseball. He is striking out 28.1% of the batters he faces while only walking 8.2%. He is currently rocking a 3.69 ERA, but he has a 3.11 FIP, so there could be some positive regression there. He also has the potential to become an ace. For a young pitcher to avoid getting shelled during his first extended taste of big league baseball, that gets the juices flowing. Plus, Hunter Brown is NASTY!!
To be clear, I wouldn't trade Elly De La Cruz (we as a baseball community should come up with a better nickname for him). However, if I had to choose between the two options I presented, these are the scenarios I would consider. It is also possible to consider trading him for a large number of prospects, but that can be difficult to map out. Always feel free to DM me trade packages for EDLC if you do get any interesting offers for him.
When you consider how young Mayer is and the fact that he is already in Double-A, you have to be excited, right? The 20-year-old has played fewer than a dozen games in Double-A, so it is not particularly useful to draw conclusions based solely on his stats at this point.
However, his rise through the minors has been rapid. Honestly, if he can handle Double-A and perform well there for a month or two, we may see him in Triple-A by the end of the season. Then, after a good spring and a thorough evaluation of Boston's shortstop situation (which is not ideal), we could potentially see him make the team's roster in 2024. Now that is the most optimistic projection I can provide.
Keep in mind that Boston has not shown a willingness to promote prospects directly from Double-A, so it seems that this season is more or less out of the question.
Unless something unexpected happens, which you never know.
When Mayer receives the call, he has the potential to become an excellent player, although I am still not completely convinced of his abilities at shortstop. I normally hate prospect comps, but think along the lines of Corey Seager for his, like, 90th-percentile outcome. Shoutout 90th Percentile, Geoff Pontes kills it over there. I don't know why the Tigers passed on him at 3. What will I tell my children (ew) about the Al Avila years in Detroit? I might just cry.
Here we go! It's time to delve into the nitty-gritty of dynasty baseball. It's like choosing between my favorite children. Or, I would assume it's like that, I don't have kids. I feel like I mention that a lot. Oh well. Keibert is the better overall hitter, but William has more power. At the time of writing, both of these young catchers have seven home runs.
Keibert has historically rarely struck out and has phenomenal bat-to-ball skills. Apart from his brief stint with the Dodgers in 2020, Ruiz has never recorded a strikeout rate exceeding 15% at any of his stops. Although he has never been the biggest power threat, his uncanny ability to avoid striking out has made him a reliable player. This newfound power, however, is exciting. He hit seven home runs in 112 games last year, but he has already reached that mark in just 50 games this season.
William, the brother of the much-maligned Willson Contreras within his own organization, has always displayed more power but also more strikeouts in his game. William plays for a better team because Washington is still in the early stages of their rebuild, while Milwaukee is a competitive team in the NL Central. Someone has to win the NL Central legally, but that's neither here nor there.
Last year, William performed well for the Braves, hitting .278/.354/.506 with 20 home runs. This year has been a bit of a slower burn in terms of performance; he's hitting .240/.340/.409 and only seven ding-dongs.
Ultimately, I think I would go with Keibert because his power is starting to develop, and I am confident in his ability to hit consistently, which provides a sense of security.
The Nationals' lineup has the potential to significantly improve if their outfield prospects develop as expected, they make successful draft picks, and they execute profitable trades. However, it is crucial that Elijah Greene stops striking out so much, please I am begging you. For the next three years, I would prefer Keibert over the not-hated Contreras brother.
I will talk to all of you in the upcoming edition of the Dynasty Mailbag! I am cooking up something special for all you prospect enthusiasts out there, so stay tuned for it. Oh, and if you happen to come across any animals in nature, be sure to take a picture of them wondering about prospects and tag me in it. People seem to enjoy this bit, so I am considering visiting a zoo for all you people for the content and the bit. Alright, I shall see you next week before I get in trouble with the higher-ups here!