Analysis
Dynasty Mailbag: When Will the Guardian Call Brayan Rocchio
The Dynasty Mailbag is back to answer your questions about some of the top prospects in baseball and who should be targeted in your leagues.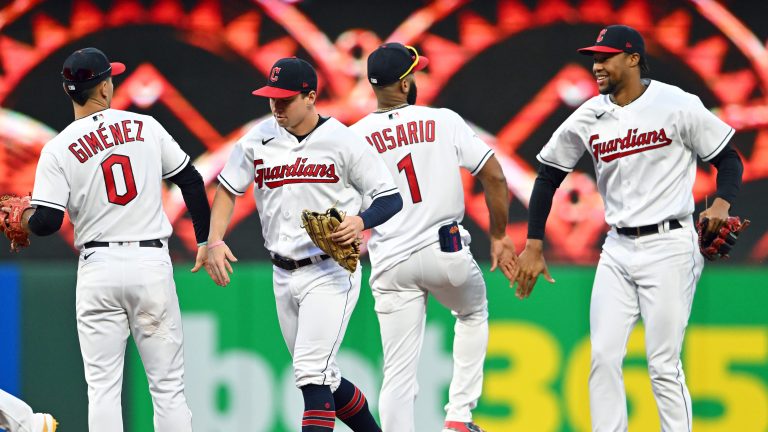 Hello everyone, it's another week, and you know what that means – it's time for another edition of the Dynasty Mailbag. As always, you can send your questions to me on Twitter, either by responding to the tweet or by DMing me. Without further ado, let's dive into this week's mailbag!
I tend to agree that Rocchio has nothing left to prove in Triple-A. He is currently hitting .326/.396/.467 in Columbus, a garbage city. The problem is that Rocchio is currently blocked at the major league level in his preferred position(s).
The Guardians find themselves in an intriguing position with their middle infield, as well as their infield as a whole. Outside of first base, where Josh Naylor and Josh Bell can alternate, every other position is accounted for. 
Cleveland has a superstar named José Ramírez firmly entrenched at third base for the foreseeable future. The middle infield is occupied by former Mets players, with Andrés Giménez at second base and Amed Rosario playing shortstop. This leaves little opportunity for Rocchio to break through and secure a consistent spot.
There is always the outfield, where there isn't much in way outside of Steven Kwan. It might seem like a waste to assign him to right field, but considering Will Brennan's triple slash of .231/.266/.331, it raises the question of whether Rocchio could earn playing time by playing in the outfield. If Rocchio starts getting playing time in the outfield then whew baby we could have a stew going in Cleveland.
As for his current value in dynasty leagues, it may be difficult to envision him getting playing time unless there is an injury. His value is somewhat unusual because, for most other teams, Rocchio would have a spot or a clear path to a spot. Therefore, you should hold onto him. His value would significantly increase if Rocchio were to be traded or if an injury were to occur. There isn't a significant power upside, and all of his value lies in his speed and his ability to make contact.
I love it when someone asks me a dynasty theory question. The response to this question depends on the scoring format of your league, although it may sound like a cop-out. In points leagues pitchers are, to use a term the kids are using are, OP (overpowered for those not in the know) you should stockpile pitching prospects to trade for more established pitchers.
In less extreme leagues, I prefer to accumulate a surplus of hitters and then exchange them for quality pitching. In my humble opinion, a rebuilding team should always prioritize trading for, drafting, and acquiring hitting prospects early in the process. 
It takes much longer to organize your lineup than it does with pitching. While building your team, it is advisable to prioritize stable players. Although pitchers may seem exciting and promising due to their potential, there are two important factors to consider.
1.) They will always break your heart and are one pitch away from getting injured.
2.) Pitchers often take longer than hitters to adjust to facing the best players in the world. This can be seen in the case of Grayson Rodriguez.
That's not to say you shouldn't pursue pitching prospects, as your minor league system should not solely focus on hitting prospects. However, it is advisable to prioritize hitting prospects. I believe that the optimal ratio is 80% hitting prospects and 20% pitching prospects. Remember to always aim for high-quality prospects, like Yeison Morrobel, who score 100%.
Getting really greedy with 3 questions in one tweet, I see! I'll allow it since I make the rules around these parts.
Whew, baby! Things are looking rough for Dylan Cease. As someone who has him in a few leagues, I am feeling the sting of his recent struggles. If he could stop giving up so many long balls and reduce the amount of hard contact, that would be mucho appreciated. With the price tag attached to Cease, I wouldn't consider a serious buy-low offer. He will rebound. He is far too talented to be dragged down by the White Sox garbage.
I think now is the perfect opportunity to buy low on Anthony Volpe. The talented shortstop has not been hitting well in the month of May, with a batting average of .174, an on-base percentage of .216, and a slugging percentage of .374.
This presents a good opportunity for buyers to purchase him at a lower price. There's no way he can be this bad as a hitter, right? Right! "I tell myself that not knowing what the future holds." As I mentioned in a previous question, it may take some time, but throwing Volpe into the deep end will ultimately help him. Maybe not this season, but the potential for a 20/20 performance is still present.
I would rank those prospects as follows: 
Drew Gilbert, OF Houston Astros
Carlos Jorge, 2B Cincinnati Reds
Coby Mayo, 3B Baltimore Orioles
Adael Amador, 2B Colorado Rockies
Colt Keith, 3B Detroit Tigers
Gilbert is having a great season, hitting .324/.408/.554. He has also advanced to Double-A. He offers the power and speed combination that we all crave. He has the potential to contribute in all five categories, making him a valuable asset. Jorge is a contact-oriented middle infielder with some power in the bat, I just question his speed.
Mayo, a condiment that I find unappetizing and uncomfortable due to its color (it's made of egg yolks and oil, so it shouldn't be white), has some concerns with its hitting ability, but it might have the most power out of the group. Adael Amador has exceptional speed and will be playing his home games at Coors Field, which is a great advantage. Keith is a talented prospect who is consistently hitting the ball well. Unfortunately, due to the nature of rankings, someone has to be at the bottom of the list.
That concludes this week's mailbag! Keep an eye on Twitter, I have been sharing prospect videos and I have something on the way. Plus you can follow my softball season, you know the important stuff.