A's Flame-Throwing Prospect Mason Miller Forges His Own Path to the Big Leagues
His jump to the big leagues might seem sudden, but Oakland A's prospect Mason Miller has proven himself at every step along the way.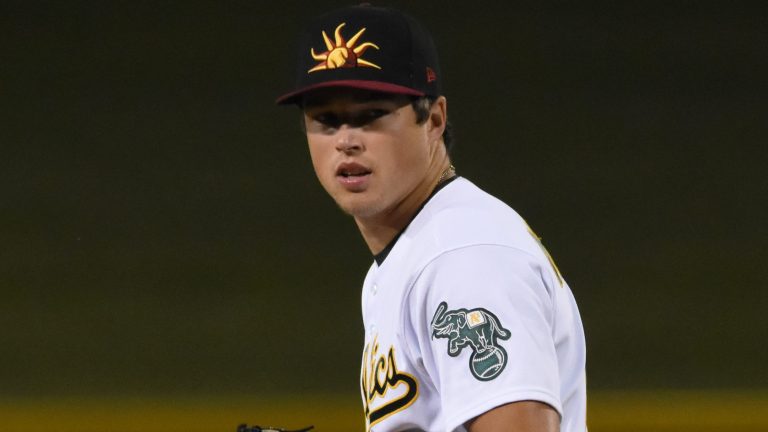 Last week, A's pitching prospect Mason Miller took the mound for the team's Triple-A affiliate, the Las Vegas Aviators, and simply dominated. He tossed five innings of hitless baseball with 11 strikeouts and no walks. His fastball averaged 100 mph, touching 102 mph, and the only base runner the Salt Lake Bees (the Angels' Triple-A affiliate) could muster against Miller was on a dropped third strike.
"It was the best fastball I've ever seen," one player who recently faced Miller told Just Baseball. "And I know I'm not the only guy who thinks that."
A third-round pick in 2021, Miller missed most of last season with a shoulder strain, and the A's wanted to be careful with him upon his return. He made a few appearances in High-A and then Triple-A to close out the year before being sent to the Arizona Fall League to make up for lost time. That's where Miller really hit his stride.
"By the time I was headed to the Fall League, I felt really good about where I was at," Miller said. "We made sure I was at a good point where I was able to get through some of those growing pains of getting back before I got on the mound again."
In Miller's first appearance back on the mound in a game setting, he sat at 101 mph across two innings against a wide-eyed ACL Cubs team, the organization's rookie-level squad. Between High-A, Triple-A, and the hitter-friendly Arizona Fall League, Miller tossed 28 2/3 innings to close out the year, striking out 40 batters against just seven walks with an opponents' batting average of just .173.
The 24-year-old's remarkable bounceback from a nearly season-consuming shoulder ailment is an impressive story in its own right, but it pales in comparison to the adversity Miller overcame just to reach professional baseball.
Originally a Division III pitcher at Waynesburg University in Pennsylvania, Miller struggled to a 7.16 ERA as a sophomore and dealt with major weight loss issues. At some points, the now 6-foot-5, 220-pound right-hander was 30 pounds below his typical weight.
As first detailed in Miller's 2022 interview with The Athletic, it was not until he provided a urine sample for a sophomore summer internship with Allegheny Health Network that he found out he had been battling type 1 diabetes.
"I went through the shock the first couple days for sure," Miller said. "But figuring out that I was able to do everything I was doing previously, feel much better from a health standpoint just in day-to-day life and understand why my body is affected by certain things the way it is…there's power in the knowledge you have."
Now with a hold on what was going on, Miller started to see his hard work translate into added strength. He returned for his junior season at Waynesburg looking like a different pitcher. He pitched to a 1.86 ERA over 67 2/3 innings, striking out 97 batters.
Miller was eager to build on his breakout third season with an even stronger senior year in 2020. After being invited to a workout with the Pirates–the closest MLB team to Waynesburg University–Miller started to believe that professional baseball could be an option for the first time in his career. He rode the momentum into 2020, but unfortunately, the pandemic halted his final year at Waynesburg after just two starts.
The NCAA offered players an extra year of eligibility after the COVID-canceled season, and Miller decided to use that opportunity to go play Division I baseball at Gardner-Webb University in North Carolina.
"I didn't know how realistic my shot was at that point," Miller said. "But that was me going all-in on baseball."
It didn't take long for Miller to emerge as Gardner-Webb's ace. He pitched 92 2/3 innings, sporting a 3.30 ERA while striking out 121 batters and walking just 30. His fastball was sitting in the upper-90s and even touched 100 mph that season.
A few months later, Miller was selected 97th overall by the A's, becoming Gardner Webb's earliest draft pick since 2005 and just the sixth player in program history to be drafted in the first 100 picks.
Miller's high workload during his final collegiate season kept him to just one appearance after the draft in 2021. The aforementioned shoulder strain, which wiped out 95% of his 2022 season, made it appear as though A's fans would have to wait a bit longer to see him in the big leagues.
After punching out 19 batters over 8 2/3 innings in his first two starts this season, the A's feel as though there is little reason to keep the flame-throwing right-hander in the minors any longer. Remarkably, he will make his MLB debut on April 19th with only 28 2/3 affiliated innings under his belt, plus the 16 2/3 innings in the Arizona Fall League.
On the surface, it may sound crazy, but it's hard to argue that Miller's 80-grade fastball and plus breaking ball would not be helpful for the struggling A's right now. If those two pitches weren't enough, he has also made strides with his changeup and incorporated a new cutter.
"One of the biggest things that came out of rehab was a real feel for a changeup that plays against hitters at any level," Miller added. "Being able to throw my changeup in the zone or below the zone when I want to is going to be a huge weapon for me."
In his first two starts of the year, Miller unveiled his cutter at 95-97 mph and picked up a handful of swinging strikes. He first threw the pitch in Spring Training of 2022, prior to his injury, but he felt it was "too raw" to use in games at the time. Now much more confident with the pitch, Miller ramped up his usage to a dozen cutters in his five no-hit innings on April 14.
"It's almost an outlier pitch," he said. "I'm kind of looking at it as a pitch that can make me really special in addition to my other plus pitches."
The A's only needed 30 professional innings to realize how special Mason Miller can be, and even so, we have probably not seen the best of the 24-year-old right-hander yet. Though his jump to the majors is quick from a professional standpoint, Miller has had to prove himself at every stop just to get there.
"I'm going to lay it all out there. I'm going to work my rear off as much as I can to get to where I need to be," Miller said. "I'm excited about the guys coming up through the system, I think we are going to have some things to be excited about in the next couple years."