Podcast
Five Largest Fallers in Just Baseball's Top 100 Prospects
A breakdown of the five prospects who dropped the most in our latest top 100 and whether you should still buy their card stock.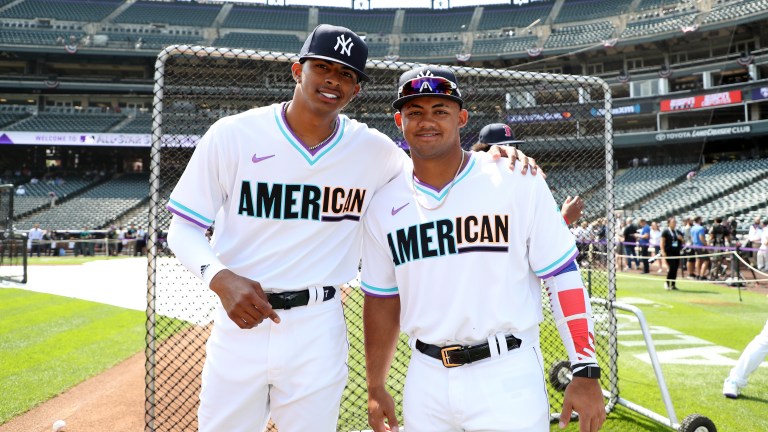 On the latest episode of Cardboard Consultants, Aram Leighton, T Wright and I have the opportunity to bring more great analysis of our top 100 prospects update. Last week we covered the top 5 risers and how their card values changed, and this week we covered the opposite.
We love covering the successes of players, prospects and teams but at times it is even more helpful to see and understand the drop in a players value. As Aram, T and I discuss some of the evaluations of players from the last rankings, we will learn alongside one another and evaluate who we would still spend our money on in this group of guys.
The five players that saw the biggest drop in rankings were Nick Gonzales, Mark Vientos, Dillon Dingler, Jasson Dominguez, and Luis Campusano. Just Baseball's Executive Editor and prospect nerd Aram Leighton gave a brief breakdown of each player's abilities and we followed that with a look at their Bowman Chrome 1st Autos with an eye towards how their prices comped to prospects ranked right around them on the list.
Nick Gonzales – 2B – Pittsburgh Pirates
2021 Rank: 31
2022 Rank: No. 53 overall – down 22 spots (current auto price: $150) 2020 Bowman Draft
Gonzales fell quite a bit in this recent prospect standings and mostly due to injuries and a slow start but we are still very high on Gonzales. It is hard to justify where he was in the listings when you compare where he is with where the other second base players are.
Nick Yorke, who is ranked 17 spots higher, has just been better than Gonzales. In reference to his Bowman Chrome Auto Prices though, there may be an opportunity to buy some more Gonzales autographs. We are seeing his Bowman Chrome Autos at a good purchase price around $150. 
Nick Gonzales is still an impressive ball player and we still believe he will be an All-Star. He was banged up last year and struggles with the swing-and-miss but we think he will figure it out. We are big buyers and holders of his, but there is justification of the fall.
Nick Gonzales Bowman first auto is in an absolutely loaded 2020 Draft and you can find more from the 2020 Draft on the Loupe App.
Mark Vientos – 3B – New York Mets
2021 Rank: 44 
2022 Rank: No. 75 – drop of 31 spots ( current auto price: $60) 2017 Bowman Chrome
We like Vientos a lot still and he has incredible amounts of power but that is one-dimensional right now. He is immobile and is struggling to find his position and that is hurting his value. He has cut his K% down and has helped his projections but has a way to go before all the pieces are together. Just like Gonzales, he is still a guy we like but just have questions in his profile.
With his auto at $60, Vientos is still worth the risk. In card values, power plays and Vientos has plenty of that. Consider this an opportunity to get him at a cheaper price point.
Dillon Dingler – C – Detroit Tigers
2021 Rank: No. 63
2022 Rank: Unranked – drop of 37 spots (current auto price: $25) 2020 Bowman Draft
Dillon was a guy that we loved his story. We see an incredible athletic catcher but it was still a small sample size. We saw the classic example of college bats hitting really well in A+ before struggling in Double-A. He is learning how to be a professional catcher, as he played in the outfield in college, so we believe this plays into his struggles, but as collectors the bat is what plays. Dingler will come around, but he is working through some tough lessons defensively at the moment.
We would caution you in buying Dingler right now. Compared to catchers in the hobby, there are so many other options at affordable prices that we don't believe the risk is worth the reward for Dingler at the moment. If we see him figure things out in the upper levels of the minors he could return in the top 100, but right now he is a sell.
Jasson Dominguez – OF – New York Yankees
2021 Rank: 27
2022 Rank: No. 63 – drop of 36 spots (current auto price: $225) 2020 Bowman
The market is adjusting and correcting for Dominguez. Two weeks ago you could buy Dominguez autos for upwards of $500 and now the prices have come down to around $225. This still makes him the most expensive card in this fallers list but for good reason.
If you take an objective sense to Dominguez's game it is hard to find a reason to have him even in the top 50 right now. He is immobile, struggling to be a professional and play every day and is not hitting like he was projected to. At some level that was expected since his projections were so high but this has been a crash back to earth for Dominguez. All we can think of is the money that is being lost in the SuperFractor 1/1 sale that happened earlier this year. 
We are all in agreement though that this is not his floor and so we are still in a sell mode for the time being. There will likely be upside to Dominguez and he still could be a good big leaguer some day, but we are far off from that. We commonly need to be reminded that this kid is still 17 years old.
Luis Campusano – C – San Diego Padres
2021 Rank: 23
2022 Rank: No. 91 – drop of 68 spots (current auto price: $15) 2017 Bowman Draft
Aram helped us understand the drop by saying that he will likely be a strong big league catcher and his power and offensive profile still plays well. This man has had a wild MLB career already through. He has been through an arrest, a rush to the big leagues and never playing above A+, and a plethora of pinch hit appearances.
He has been forced into a ton of bad spots with the Padres trying to chase the Dodgers the past few years but the real fall here was from comparing him to other guys in the position. Other catchers have lapped Campusano. It says more about the catcher position right now though than Campusano.

We would still pick his auto up at $15 but there are many other players at that price point that we would rather have.
If you are interested in any of these players, and the ones mentioned alongside of them in the above recap, the full show has so much more on each. Again, you missed the biggest risers of the top 100 click here.
A reminder that if you like these guys still or are in need of any other prospects, head on over to the Loupe app and be on the lookout for 2022 Bowman Wax as it has since dropped as of May 4th.
Some Bowman products are tough to find at your local card shop, so if you are looking to start investing or collecting in Bowman Baseball you'll find what you're looking for on the Loupe app.
If you are interested in 2022 Bowman, you can expect that product to be available in blasters, hobby's and jumbos now as release was May 4th and I can assure you that the breakers on Loupe will have tons of product in hand come release day.