Analysis
Five Biggest Risers in Just Baseball's Top 100 Prospects
On the latest episode of Cardboard Consultants, the guys discuss: the biggest risers on our top 100 prospect list and where you can find them on the Loupe app.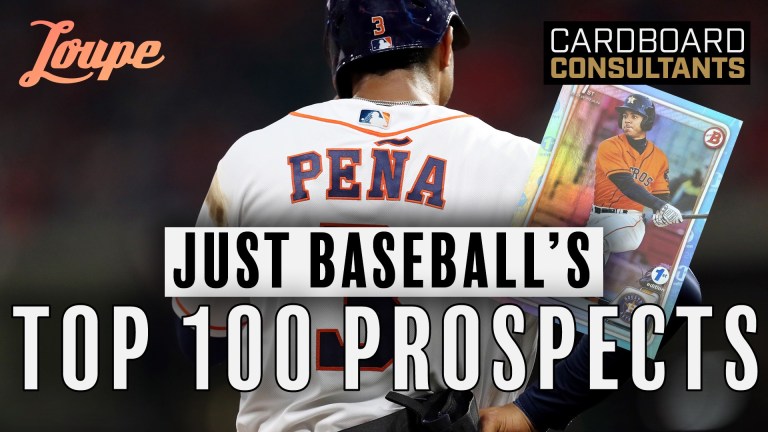 If you missed this week's episode of Cardboard Consultants, you missed our look at the five biggest risers in the most recent edition of our top 100 prospects. From a card investment standpoint, I think it's a must listen, though I'm admittedly a tad biased.
Not only are we listing the biggest risers on our Top 100 prospect list, but also what product you can find them in from sellers on The Loupe App if you want to try your luck in packs!
The five players that were the center piece of our discussion were: Jeremy Peña, Elly De La Cruz, Luis Matos, Diego Cartaya, and Gabriel Arias. Just Baseball's Executive Editor and prospect nerd Aram Leighton gave a brief breakdown of each player's abilities and we followed that with a look at their Bowman Chrome 1st Autos with an eye towards how their prices comped to prospects ranked right around them on the list.
Jeremy Peña – SS – Houston Astros
2021 Rank: N/R
2022 Rank: No. 22 overall – up 78 spots (current auto price: $225)
We love Jeremy, and if you've watched the show at all, you know that we were urging you to buy his cards long before his debut. Pre-Spring Training you could've landed his Bowman Chrome 1st auto for $60. Now, if you're lucky, you'll pay around $200.
If you can get one below that, don't hesitate to pull the trigger. Players around him on the Top 100 include Noelvi Marte (21st overall; $325); Jordan Lawlar (29th overall; $300); and Marcelo Mayer (30th overall; $400). All of these guys hope to be Jeremy Peña someday and are still priced above him.
If you want to try your luck with ripping wax, you can find Jeremy Peña's first bowman chrome auto in 2020 Bowman Chrome product on the Loupe App
Elly De La Cruz – SS – Cincinnati Reds
2021 Rank: N/R
2022 Rank: No. 52 – (no auto currently, 1st Edition: $20)
Elly doesn't have an auto because he just received his first Bowman card in the 2022 Bowman 1st Edition release. We do expect him to have an auto in the Bowman flagship product set to release May 4th, and we guess it'll probably run north of $100. You will be able to find a ton of different sellers on Loupe breaking 2022 Bowman Baseball throughout the month of May and beyond.
Elly is a fascinating prospect who we are extremely high on as Aram gives him some significant praise throughout the episode. A player that sits close to him in the Top 100 is Oswald Peraza (No. 55 overall: $125), but we are both drawn more to Elly's upside.
Luis Matos – OF – San Francisco Giants
2021 Rank: No. 89
2022 Rank: No. 44 – (current auto price: $180)
Matos is off to a terrible start this season, but there's no reason to panic sell. If you read Aram's write-up on the young slugger, you'll quickly realize why. Outfielders around him on the list include Zac Veen (No. 38: $200); George Valera (No. 43: no auto – 1st edition only); and Colton Cowser (No. 47: $110).
There's not one in the bunch that we don't like, but if you are looking for value out of those four, we urge you to consider taking a closer look at Cowser. Valera will also be a big chase in the upcoming 2022 Bowman release.
Diego Cartaya – C – Los Angeles Dodgers
2021 Rank: N/R
2022 Rank: No. 63 – (current auto price: $150)
Still only 20 years old, Cartaya has produced in the early stages of his career. Part of the reason for his card price being so high is due to the fact that he's in the Dodgers system and was such a heralded international free agent (signed a $2.5 million deal as a 16-year-old).
We are hesitant to buy him at his current price point and would urge you to wait until he shows more at higher levels of baseball than where he currently resides. Personally, I'd rather have five Shea Langeliers cards (69th overall; $30) than a single Cartaya auto.
Gabriel Arias – SS – Cleveland Guardians
2021 Rank: N/R
2022 Rank: No. 65 – (current auto price: $40)
If you are a Guardians fan, you have probably already seen Arias' first taste of Major League action these past couple of days. While it hasn't been jaw-dropping, he's still worth a flier at his current auto price. I proposed the following scenario to Aram in the show: who'd you rather buy, Gabriel Arias, Brayan Rocchio (No. 62: $40), or Liover Peguero (No. 70: $45). His response is worth the listen.
If you are interested in any of these players, and the ones mentioned alongside of them in the above recap, the full show has so much more on each. Next week we will cover the five biggest fallers in the top 100, which should be just as interesting a show as this one.
A reminder that if you are hunting these players specifically, head on over to the Loupe app and be on the lookout for 2021 Bowman (Gabriel Arias); 2019 Bowman (Diego Cartaya); 2020 Bowman Chrome (Luis Matos); 2022 Bowman 1st Edition (Elly De La Cruz); and 2020 Bowman Chrome (Jeremy Peña).
Some of these products are a little hard to find at your local card shop, so if you are itching to rip there is a high likelihood that you'll find what you're looking for on the Loupe app. If you are interested in 2022 Bowman, you can expect that to release on May 4th and I can assure you that the breakers on Loupe will have tons of product in hand come release day. Happy hunting!