Analysis
MLB Playoff Best Bets for ALDS/NLDS Games, October 11, 2023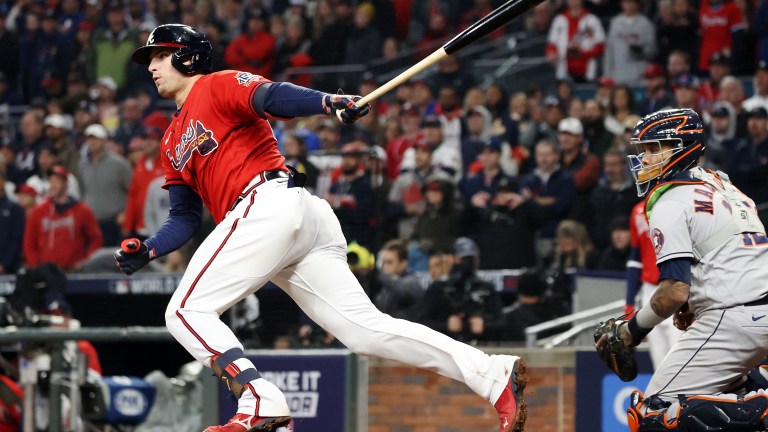 We destroyed BetMGM yesterday by winning 0.05 units. I'm not sure if they will ever recover.
The Rangers steamrolled the Orioles as we predicted. It's the old saying, "I wish I put more". I don't often feel that, even on blow-up wins, but that shouldn't have been plus money. On the value alone, I'm kicking myself for not upping the units on that one. Oh, well.
The Minnesota Twins. Everyone has given up hope. I haven't; let me explain why and how I'm playing them today. I also have a PrizePicks entry as we navigate through the playoff terrain.
Check out my MLB future on this series for more data.
2023 MLB Regular Season: 154-165 (-11.66 U)
2023 MLB Playoffs: 7-7 (+1.18 U)
Minnesota Twins vs. Houston Astros @ 7:07 PM EST
Pitching Matchup:
Joe Ryan: 4.51 ERA, 3.51 xERA, 4.14 FIP, 3.76 xFIP, 3.44 SIERA
Jose Urquidy: 5.29 ERA, 4.70 xERA, 5.38 FIP, 5.45 xFIP, 5.24 SIERA
The Twins suffered a beatdown yesterday. They were dominated by the playoff Messiah in Cristian Javier, and Yordan "Thanos" Alvarez continued his terror over opposing pitchers. Everyone has now completely jumped off the Twins after one bad game. The series isn't over until it's over.
However, I was disappointed when the line was posted immediately after the game. The Twins were favorites again at -125, even -130 in certain spots. That wasn't worth it for me, so I decided to play the Twins in a different way. I do think they win today, but the value is not on the money line today; it's on the series price.
I invested in the Twins at +143 to win the series. As of yesterday, they were +105 to win this series. After one loss, that line moves to +350 as the Twins sit on the brink of elimination. That is a complete overreaction. They are favorites today for a reason. They have the better-starting pitcher, and due to the blow-out nature of the game, they have the bullpen advantage with all hands on deck and plenty of rest. The offense is still a good unit. So, if they win today, I'll have 1.5 U to win 3.68 units. I'm setting myself up for a potential middle in game five, or I might risk it all. I like having options.
I thought about laying the full unit on the ML today because I do think they win, but I felt this was the best option. I am basically betting on Twins ML today.
Jose Urquidy has some playoff experience, and the results have been okay. In 36 innings, he's pitched to a 3.72 ERA, 4.70 FIP, and 5.03 xFIP. He won't fear the limelight, but that doesn't mean he pitches well.
He faced the Twins back in April and got extremely lucky. He threw 5.1 innings, allowing seven hits and one earned run. He posted a 1.69 ERA in that start, but a 4.36 xFIP. In 35 PA against this Twins' current roster, they have posted a .324 AVG, a .323 xwOBA, and a .437 xSLG. He will most likely go one time through the lineup after turning it over to JP France. JP France is making his first postseason appearance with his 5.00 xERA this year. He doesn't scare me, either.
Joe Ryan will toe the rubber for the Twins. I don't expect him to go very long unless he dominates. He didn't end the season on a nice note, but his last remaining start was at Coors Field so I'm not putting much stock into it. His velocity and extension are back to normal levels, which is all I care about. We can't forget, Ryan was in the CY Young race before going down with an injury.
He hasn't fared well against Houston regarding production (9 ER in 10 IP), but I believe in the quality of contact numbers. Through 56 PA against the Astros' current roster, he's posted a .239 opponent average, a .329 xwOBA, and a .400 xSLG. Do I think he dominates? No, but I think he can be better than the combination of Urquidy and France.
The Twins have Jhoan Duran for multiple innings if needed. Griffin Jax, Brock Stewart, Caleb Thielbar, Louie Varland, and Chris Paddack are all fully ready. You can point to Joe Ryan and say he's the reason they lose, but I don't think this game will be decided early. The only arms I'm afraid of in this Astros bullpen are Bryan Abreu and Ryan Pressly. Abreu threw yesterday, and if both of those guys go again, the Astros are probably winning, and the game is over anyway.
I believe in this Twins team. I like their chances in a must-win game at home, but I'd rather punt to game five, where it's Pablo Lopez against Justin Verlander. If I feel the Astros win, I'll have options to middle for automatic profit, or I'll ride a +245 money line in game five.
Instead of laying a unit today, I'm adding a half unit to my existing position. If they lose tonight, I lose less than if I were to play them at a normal amount today. If the Twins were a better price on the ML, I would be playing them. However, does anyone find it interesting that the Twins are favorites? I'll buy into the conspiracy. I would bet this down to +310.
The Pick: Minnesota Twins To Win Series (+350) 0.5 U to win 2.25 U
PrizePicks Entry 0.25 U to win 0.5 U
Lance Lynn Over 11.5 Pitching Outs
Every ounce of my being wants to take the Dodgers to win tonight. However, I have more trust in Lance Lynn than in this offense. What a crazy statement, but that's playoff baseball. The Diamondbacks bats are hot, but I still see Dave Roberts extending a leash even if Lynn gets touched up a bit. He can piggyback with Ryan Pepiot, but I think Roberts would rather lean on the experience of Lynn rather than go to a rookie. He saw what happened with Sheehan and Miller; I believe Lynn gives them the best shot. Through 51 PA, Lynn has held Diamondbacks hitters to a .495 OPS, a .211 xwOBA, and a .261 xSLG. He's the best option the Dodgers have in a do-or-die game. According to Outlier Data, he's +EV at 11.5 Pitching Outs.
Austin Riley Over 1.5 H/R/RBI
I have absolutely no idea who will win tonight in the Braves vs. Phillies game. Aaron Nola will get the ball and face AJ Smith-Shawver and Bryce Elder. The Braves announced it would be Elder to start, but I don't know how long he goes or what the Braves have in store. We know that Aaron Nola will get the innings for Philadelphia, so I'm targeting my favorite bat on the Braves today.
What a home run by Austin Riley. As soon as he hit that, I knew he would be my go-to guy against Aaron Nola. He loves facing Aaron Nola; he's 21-54 with five home runs and five doubles. He's rocking a .389 AVG, .319 xBA, .759 SLG, .666 xSLG, and a .425 xwOBA. His average exit velocity is 92.6 MPH against Nola. He's number one on the Braves against Nola with at least 10 PA in BA, xBA, SLG, xSLG, xwOBA, HR, and doubles. If he doesn't do anything, so be it. I am willing to ride with our best option, who built momentum with one of the craziest home runs in the postseason in the last few years. He's also -120 to go over, so there's good value on PrizePicks.