Analysis
MLB Picks Today, Best Bets, Odds, Predictions for May 3, 2023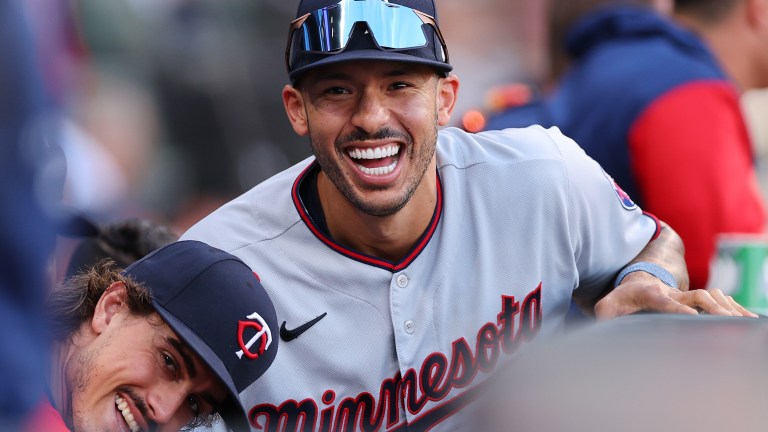 Alright, alright, alright! Back on track after picking up a unit yesterday. We went 1-0-1 after an easy cash of the under in Cubs vs. Nationals. We ended up pushing on the A's first five ML after both pitchers threw five-inning no0hitters.
Today, I got you for my three MLB Best Bets as well as a PrizePicks entry to hopefully build on yesterday's momentum.
2023 Straight Plays Record: 46-39 (+3.69 U)
2023 PrizePicks Entries: 4-12 (-1.4 U)
I will track both records separately so you can track how I'm doing on g me picks and PrizePick entries!
Arizona Diamondbacks vs. Texas Rangers @ 2:05 PM EST
Pitching Matchup: Brandon Pfaadt vs. Andrew Heaney
System play! We fade rookie pitchers making their debut. Bryce Miller was the man to fade yesterday, and he threw six perfect innings. It was incredible, but that won't sway me off this pick or any of these moving forward. It still pushed even with six perfect innings, but this one is winning today.
Here's an excerpt from our Top 100 Prospects List about Bradon Pfaadt.
"Though he may not have ace upside, Pfaadt is as much of a virtual lock to stick as a starter as there is in the system and continues to get better each time I watch him pitch. Plus command of four pitches that ticked up in 2022, it makes sense that Pfaadt kicked things into another gear this season.
Despite pitching in some of the most hitter-friendly environments in the Minor Leagues as a fly-ball pitcher, Pfaadt attacked hitters relentlessly. He may be susceptible to the long ball, but solo shot hurts a pitcher much less than walks, and Pfaadt only walked 4.8% of batters last season.
The 24-year-old has the floor of a back end of the rotation starter, though I believe his pitchability and willingness to improve and tweak his craft will have him closer to a No. 3 starter with room for a bit more."
You may be wondering why I'm not on the first five. I think the first five will hit, but when I look at this matchup, I think the Rangers have every single advantage; starting pitching, offense, and bullpen, so I'd prefer to take them through the full game at home.
I'm also not a huge fan of Andrew Heaney. His strikeout rate has dropped, and his sider doesn't appear to have the same bite it did last season. I still think he's a league average pitcher, but I don't see a vast difference between him and Pfaadt. I do see the difference in bullpens and with the splits on offense.
The Diamondbacks have not been very effective against left-handed pitchers this season and sruggle offensively on the road. In the last week against left-handers, they are rocking a 77 wRC+, ranking 19th in that span. In the previous two weeks, they have a 76 wRC+, dropping them to 25th in the league. Over the entire season, they have a 91 wRC+, ranking 21st in baseball.
The Diamondbacks will also see a Rangers bullpen that is relatively well-rested. While three of their five best relievers threw yesterday, they had an off-day the day before. The day before that, they didn't use any high-leverage relievers. From a SIERA perspective, the Rangers bullpen is slightly better than the Diamondbacks, but in the ERA and FIP departments, the Rangers bullpen is in a different league than Arizona.
Pfaadt should have trouble today with a fantastic Rangers offense against right-handed pitching. The Rangers rank fourth in baseball in wRC+ against right-handers and third in the last two weeks at 136. They also rank second in Hard-Hit rate against righties, which is usually a bad recipe for a pitcher who throws this many strikes.
However, even with all this, I'm not laying the juice. Arizona opened as a -120 favorite, which I take very seriously. This game could easily be a "too good to be true" pick. I want to be completely honest; I would not be laying the Rangers if this weren't a system. A system doesn't matter if I only play it occasionally. I think the Rangers will win this game; it's worth a unit.
The Pick: Rangers ML (-120) 1 U to win 0.83 U
Minnesota Twins vs. Chicago White Sox @ 7:10 PM EST
Pitching Matchup: Louie Varland vs. Dylan Cease
Here's what I mean by trusting opening lines. The Twins opened up as a -115 favorite and were immediately steamed toward the White Sox. Why? Dylan Cease's velocity is down, his strikeout rate is down, his velocity is down across the board, and his zone contact rate is the highest it's ever been. There are plenty of indicators to say Dylan Cease is not performing at nearly the same level he was last year. His ERA is 4.15, but his xERA is at 4.44. I can't find anything that points to positive regression for him at this moment. Could things change? Absolutely. Do I think this will change today? Not particularly.
While I generally hate betting on White Sox games, I have no problem fading them in the right spot. My issue is tailing them or beting on totals. Fading them? Yes, please.
Louie Varland is a nerd's dream. His Stuff+ metrics after his first start were staggering, and this is carrying over from his time in the minor leagues. He flashed this plus stuff against the Yankees, striking out eight while only walking one. Regarding Stuff+, he ranks in between Shane McClanahan and Kevin Gausman. Varland sits at 116, and Cease sits at 111. That's jarring to hear, but just looking at the physical attributes of his pitches, every single one of his four pitches ranks well above average.
He'll have a far superior bullpen behind him as well. The White Sox bullpen ranks 22nd in SIERA, while the Twins bullpen sits in 12th. The White Sox bullpen has a 6.68 ERA, second worst to the Oakland A's at 6.86. The Twins' bullpen ERA is at 3.86, good for 15th in the league.
Over the entire season, the White Sox rank 22nd in baseball in wRC+ at 83, while the Twins rank 12th with a 107 wRC+. The Twins bats have also been stellar against righties lately, putting up a 136 wRC+ in the past two weeks compared to the White Sox, who sit dead last with a 63 wRC+.
The White Sox are favored because it's Dylan Cease. The early opener of -115 towards the Twins tells us what the books really think, so I'm more than glad to grab them at plus money.
The Pick: Twins ML (+110) 1 U to win 1.1 U
Milwaukee Brewers vs. Colorado Rockies @ 8:40 PM EST
Pitching Matchup: Eric Lauer vs. Kyle Freeland
Another strange opener. The Rockies opened as -115 favorites before everyone came in on the Brewers expecting a bounce-back win. Will they? I'm not so sure.
Eric Lauer might have the worst stats I have ever seen pitching at Coors Field. Last year, he threw their once and allowed seven runs in 2.2 innings to give him a 23.63 ERA. In 2021, he threw five innings and allowed three runs to give him a 5.40 ERA. In 2019, he three against on three separate occasions, tossing eight innings, and allowing 19 runs, 17 earned runs, and 24 hits to give him a 19.13 ERA. In 2018, he threw three innings and allowed seven runs, six of them earned, to give him an 18.00 ERA. In his career pitching at Coors Field, he has a 15.92 ERA. You just don't see that often.
Kyle Freeland is a pitcher you'll rarely see me tail. What he does have working for him is the Brewers inability to hit a left-handed pitcher. It's been this way ever since last season, where they ranked towards the bottom of the leaderboards against left-handed pitching. They have some new youngsters, but the problem remains. Over the last two weeks, this Brewers team ranks 28th in wRC+ at 70. Over the entire season, the rank 29th in wRC+ against lefties.
Freeland has also been nails in a limited sample against Milwaukee. Through 54 against the Brewers current roster, he's rocking a 31.5% strikeout rate, a .102 opponent batting average, a .209 xwOBA, and. a .216 xSLG. Those are phenomenal numbers compared to Lauer against this Rockies current roster. Through 88 PA, the strikeout rate is at 14.8%, a .358 opponent batting average, a .353 xwOBA, and a .462 xSLG. There is also two-run difference in xERA between these starters. Kyle Freeland is at 4.19, and Eric Lauer is at 6.19.
Here's why this bet isn't the easiest in the world. We truly need the Rockies to snap out of this funk against left-handed pitchers. On stream yesterday, people were asking me about the Phillies ML because of how dreadful the Dodgers have been against lefties. My answer to that; it's a matter of time before they snap out of it. I believe the same for the Rockies, as this team graded well above average against lefties last season. Randall Gritchuk is also back, who is a huge boost to the lineup against left-handed pitching.
The total sits at 12; we should expect both offenses to score plenty of runs. I have more faith in the Rockies scoring more than the Brewers when it's all said and done considering the offensive splits and Lauer's inability to pitch well at Coors Field. It's plus money, I had to jump.
The Pick: Rockies ML (+105) 1 U to win 1.05 U
PrizePicks Entry
Tim Anderson Under 7.5 Fantasy Score
Cutters and right-handed pitchers have always been tougher on Tim Anderson. I watched his AB's yesterday and he still doesn't look all the way back healthy from his injury. Either that or he is simply not hitting the ball right now. Varland will give him a healthy dose of cutters, and a 7.5 fantasy score implies a very good day. I just don't see that happening with less than ideal hitting conditions at Gaurenteed Rate Field.
Kris Bryant Over 1.5 Bases
He's the reason this season the Rockies' offense against lefties hasn't been putrid. He's going to see a four pitch mix; four seamers, cutters, curveballs and sliders. He has a positive run value against three pitches this season; four-seamers, cutters, and curveballs. This is a match made in heaven for Bryant and should cruise past 1.5 bases. It's also -135 on BetMGM, so we are seeing great value on PrizePicks.