Analysis
MLB Best Bets Today: Predictions, Odds for Royals vs. Rockies, Brewers vs. Marlins for May 15, 2022.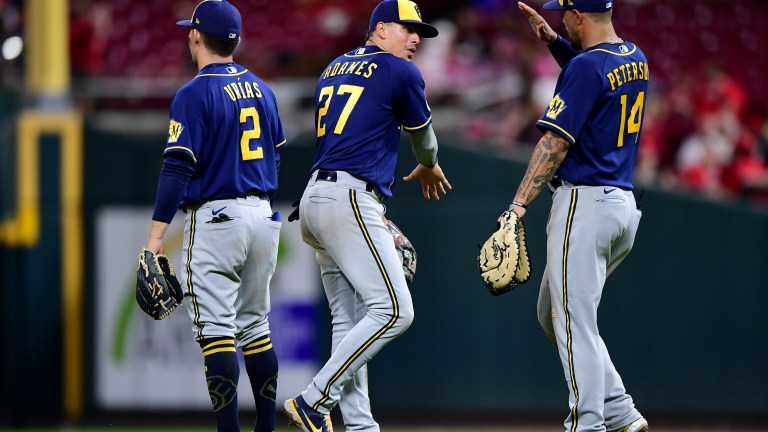 We are officially on the worst losing streak of my 24-year-old life. After some bad beats yesterday, we are 5-13 in our last 18 picks.
Thankfully, the Rockies came out firing against Carlos Hernandez en route to a first five innings victory. Young pitcher's first time at Coors Field, it's one of the best bets in baseball.
We took the under through the first five innings with the Marlins and Brewers, which went south. Both pitchers were carving through three innings before the Marlins hit three home runs in the same inning against Eric Lauer. Lauer had his worst start of the year against a team struggling to hit lefties all year; go figure. That's our luck right now.
We also had Giants ML, and that one felt safe after the Giants were riding a five-game win streak and scored 32 runs in their past four games. Hudson was due for some regression, and the Cardinals were losers of five of their last six games. Instead, the Giants were shut out, and the Cardinals cruised to a 4-0 win.
Today's MLB plays will be delivered from a plane bathroom, where we are 9-5 all-time. I need every piece of good luck today, as we haven't had a ball bounce our way in a week.
Peter's 2022 MLB Regular Season Record: 61-47 (56%) +10.66 units
Subscribe to my New Gambling/Fantasy Baseball Podcast: Not Gambling Advice.
Kansas City Royals @ Colorado Rockies: 3:10 PM EST
Daniel Lynch: (LHP, Royals) [2-2, 4.01 ERA, 1.30 WHIP, 24.2 IP, 25 K, 9 BB]
Austin Gomber: (LHP, Rockies) [2-3, 4.36 ERA, 1.24 WHIP, 33 IP, 29 K, 10 BB]
Yesterday, we faded Carlos Hernandez hard. Pitchers have a tough time adjusting to Coors Field, and more often than not, they get shelled. This year it's been our most successful bet, fading young pitchers at Coors Field. Not only do we have a second-year pitcher in Daniel Lynch, but he's a left-hander. The Rockies have the best Team OPS against left-handers this season. This has all the makings of a Rockies blow-out.
Toeing the rubber for the Rockies will be Austin Gomber, one of the most promising pitchers on this team. He was the big piece in the Nolan Arenado train and rewarded the Rockies last season with a 2.09 ERA at Coors Field. He struggled mightily on the road (6.22 ERA), but lucky for us; we don't have to deal with that.
Austin Gomber pitched against the Royals back in 2020, throwing six shutout innings at Kansas City. That was a while ago, but at least we saw some success. Royals hitters went 2-26 with five strikeouts against him. The Royals have been slightly better against left-handers this year (.637 OPS) than right-handers (.603 OPS), but they haven't hit at all in day games (.536 OPS).
The Royals will put runs on the board. We know that it's Coors Field. I'm just so confident that the Rockies put up a number so crooked that the Royals won't be able to catch up. We saw a 10-4 victory in last night's game, and I wouldn't be shocked to see a similar score in this one.
Let's talk about Daniel Lynch because he's been off to a pretty good start in 2022. Many young pitchers struggle on the road, and Lynch fits that bill. This year, he's rocking a 2.70 ERA at home and a 4.91 ERA on the road. He's pitched worse during the day; in two starts, he has a 5.19 ERA versus a 3.38 ERA at night.
Lynch is very effective against left-handed bats, but the Rockies lineup will feature at least seven right-handed bats that destroy lefties.
This year, the Royals are 5-11 on the road, while the Rockies are 12-6. The Rockies know that most of their wins will come at Coors Field, and this is one of the best matchups of the year for them. I want to isolate this starting pitching matchup by taking the first five innings, but I'm also willing to ride the money line. Go Rockies!
The Picks: Colorado Rockies First 5 Innings -0.5 (-110), Colorado Rockies ML (-140)
____________
Milwaukee Brewers @ Miami Marlins: 1:40 PM EST
Brandon Woodruff: (RHP, Brewers) [3-2, 5.97 ERA, 1.36 WHIP, 28.2 IP, 37 K, 10 BB]
Elieser Hernandez: (RHP, Marlins) [2-2, 6.37 ERA, 1.42 WHIP, 29.2 IP, 28 K, 9 BB]
Alright, Brewers, time to snap out of it.
The Brewers have hit a bit of a skid, losing five of their last seven games after going 15-3 in their previous 18 games. This Brewers team is legit; they've recently run into some bad luck. Facing Elieser Herandez should turn the tide from them, as they recently beat up on a similar arm.
Brandon Woodruff will get the ball for Milwaukee, and he's due for a substantial bounce-back start. He's been off to a rough start, but it's been incredibly unlucky. His xERA sits at 3.70 compared to his 5.97 ERA, and he's still striking out plenty of hitters.
This will be Woodruff's first time pitching against the Marlins, so we don't have much matchup data. We have a history of an ace-type pitcher figuring it out, and that's all Woodruff. He's coming off back-to-back rough starts against the Reds, but I think he turns the tide today.
When I dive into Woodruff's arsenal, I don't see any actual areas of concern. His curveball has been getting smashed this year, but his changeup looks better than last year, and he's still throwing 95-97 MPH with the four-seam and sinker. While his road stats are abysmal, I can't see him continuing on that trend with how good he truly is.
Elieser Hernandez will start for the Marlins, and he may be sent down to the minors if he continues what he's been doping. The Marlins have prospect Max Meyer waiting, so Hernandez will need to prove he can pitch in the big leagues. He hasn't yet, allowing at least three earned runs in five of his six starts.
The Brewers have the fifth-best Team OPS against right-handed pitching in the league, but they haven't been able to hit a left-hander. They were limited against lefty Trever Rogers, but that won't be the case against right-hander Elieser Hernandez.
The Brewers recently beat up Vladimir Guttierez, who has a similar profile to Hernandez. They both feature a low 90s fastball, the main secondary of a slider, and the mix-in of a changeup. The Brewers got four runs off him in less than five innings, and they should do the same to Hernandez.
Garrett Cooper and Joey Wendle remain out of the lineup for the Marlins, two of their most productive hitters this year. After an embarrassing 9-3 loss yesterday, I think the Brewers come ready to play behind Woodruff. Give me the Brewers through the first five innings.
The Pick: Milwaukee Brewers First 5 Innings -0.5 (-110)
__________________________
I've written up a quick guide with critical terms and helpful tips.