Analysis
MLB Best Bets, Odds, Predictions for Padres vs. Diamondbacks, Phillies vs. Braves for September 17, 2022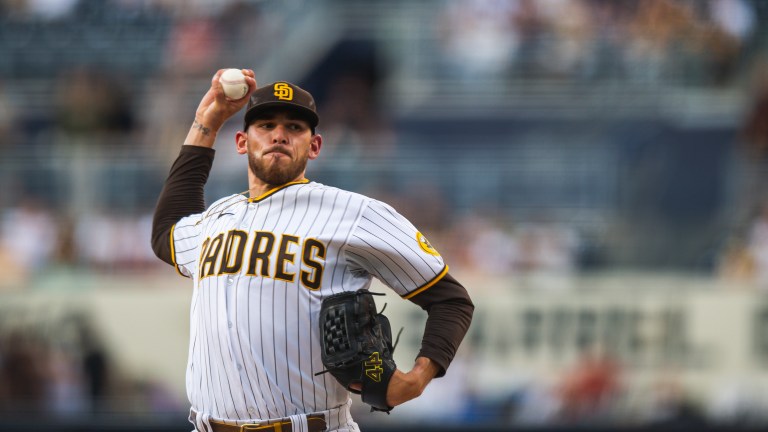 Another fantastic day of baseball. We took the Padres through the first five innings; they got out to an early lead and never looked back. We took the under in Dodgers vs. Giants, and it hit with two runs to spare.
After another sweep, we are back with two more picks. Let's continue to win. Check out the podcast for my Week 2 NFL Picks.
2022 MLB Regular Season Record: 206-171 (55%), +36.14 Units
Philadelphia Phillies vs. Atlanta Braves: 7:20 pm EST
Aaron Nola (RHP, Phillies) [9-11, 3.31 ERA, 0.97 WHIP, 179.1 IP, 202 K, 24 BB]
Jake Odorizzi (RHP, Phillies) [5-5, 4.15 ERA, 1.28 WHIP, 89 IP, 68 K, 27 BB
We head to Atlanta for the second game of a three-game set. The Phillies got embarrassed last night after a late-inning blow-up from their best reliever, Seranthony Dominguez. Dominguez has been great all season, but he fell apart in his third game back from injury. The game was much closer than the 7-2 score indicates, and today, Philadelphia has plenty of advantages.
Alright, Phillies. Time to be unbanned. Life is about second chances… right? The line movement indicates it may be time, about 60% of the public is on the Braves yet the line has either stayed the same or moved in slight favor of the Phillies.
Aaron Nola will get the ball for the Phillies who's been nothing short of spectacular this season. His results haven't been superb, but his underlying metrics are extremely solid. His 2.62 FIP is one of the lowest in all of baseball, and his 2.80 xERA ranks in the 88th percentile. Your job as a pitcher is to limit hard contact, strike batters out, and stay away from walks. Nola does just that, and he's been moderately successful against the Braves.
Nola has been much better on the road this season, rocking a 2.85 ERA versus a 3.76 ERA on the road. The only real reason he's been better on the road is all the home runs he's allowed at home. We have the wind blowing in at Truist Field, so the power should be diminished for both sides, giving Nola an edge.
Nola has pitched against the Braves three times this season with mixed results. He's pitched to a 4.22 ERA against them through 21 innings, but his best start came at Truist Park, where he threw eight innings and only allowed one earned run. I don't think he'll dominate, but he should give us a good chance to win.
Jake Odorizzi should not. The Phillies haven't faced them this season, but they have in the past, and it didn't go well for Jake. Through 32 PA, Odorizzi has a .414 opponent batting average with a .464 wOBA and a 94 MPH average exit velocity. The xwOBA is .431 and the xSLG is .602.
That's concerning if you're backing the Braves today. Odorizzi is worse at night and worse at home and does not match up well against this potent Phillies lineup.
Since September began, the Phillies rank 4th in wRC+ against right-handers while the Braves rank 7th. I think it's a solid bet to take the Phillies through the first five innings, but I think the length we will get from Nola will be enough to give them the win in the end.
The Pick: Philadelphia Phillies ML (-110)
1.1 Units to Win 1 Unit
_______
San Diego Padres vs. Arizona Diamondbacks: 8:10 pm EST
Joe Musgrove (RHP, Padres) [9-7, 3.28 ERA, 1.09 WHIP, 159 IP, 157 K, 34 BB]
Zac Gallen (RHP, Diamondbacks) [12-2, 2.50 ERA, 0.91 WHIP, 158.2 IP, 163 K, 40 BB]
This series… again? Yes, this series again. I'm now 2-0 picking the winner of each game so far, and I feel like I have a read on this one. We head to Arizona for the third and final game of a three-game set. We picked the Diamondbacks in game one, the Padres in game two, and those are your two winners.
This line is giving Zac Gallen an incredible amount of respect. I'm a big fan of Zac Gallen, but what even is this? He should not be the favorite in this matchup. The Padres are the better team with a similar starter on the mound, a better bullpen, and a better offense. The money is currently in slight favor of the Diamondbacks which is just absurd to me.
Zac Gallen put together one of the longest scoreless streaks in baseball history and now he's a favorite against Joe Musgrove and the Padres? Please. He's a great pitcher, but his 3.26 xERA ranks in the 75th percentile. Joe Musgrove is now being underrated, as his 3.31 xERA is a smidge behind Gallen.
You could point to the Diamondbacks' success against righties in September and say they have the offense advantage, and you'd be somewhat correct, but I trust the Padres' offense.
Both pitchers have not performed very well on the surface against each other. Both pitchers are rocking an ERA over five against the opposing team, but when we look at a larger sample and dive into the deeper numbers, it seems Musgrove has had the advantage.
The opponent batting averages are practically even, but every other number gives Musgrove the edge. Gallen has a higher opponent wOBA, xwOBA, xBA, xSLG, lower strikeout rate, and higher average exit velocity. Following Gallen will be one of the worst bullpen units in the game, both lately and over the full season. The Padres bullpen hasn't been great, but it's better than what Arizona will put out there.
I'm going to take the better team that's more motivated to get a win here with their ace on the mound.
The Pick: San Diego Padres ML (-105)
1.05 Units to Win 1 Unit