Analysis
MLB Picks Today, Best Bets, Odds, Predictions for May 23, 2023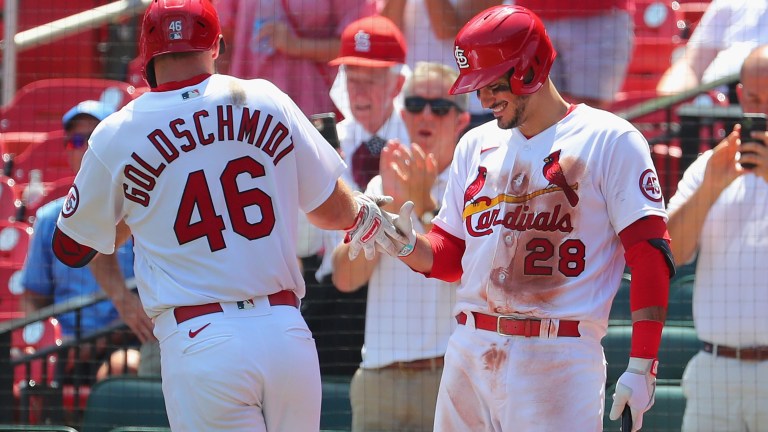 Another 2-0 sweep of game picks! We cashed the under-nine in Giants vs. Twins after a terrible start. The Giants scored four runs before Bailey Ober got his first out. Luckily, that's all the Giants did, and the Twins just added one more, and the game ended on five runs. We cashed the over in Tampa as the Rays scored six runs early off Chris Bassitt, and the Blue Jays chipped in four of their own.
Unfortunately, Nolan Arenado looked lost at the plate and went 0-4. Chris Bassitt allowed six runs, but only two of them were earned. We hate losing PrizePicks entries, but it was only a 0.2-unit loss.
Let's continue to build today with three MLB Best Bets
2023 Straight Plays Record: 70-53 (+11.88 U)
I'm using BetMGM lines only this year. Here's a link to get started with a risk-free $1000 bet. You can also use code "JBFANS" if you're betting on MLB. Wager $10 on any MLB moneyline and receive $100 once the bet is settled.
All prop entries will be on PrizePicks: Here's a link to get a 100% deposit match.
Chicago White Sox vs. Cleveland Guardians @ 6:10 PM EST
Pitching Matchup: Dylan Cease vs. Logan Allen
These exact pitchers matched up five days ago, and the game ended with a 3-1 Guardians win. Dylan Cease threw a quality start, and Logan Allen skated by on seven hits while only allowing one earned run. There were plenty of runners left on base, and both teams had an xBA of .262 or higher. There mustered 15 hits but only four runs. When the familiarity is there, and the offenses get another chance to score, runs usually cross the plate.
Dylan Cease finished second in AL CY Young voting last season but has not looked nearly as effective this season. The spin rates and velocity on his pitches are down across the board, and he's allowing the hardest contact of his career. His strikeout rate is his lowest since 2020, and he's leaving too many pitches middle.
I assume he'll bounce back at some point, but when he's been historically worse on the road, and the Guardians just saw him, I don't think it happens today. It may not happen all year, as he has a 4.54 xERA and 4.20 FIP compared to his 4.79 ERA. I would tell you his past stats against the Guardians, but Cease isn't close to the pitcher he was last season.
The Guardians had a .299 xBA in the last matchup. That was also without Jose Ramirez, who is 5-18 with two doubles and a .299 xBA against him in his career. This Guardians' lineup has been dreadful this season, but matchups against fastball/slider-dominant pitchers who allow hard contact are where the Guardians can be successful. That's when I targeted them last season, and it's bound to revert soon.
Logan Allen also skated by in his last start against the White Sox, who are in their better split against left-handers. The White Sox have a 106 wRC+ against left-handers this season, but they've been much better in May, raising that to 142, good for fifth in baseball.
Allen has been great from a production standpoint, but his xERA at 5.09 is cause for concern, and it's on the back of a lot of hard contact. The White Sox rank seventh in Hard-Hit rate against left-handers, and they just saw him five days ago. They should come in with a better plan.
Nobody in the White Sox bullpen scares me at this point. They should have some of their solid arms available, but I don't think it'll matter much. I still expect the Guardians to be able to score late. I think the White Sox have plenty of success with Allen, but at least 1-2 runs can be scored off the Guardians' bullpen.
The model has this game capped at nine runs which I feel would be the total if the game before didn't end 3-1 and yesterday's game ended 3-0. Progressive Field ranks as the sixth-highest run-scoring environment out of 15 ballparks today. We should see at least eight runs, but I do think this game ends 5-4.
The Pick: White Sox vs. Guardians Over 8 (-110) 1.1 U to win 1 U
St. Louis Cardinals vs. Cincinnati Reds @ 6:40 PM EST
Pitching Matchup: Adam Wainwright vs. Graham Ashcraft
This total is very high for a reason. While both pitchers are popular names, I doubt that either turn in a good outing.
Adam Wainwright must hate pitching in Great American Ballpark. Last season, he threw twice there and allowed 11 runs in 10.1 innings. In 2021, he threw there once and allowed seven earned runs in 2.2 innings. In 2019, he threw there twice and allowed ten earned runs in 10 innings on 16 hits. In 2017, he allowed 12 runs in six innings over two starts. In the years I skipped, he didn't pitch at Great American. I could keep going even farther back, but I think you get the picture.
It's a strange phenomenon; he continues to get blown up in this park, no matter who is at the plate.
I keep wanting to believe in Graham Ashcraft, but he continues to let me down. He relies on his cutter and slider to get outs, which hasn't worked. When the velocity difference is just 8 MPH between his offerings, hitters can sit on a certain speed window, making ABs against Ashcraft easier. He needs to develop something soft to throw off hitters' timing, but he doesn't have that offering yet.
He's rocking a 4.84 ERA and 4.51 xERA this season, and his walk rate has spiked to nearly 10%. He faced the Cardinals once last season and allowed nine hits and four runs in 4.2 innings. In May, the Cardinals ranked number one against right-handed pitching in wRC+ at 123 and number two in OPS at .814. Ashcraft is walking into a very tough matchup.
Both bullpens were heavily used yesterday in an extra-innings battle. The Reds have five solid bullpen arms, and all were used yesterday. The best of the bunch, Buck Farmer and Alexis Diaz threw at least 28 pitches yesterday. The Cardinals also used their four best relievers yesterday, with Andre Pallante and Ryan Helsely throwing at least 23 pitches. While both bullpens are solid, they are not rested following these starters.
Great American Ballpark is the second-best hitter's park after Coors Field, and it ranks second in terms of a run-scoring environment on Ballparkpal. It is supposed to be 80 degrees by game time, with some slight cloud coverage. Great day for baseball.
The model has this game capped at 11 runs, so we see plenty of value at 9.5. This is easily playable at 10, but lower your unit size if it gets to 10.5.
The Pick: Cardinals vs. Reds Over 9.5 (-120) 1.2 U to win 1 U
Los Angeles Dodgers vs. Atlanta Braves @ 7:20 PM EST
Pitching Matchup: Bobby Miller vs. Spencer Strider
Fading a rookie on the road in their debut. It's a system that has been very profitable this season, going 4-1-2. The only issue, the first five moneyline is expensive at the current price, so we are playing a line that doesn't match the system exactly. That's why you won't see me lay juice, but it's still worth a play.
Bobby Miller is one of the Dodgers' prized pitching prospects. This will be a must-watch game as both pitchers will routinely tough 100 MPH. When Miller comes up, he'll rival Hunter Greene for the most thrown pitches at 100 MPH. However, just because he throws hard doesn't mean adrenaline won't get the best of him against a Braves team that just lost the series' first game.
Here's a pre-season outlook on Bobby Miller, which you can find more information on our Top 100 Prospects list, where Miller comes in at 32.
"Yet another electric pitching prospect in a loaded Dodgers system, Miller has a good chance to be the best of the bunch. Three potentially plus pitches with solid command and impressive size/athleticism on the mound paint the picture of a potential front-line starter.
Miller's surface-level stats may not be as sexy as some of the other pitching prospects in his ranking tier. However, the Texas League and Pacific Coast League are two of the most difficult spots in the Minors to pitch.
Most importantly, Miller set a career-high for innings pitched at any level, tossing 109.2 frames while maintaining his high-end stuff late into the season and late in games. It's about health for Miller as he battled some more minor arm issues this spring, but if he's right, Miller is a middle-of-the-rotation option with a chance for more."
Pitching in the PCL inflates your ERA due to their run-scoring environments. He has 12 strikeouts, six walks, and a 5.65 ERA in 14.1 innings over four starts. While the stuff is electric, he's not doing particularly well in AAA. He projects to be a very good starter one day, but let's see how he does at Truist Park, one of the harder environments to throw at.
On the flip side, we have Spencer Strider, one of the best pitchers alive. He threw once against the Dodgers last season, tossing six shutout innings and striking out seven. The Dodgers have a phenomenal offense overall, but I'm interested to see how they do against Strider. I think they'll be able to piece together a few, but I have much more faith in the Braves' offense.
The Braves should come out hungry. This is a very important series for both teams, and they just dropped the first game. The model tells me this line should be at -120, so we aren't on the right side of the value. The model rarely shows a first-five lead over -125, so they still have the Braves winning through five. We ride the system, and I love it even more after the Braves dropped the first game yesterday.
The Pick: Braves First 5 Innings -0.5 (-145) 1 U to win 0.69 U