Analysis
MLB Picks Today, Best Bets, Predictions, Odds for April 18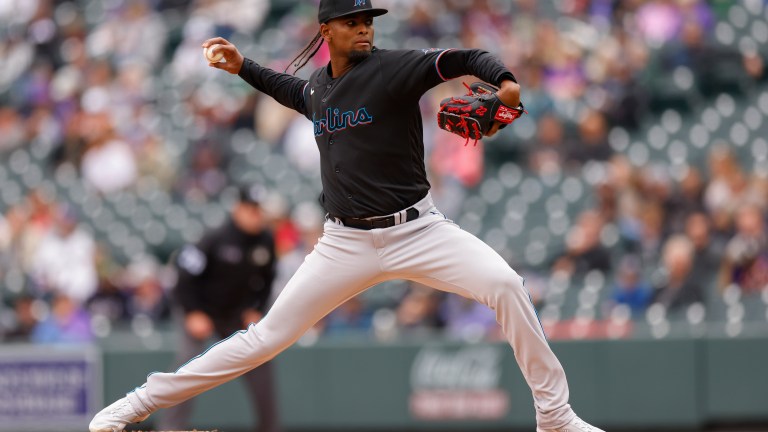 Another positive day! We put out three underdogs, two of which came out as winners. As I have stated, I was unfazed by our slower start. We are winning at a 56% rate this season, and if we can do that all year, it will go very well for us. The more data I get and make adjustments to the rules, the better the picks will be. I have three more for you today and a PrizePicks entry. Let's continue to roll.
Just so we all know, I'm using BetMGM lines only this year. Here's a link to get started with a risk-free $1000 bet. You can also use code "JBFANS" if you're betting on MLB. Wager $10 on any MLB game and receive $100 instantly.
All prop entries will be on PrizePicks: Here's a link to get a 100% deposit match.
2023 Straight Plays Record: 32-25 (+4.58 U)
2023 PrizePicks Entries: 2-6 (-1.05 U)
I will track both records separately so you can track how I'm doing on game picks and PrizePick entries!
Toronto Blue Jays vs. Houston Astros @ 8:10 PM EST
Pitching Matchup: Chris Bassitt vs. Jose Urquidy
I normally don't love backing teams after a blowout win, but I'm steadfast in my conviction that this is a get-right series for the Astros. I still think they are the best team in the American League, even though the record may not say it. The Blue Jays are fantastic, but I think the Astros have the starting pitching, bullpen, and home-field advantages. The Blue Jays have a slightly better lineup, but when the Astros' offense starts to roll, that's not a team you want to be on the other side of.
Let's talk about Chris Bassitt. I've said it before, and I'll say it again, I think he's in for a very rough year. It's already started, posting a 7.63 ERA, 7.71 xERA, and 7.76 FIP. As you can see from the image below, nothing is going well for him. He's not getting hitters to chase, his command is off, and he's getting hit hard.
He's going up against an Astros offense that's hit him hard before when he was a better pitcher on the A's in the Astros division. He had his best year with Oakland in 2021 and still surrendered an 8.38 ERA against the Astros that season. Through 80 PA against the Astros' current offense, he's allowed a .349 xwOBA, a .267 xBA, and a .515 xSLG. Yordan Alvarez and Alex Bregman are a combined 11-29 (.379 AVG) with two doubles and four home runs. The image below reflects what Chris Bassitt has done so far this season.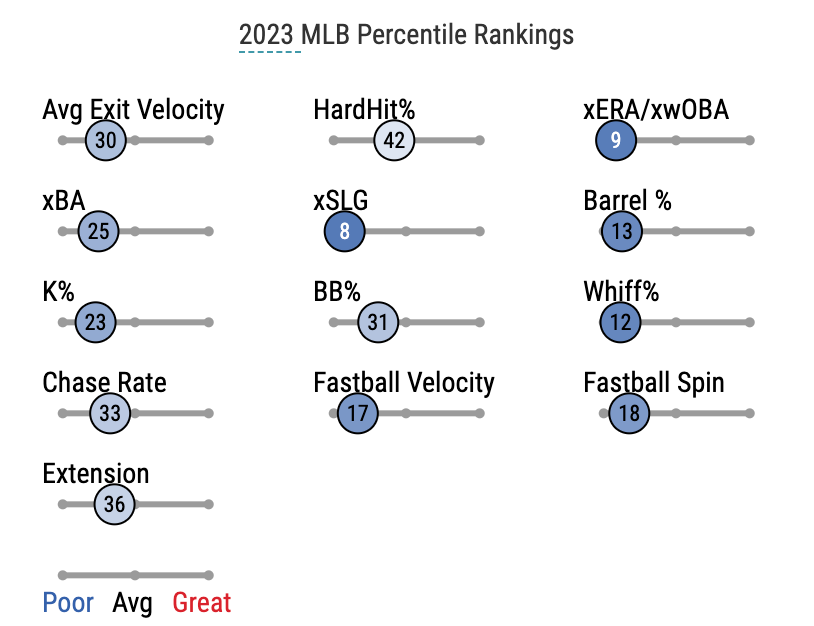 Jose Urquidy isn't the best pitcher in the world, but he's made major changes to his pitch mix that should work well against the Blue Jays. The Blue Jays are one of baseball's best against fastballs, and last year's Urquidy would have gotten smashed based on his profile. He didn't perform well against them, allowing six earned runs in 10.2 innings. To his credit, it was in back-to-back starts, and his first start against them in Houston was quality, throwing 5.2 innings and allowing two earned runs. In the start following that one in Toronto, he allowed four earned runs in five innings.
The changes Urquidy made this season is cutting his fastball usage in half, which is huge against the Blue Jays. His sweeper was solid last year, so he doubled that usage, and it's been very effective, posting a .171 xBA and .311 xwOBA. These changes have allowed much more soft contact, ranking in the 94th percentile in average exit velocity. This has contributed to his 2.35 ERA and a 3.39 xERA.
The Astros didn't throw their best relievers yesterday, and they have that advantage. The Blue Jays' offense is better on paper, but the Astros have the better matchup. I'll take the Astros again because I believe they continue to roll.
The Pick: Houston Astros ML (-110) 1.1 U to win 1 U
Minnesota Twins vs. Boston Red Sox @ 7:10 PM EST
Pitching Matchup: Sonny Gray vs. Chris Sale
Maybe I'm crazy. Maybe I don't know what I'm talking about. Maybe this bet will bite me in the ass. Here's the thing, I still think Chris Sale has something in there.
His slider is still fantastic. He's getting a 40% whiff rate on it, holding opponents to a .143 xBA and a .338 xwOBA. It's his most used pitch; if he's locating it, he can still look like the Chris Sale of old. His fastball has led to all the damage he's allowed, leading to his 11.25 ERA this season. His 6.85 xERA is still bad, but it tells me he's due for positive regression. His 3.74 xFIP tells me the home runs he's allowing should greatly decrease, as xFIP is a stat that normalizes HR/FB rate.
We can't deny that Sale has dominated this Twins lineup in the past. Through 56 PA, he's rocking a 35.7% K rate, a .252 xwOBA, and a .355 xSLG. These are old stats, so I don't put much stock in them, but the Twins rank 19th in wRC+ and 19th in Hard-Hit rate against left-handers this season. I also just watched the entire Yankees vs. Twins series, and besides that incredible outburst in game one, the offense did not look good. We also have to give credit to the Red Sox bullpen, which is sporting a 3.95 SIERA, good for 13th in the league.
Do you know what is good about the Twins? Pitching. Sonny Gray has been one of the best pitchers in baseball to start the year. He's rocking a 0.53 ERA, 3.15 xERA, and a 2.32 FIP. He's facing a Red Sox lineup that is 19th in wRC+ and 22nd in Hard-Hit rate against right-handed pitching this season. Following Gray will be an elite bullpen up to this point, ranked fourth in SIERA.
The ML on this game is so interesting. It's a pick-em at this point, and both of these pitchers, by ERA, are the complete opposite. That tells me two things. Either the Red Sox crush Sonny Gray, or Chris Sale pitches relatively well. I think the second option is more likely. Believe it or not, I believe in Chris Sale more than I believe in this Red Sox offense.
It's supposed to be in the low 50s by game time, meaning the weather conditions should help the pitchers even more. Give me the under.
The Pick: Twins vs. Red Sox Under 9 (-105) 1.05 U to win 1 U
San Francisco Giants vs. Miami Marlins @ 6:40 PM EST
Pitching Matchup: Alex Wood vs. Edward Cabrera
The narrative remains that the Marlins can't hit left-handed pitching, something we made a lot of money on last season. That couldn't be further from the truth, but the market prices them like that. We faded Madison Bumgarner, and now it's time to fade Alex Wood.
I think the market overvalues the Giants, plain and simple. I see them as one of baseball's ten worst teams, and I predicted they'd finish fourth in the NL West at the beginning of the season. This looks like a shell of a team, and they are not an organization that you'll see me betting on much this season. The Marlins, on the other hand, look like a revamped squad with plenty of exciting players. When healthy, this lineup can really get after left-handed hitting.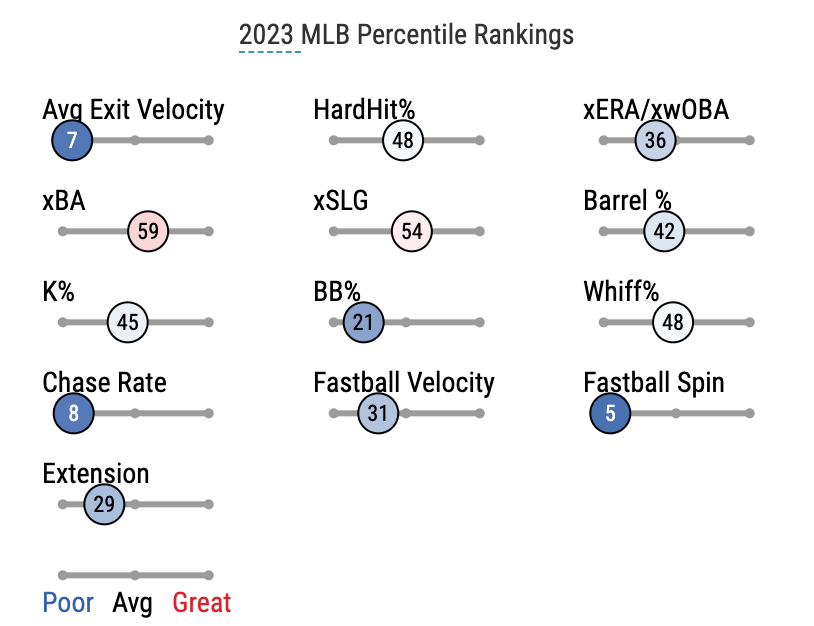 See that image above; that doesn't look like a pitcher with a 1.17 ERA. Alex Wood has been vastly overperforming, reflected in his 4.96 xERA, 3.96 FIP, and 6.25 xFIP. His strikeout rate is his lowest since 2019, and his walk rate is double what it was in 2019.
He'll face the eighth-best offense against lefties. That's right; your Miami Marlins are baseball's eighth-best offense against left-handed pitching by wRC+. Alex Wood is very sinker-heavy, which is the Marlins' favorite pitch to go against. We saw that against Logan Webb, who is a far superior pitcher to Wood, and it's the Marlins' worse split.
The Giants will go up against Edward Cabrera, who put it together in his last start. His issue has been command, but he only surrendered one walk in his last start. His stuff is fantastic; it's about throwing it in the strike zone. The Giants have the highest strikeout rate in the league, coupled with the 13th-ranked walk rate. They rank second in wRC+ against righties, but it's incredibly lucky, considering they rank 20th in Hard-Hit rate.
Both bullpens rank as equals by SIERA. The Marlins are at home with the better starter, offense, and home-field advantage, and the bullpen advantage is marginal. I get them at plus money because of Alex Wood's minuscule ERA thus far. Don't be fooled; this is all Marlins.
The Pick: Miami Marlins ML (+100) 1 U to win 1 U
PrizePicks Entry
Manny Machado Under 6.5 Fantasy Score
Machado's issue has been high velocity this season, and he might have his toughest matchup to date with Spencer Strider. He's hitting .188 against fastballs this year and .250 against sliders. The xwOBA against those two pitches is both below .272. I think his fantasy score is this low for a reason, and thankfully, the Braves have baseball's best bullpen following Strider.
Edward Cabrera Over 5.5 Strikeouts
As stated above, this is a good matchup for the young right-hander. The Giants strike out the most in baseball, and Cabrera is starting to find his command. He was a 26% strikeout rate guy last season, and I believe that will start to normalize, and it starts today.