Analysis
MLB Best Bets: Predictions, Odds for Red Sox vs. Blue Jays, Tigers vs. Twins, Mets vs. Cardinals for April 26, 2022
Three MLB Best Bets for April 26, 2022.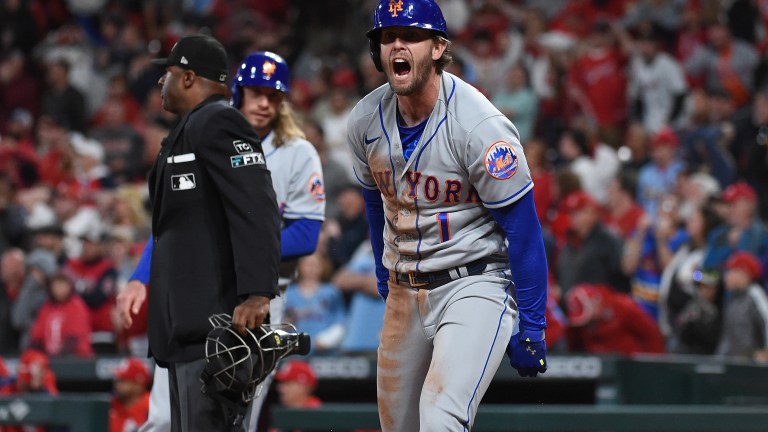 Eight. In. A. Row. We have now won eight straight bets, including a 3-0 day yesterday. We had the Giants defeat Corbin Burnes at home at +175. You can't give me a Giants ML that high and expect me not to take it. We had the Blue Jays over the Red Sox, which I will speak on more today. We also took the Phillies, who trounced the Rockies. We have now won 23 of our last 28 bets, and we have three more today.
Peter's 2022 MLB Regular Season Record: 37-18 (67.3%)
Subscribe to my new Gambling/Fantasy Baseball Podcast: Not Gambling Advice.
Detroit Tigers vs. Minnesota Twins First 5 In Over 3.5 (-125)
Eduardo Rodriguez (LHP, Tigers): [0-1, 5.27 ERA, 1.39 WHIP, 13.2 IP, 12 K, 6 BB]
Chris Paddack (RHP, Twins): [0-2, 5.00 ERA, 1.22 WHIP, 9 IP, 7 K, 0 BB]
The Detroit Tigers play the Minnesota Twins in the first game of this AL Central division series at Target Field. The weather will be cold but slightly humid, with eight miles per hour winds blowing out to right field. These pitchers do not bring lights out stuff to the table, and runs should be had early and often. The Twins have scored 15 runs in their last two games, and when Byron Buxton is in the lineup, this team is in a different category of offense. The Tigers have been a bit of a wild card on offense in 2022; however, they have hit right-handed pitching reasonably well in 2022. They tagged the Rockies and Antonio Senzatela for 13 runs on Saturday. And now they have Javier Baez back in the lineup, meaning both these clubs will each have their best nine men ready to go tonight at 7:40 pm EST.
This line is just so low! It's supposed to be in the mid-'40s in Minnesota, but even so, the line is too low! 3.5?? Both pitchers could turn in five-inning starts with two runs allowed, and it would hit. Neither one of these pitchers, over five combined starts, has allowed less than two runs. Eduardo Rodriguez has allowed at least three runs in every start, and Paddack allowed three runs in four innings in his lone start at home this season.
Rodriguez also doesn't have great numbers against the Twins! It's also a large sample! Through 115 PA against the Twin's current lineup, he has a 5.42 FIP, .323 opponent batting average, .337 xWOBA, and a .393 xSLG. I don't think he'll get blown up, but I don't see him giving up less than two runs through five innings. Paddack only has 9 PAs against the Tigers, but both Javier Baez and Tucker Barnhart have home runs against him.
Maybe I'm lost here, but I can't fathom this game going under 3.5 through the first five innings. I've seen the line up to -130, which I would take. Do some line shopping for -125, as it is available on two separate books.
Toronto Blue Jays -1.5 (+105)
Nick Pivetta (RHP, Red Sox): [0-3, 10.03 ERA, 2.14 WHIP, 11.2 IP, 10 K, 9 BB]
Kevin Gausman (RHP, Blue Jays): [1-1, 2.89 ERA, 1.13 WHIP, 18.2 IP, 22 K, 0 BB]
The Blue Jays and the Red Sox begin game two of their four-game series north of the border. We tailed the Blue Jays yesterday and were delighted by the Bo Bichette grand slam to give the Jays the 6-2 win. Today will be the same, as the Blue Jays have the staunch starting pitching advantage.
The starting pitching matchup is Kevin Gausman versus Nick Pivetta, and as you can see, these two right-handers are trending in the opposite direction. Nick Pivetta is seeking his first win of the season, and I do not think today will be the day. Pivetta's last start against the Blue Jays ended in a 6-1 Boston loss. He pitched four innings and allowed five runs on seven hits with four walks and four strikeouts. This is Pivetta's sixth career start against the Blue Jays. In his first 43 innings against the Jays, he has a 6.28 ERA, 1.56 WHIP, 18 walks, and 41 strikeouts. Pivetta's stats against this current Blue Jay lineup are even worse. Through 84 PA he has a 15.5 K% .412 wOBA, a .329 AVG,a 6.49 FIP and a .504 xSLG. Five Jays' projected starters are hitting over .300 against Pivetta, and Vladdy Jr is 4-15 with a home run and a double.
The Blue Jays won and covered the run line last night behind a late-inning grand slam from Bo Bichette. Bo has struggled in the 2022 campaign, but it only takes one swing to get the mind back on track. I would not be surprised to see Bichette carry in his confidence from last night into a multi-hit performance tonight. Five Jays' projected starters are hitting over .300 against Pivetta, and Vladdy Jr is 4-15 with a home run and a double.
Kevin Gausman will be on the bump for the Blue Jays as he seeks his second win of 2022. His current stats against Red Sox hitters through 194 plate appearances are a 27.8 K%, .258 wOBA, a .210 AVG, a 2.79 FIP, and a .308 xSLG. JD Martinez and Xander Bogaerts have solid numbers against him in his career, but it falls off a cliff after that. Rafael Devers, Alex Verdugo, and Trevor Story are a combined 4-33 against Gausman.
The problem with the Red Sox at the moment is vaccination status. The Red Sox has some important players that will not be playing in this series due to being unvaccinated. Garrett Whitlock, Matt Barnes, and Ryan Brazier will not play in this series, so the Sox bullpen is entirely barren. This should be a bloodbath if Nick Pivetta can't turn in a good start. Even if he does perform well, the Red Sox bullpen has nothing on this Blue Jays offense. I see the Blue Jays pulling out early and winning easily.
New York Mets ML (-115)
Chris Bassitt (RHP, Mets): [2-1, 3.00 ERA, 0.94 WHIP, 18 IP, 20 K, 4 BB]
Jordan Hicks (RHP, Cardinals): [1-1, 1.29 ERA, 1.00 WHIP, 7 IP, 8 K, 4 BB]
The Mets are proving they are one of the best teams in baseball. They sit atop the NL East at 13-5, while the Cardinals are a solid 9-6. The Mets stunned the Cardinals in the ninth inning, putting up five runs to win the game 5-2. After a demoralizing win, I think the Mets continue to roll.
Chris Bassitt takes the ball for the Mets today after a tough outing against the Giants in his last start. He had only allowed one run through 12 innings in his first two starts before allowing five earned runs through six innings against the Giants. I think Bassitt has a rebound performance today against a Cardinals team who hasn't faced any real competition this year. The Cardinals have struggled against righties this year, posting a .614 OPS versus a .861 OPS against lefties.
Jordan Hicks toes the rubber for the Cardinals, and he's an interesting case. He's a former closer turned starter, but he was a starter in the minors. He's thrown well in three appearances this year, but don't expect him to go more than 2-3 innings. He'll hand it over to a Cardinals bullpen with good results so far, but the underlying metrics imply regression. They are in the bottom half in xERA, FIP, and xFIP, and one of their best in Giovany Gallegos, who surrendered the lead last night. Hicks, although nasty with his pitch mix, has a problem with walking hitters. You don't want to walk hitters in this Mets lineup, as they all have chances to drive in runs with how deep it is.
I feel good about the Mets today and would take them to win up to -125.
___________________________
I've written up a quick guide with critical terms and helpful advice if you choose to tail my daily picks. This daily column is updated every day between 9:00 AM – 12:00 PM EST.