Analysis
MLB Best Bets: Predictions, Odds for Mets vs. Marlins, Diamondbacks vs. Tigers for June 25, 2022.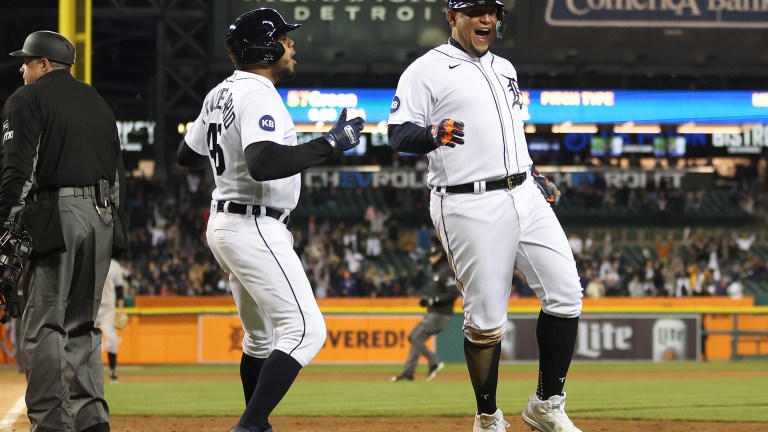 Yesterday hurt my spirit. We went 0-2-1 as the ball just wouldn't bounce our way. On the week, we are now 8-4-1, which is still solid.
We took the Twins money line first five innings yesterday. I was convinced they could score at least one run against the German Marquez, who's at his worst on the road and facing the best offense in baseball against right-handed pitching at home. It was a gross performance by the Twins, as they barely mustered one hit through the front-half of the game.
We took the Guardians money line as an underdog, and while they finished with 12 hits, they only scored three runs. For reference, the Red Sox had 12 hits, and they scored six runs. One of those types of games.
We took the first five innings under in Giants and Reds and came away with a push. Of course, the full game went under, but both teams decided to get the scoring done early. Go figure.
Whether it's a winning day or a losing day, we have to have a short memory in baseball. I have two MLB Best Bets for you today, but be wary. The board seems a bit trappy. I'm playing two underdogs today.
2022 MLB Regular Season Record: 110-88 (56%) +14.72 units
Subscribe to my New Gambling/Fantasy Baseball Podcast: Not Gambling Advice
Detroit Tigers vs. Arizona Diamondbacks: 10:10 PM EST
Alex Faedo (RHP, Tigers) [1-4, 4.67 ERA, 1.49 WHIP, 44.1 IP, 35 K, 14 BB]
Zach Davies (RHP, Diamondbacks) [2-4, 3.96 ERA, 1.20 WHIP, 75 IP, 60 K, 25 BB]
We head to Arizona for the second game of a three-game set. The Tigers won last night's matchup 5-1, and they again have the advantage today.
Alex Faedo will toe the rubber for the Tigers who had his fair share of ups and downs this season. He had a 3.00 ERA in May and started the month of June with two solid starts. His last two starts have been terrible, allowing 11 earned runs in 7.1 innings. I believe we are getting a discount on the money line due to his struggles lately, but the lineups he faced are a far cry from this Diamondbacks offense.
The Diamondbacks are struggling at the plate at the moment. They've scored just eight runs in their past four games, losing all four. In the month of June, the Diamondbacks have a 25 wRC+ against right-handed pitching at home. That's easily the worst mark in baseball in that span.
If we shorten that sample to the past two weeks and take out the home-field advantage, they still rank dead last in wRC+ at 44. For reference, the Oakland A's are second to last with a 66 wRC+. The freaking Oakland A's are better against right-handed pitching right now.
Opposing Faedo will be Zach Davies, who's had solid results overall, but is very inconsistent. One day you'll get a shutout, and the next he's getting bombed. He's been excellent in June however, rocking a 2.36 ERA, but it's hard to imagine that continuing to last.
The Tigers' offense has slowly started to heat up. Javier Baez is playing much better of late, rocking a 1.545 OPS in the last seven days. Their top prospect, Riley Greene, really added a spark to this lineup once he was called up, and in the past week, the Tigers rank 12th in wRC+ against right-handed pitching. If you were curious where the Diamondbacks rank in the past week, it's still last.
I think we are getting a massive discount on this money line due to Faedo's struggles lately. With how bad the Diamondback's offense has been against righties, I think the Tigers have a solid shot of winning this game outright as an underdog.
The Pick: Detroit Tigers ML (+130)
1.0 Units to Win 1.3 Units
__________
New York Mets vs. Miami Marlins: 4:10 PM EST
Chris Bassitt (RHP, Mets) [7-5, 3.31 ERA, 1.09 WHIP, 81.2 IP, 82 K, 29 BB]
Trevor Rogers (LHP, Marlins) [3-6, 5.83 ERA, 1.62 WHIP, 58.2 IP, 53 K, 30 BB]
We head to Miami for the second game of a three-game set. The Mets beat the Marlins 5-3 yesterday, as Sandy Alcantara had his first rough start of the season. One doesn't see that very often, but that's how good the Mets can be against right-handed pitching. While the Mets are solid against lefties, that has been somewhat of their Achilles heel all season.
Trevor Rogers will toe the rubber for Miami, who's had a rough go of it this year. Last season, he looked like an emerging ace, just missing out on NL Rookie of the Year. This season, he's struggled with command and his fastball is getting crushed. He faced the Mets on the road in his last start, allowing three earned runs over five innings of work.
Rogers has a home ERA at 8.85. Last year, it was 2.77. At some point, this has to normalize. While I'm not expecting Rogers to go out and dominate, I do think he can slow down the Mets' bats. That last start against the Mets was the only blip in his resume against him. Through 76 plate appearances against the Mets' current roster, he holds a .177 opponent batting average, a .277 xwOBA, and a .281 xSLG. All of those numbers are fantastic.
The main reason I'm on the Marlins is I really think they'll hit Chris Bassitt today. While Bassitt is putting together a fine season, he has not pitched well on the road. This is nothing new to Bassitt, as every single season since his rookie season he's performed much worse on the road, dating back to his time in Oakland.
Not only that, the Marlins' offense can really hit a right-handed pitcher, and they just saw him on June 20. He threw 6.1 innings and allowed three runs at home, and now that he's on the road, I expect his final stat line of the game to be worse than that.
In the past two weeks, the Marlins rank number two in wRC+ against right-handers at home with a 149 wRC+. They are consistently putting the ball in play and not striking out. They have the second-lowest strikeout rate in the span at 14.7%.
Sandy Alcantara did not pitch so poorly that he didn't give the Marlins bullpen some length, he went seven innings yesterday allowing most of the Marlins' best arms to have an off-day. The Mets deployed their three strongest relievers yesterday, so the Marlins should be able to squeak by a run or two in the later innings.
I believe we are getting a lot of value on the home team. The Marlins out-hit the Mets yesterday with eleven hits to just six for the Mets. While the Marlins aren't the best team in the world, they are at their best at home against a right-handed pitcher. I'm willing to take them as the underdog and hopefully, they can muster up a bounce-back win.
The Pick: Miami Marlins ML (+130)
1.0 Units to win 1.30 Units
____________
I've written up a quick guide with critical terms and helpful tips.