Analysis
MLB Best Bets Today: Predictions, Odds for White Sox vs. Red Sox, Tigers vs. Astros, Royals vs. Orioles for May 7, 2022
Four MLB Best Bets for May 7, 2022.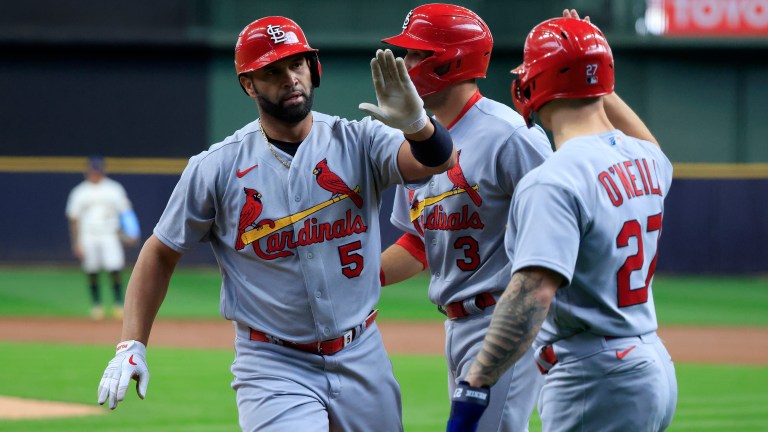 It was pouring rain in half the country last night! Six different games were postponed, including the Yankees vs. Rangers game and the Orioles vs. Royals matchup. We have two plays in those games, but unfortunately, they didn't happen. Luckily, the Astros could face the Tigers under the dome at Minute Maid Park, easily covering through the first five innings.
I said the Astros would get to Beau Brieske early, and they did, hitting back-to-back homers in the second inning to give them the win. Since we had postponements, I have four plays today. Let's have a glorious Saturday.
Peter's 2022 MLB Regular Season Record: 54-33 (62%) +19.34 units
Subscribe to my new Gambling/Fantasy Baseball Podcast: Not Gambling Advice.
Kansas City Royals @ Baltimore Orioles: 7:05 PM EST
Carlos Hernandez (RHP, Royals): [0-1, 6.00 ERA, 1.89 WHIP, 18 IP, 8 K, 10 BB]
Jordan Lyles (RHP, Orioles): [2-2, 4.50 ERA, 1.62 WHIP, 26 IP, 21 K, 10 BB]
This pick was from yesterday, and I still really like it. This game was postponed due to rain, and we are due for another cold one in Baltimore.
The Royals take on the Orioles in the first game of a three-game series at Camden Yards. The Royals sit with an 8-15 record, losing five of their last six games. The Royals now have to travel from Kansas City to Baltimore to play an Orioles team on a long homestand.
The Orioles are 4-3 against the Red Sox and Twins during this homestand. Not only are they the better team right now, but they have the starting pitching advantage.
Jordan Lyles gets the ball for the Orioles, who's been one of their better pitchers this year. He's not great, but he has been excellent at home this year. He's made two starts at home against the Yankees and Red Sox, only allowing two earned runs over 11.1 innings. The Royals' offense is one of the worst in baseball, and they are at their worst against righties (.602 OPS).
Opposing Lyles will be Carlos Hernandez, who hasn't shown he can be an effective big leaguer. He comes into this game with a 6.00 ERA and an astonishingly poor 1.98 WHIP. Hernandez has been incredibly wild to start the year, walking more opponents than recording strikeouts. The Orioles' offense has also been much better against righties (.683 OPS) than lefties (.572 OPS).
Cedric Mullins, Austin Hays, and Ryan Mountcastle are beating up on dominant fastball pitchers, and opponents are hitting .500 against Hernandez's fastball. That's a recipe for disaster.
This is a fade on Carlos Hernandez and, honestly, the tailing of the Orioles. This isn't your classic "fade the road pitcher"; it's the confidence that Jordan Lyles turns in an above-average start. The Orioles have scored 14 runs in their past two games, and I think that continues today against an inferior pitcher on the road.
I'll take the better team at home with the better starter through the first five innings. Since the line is good enough on the money line, I'll take that today so we can save a push if there is limited run scoring.
The Pick: Baltimore Orioles First 5 Innings ML (-120)
Detroit Tigers @ Houston Astros: 4:05 PM EST
Eduardo Rodriguez (LHP, Astros): [0-2, 5.33 ERA, 1.30 WHIP, 25.1 IP, 23 K, 8 BB]
Framber Valdez (LHP, Astros): [1-2, 3.42 ERA, 1.22 WHIP, 26.1 IP, 19 K, 14 BB]
The Astros have won five straight first five innings bets, and I think they make it six today. It's a battle of left-handed starters, but one has the advantage.
Framber Valdez will make his sixth start of the season after two excellent starts in a row, throwing 12.1 innings and allowing four runs on six hits with 26 groundball outs. The last time he faced the Tigers, he allowed three runs through six innings on the road. It was a seven-inning doubleheader, which means those six-innings were enough for a complete game.
Looking deeper at his stats against the Tigers' current lineup, I feel confident Valdez will shove at home. Through 24 PA, Valdez has pitched to a 2.24 FIP, a .217 xwOBA, and a .238 xSLG. The average launch angle against Valdez is -10.4; expect plenty of groundballs from this Tigers offense.
Eduardo Rodriguez gets the ball for Detroit today, which is bad news for Detroit. He hasn't looked great this year, and he'll have one of his toughest matchups yet. Against offenses with similar firepower to the Astros, the Dodgers put up six runs in 5+ innings, and the Yankees put up three runs over six innings. This year, Rodriguez hasn't had a start where he didn't allow at least three runs, and I don't see that changing today.
Rodriguez faced the Astros on three separate occasions last year. Twice in the regular season and once in the playoffs. He allowed 12 earned runs in eight innings in his two regular-season starts. In the playoffs, he allowed three runs over six innings. Through 109 PA against the Astros' current roster, he's pitched to a 5.63 FIP, a .326 xwOBA, and a .482 xSLG. Jose Altuve, Alex Bregman, Yordan Alvarez, Kyle Tucker, and Yuli Gurriel are hitting at least .333 against Rodriguez.
This should be all Astros for the sixth game in a row.
The Pick: Houston Astros First 5 Innings -0.5 (-125)
Chicago White Sox @ Boston Red Sox: 4:05 PM EST
Dylan Cease (RHP, White Sox): [3-1, 2.48 ERA, 0.93 WHIP, 29 IP, 39 K, 10 BB]
Nick Pivetta (RHP, Red Sox): [0-4, 7.84 ERA, 1.84 WHIP, 20.2 IP, 21 K, 13 BB]
In a battle of the different color socks, the White Sox beat the Red Sox yesterday 4-2. The Red Sox were -165 favorites, and they opened as -115 favorites. That line quickly moved to White Sox at -115, then jumped to -120. I grabbed them at -115 but would play to -125. I believe Vegas is overvaluing the Red Sox, and the White Sox should win this game again today.
Dylan Cease will take the ball for the White Sox in his sixth start of the season. He's coming off a start against the Angels, where he threw seven shutout innings while only allowing one run. He's made adjustments to his pitch mix, throwing more sliders which have played exceptionally well off his mid-high nineties fastball.
Last year, he faced the Red Sox twice, and they crushed him. He threw 7.1 innings and allowed nine earned runs across those two starts. Last year, Cease was a different pitcher, and the Red Sox were a different offense. It's a lot of the same guys, but the Red Sox couldn't hit water if they fell off a boat at the moment.
In their last eight games, they've scored 20 runs, which averages out to about 2.5 runs per game. They have struggled against righties this season; they don't have all that great numbers against Cease.
Through 29 PA against the Red Sox current roster, Cease has a 3.40 FIP, a .363 xwOBA, and a .371 xSLG. Xander Bogaerts is 3-3 against him, but the rest of the lineup is 3-19 with seven strikeouts. When I looked back to see who did that damage against Cease in his past starts against the Sox, a couple of names kept popping up. Kike Hernandez destroyed Cease, but he's out in this game. Travis Shaw had a home run, but he was DFA'd by the Red Sox on May 1st.
Nick Pivetta gets the ball for the Red Sox, and he's been terrible to start the year. He is winless, but he's also rocking an ERA north of seven. Pivetta's problems this year have been with his command. This White Sox team is very disciplined; you do not want to give them free passes. Although it's a smaller sample, six White Sox players are hitting over .300 against Pivetta in their careers.
Josh Harrison: 1-2
Yasmani Grandal: 2-4, 2B
AJ Pollock: 1-2
Luis Robert: 2-5
Jose Abreu: 2-5, 2B
Reese McGuire: 2-6
Pivetta was way better last year than he is this year. His average fastball velocity has dipped from 94.9 MPH to 93.2 MPH. He's throwing his curveball with less spin and speed, and hitters are hitting .400 against is with a .633 SLG. He's also throwing his slider 18.2% of the time, and opponents are hitting .308 against it with a .615 SLG. Pivetta simply doesn't have the secondary offerings to get whiffs regularly.
While Pivetta has not been very good, the White Sox offense hasn't been all that electric either. They have scored five runs or less in eight straight games. The Red Sox haven't sniffed a right-handed pitcher this year (.597 Team OPS), scoring most of their runs against left-handed pitching (.800 Team OPS).
According to the game time weather report, wind gusts as high as 40 MPH are expected at Fenway tonight. The temperature in Boston at 4:05 PM EST is supposed to be 46 degrees with a real feel of 36 degrees. Those 40 MPH wind gusts are projected to be blowing in, so the offense will be hard to come by.
The Red Sox have the fifth-worst bullpen ERA at 4.50, so if Pivetta gets knocked out early, this will be a bloodbath in favor of the White Sox. If he turns in a nice start, I still see the White Sox edging this out in the end. The latter is more likely to happen with the weather forecasts.
They have the better bullpen, better offense, and better starting pitcher, while both defenses have not been good to start the year. Give me the White Sox on the money line and the under through the first five innings.
The Pick: Chicago White Sox ML (-115), First 5 Innings Under 4.5 (-115)
__________________________
I've written up a quick guide with critical terms and helpful advice if you choose to tail my daily picks. This daily column is updated every day between 9:00 AM – 12:00 PM EST.