Analysis
MLB Best Bets: Predictions, Odds for Rangers vs. Yankees, Tigers vs. Astros, Royals vs. Orioles for May 6, 2022
Three MLB Best Bets for May 6, 2022.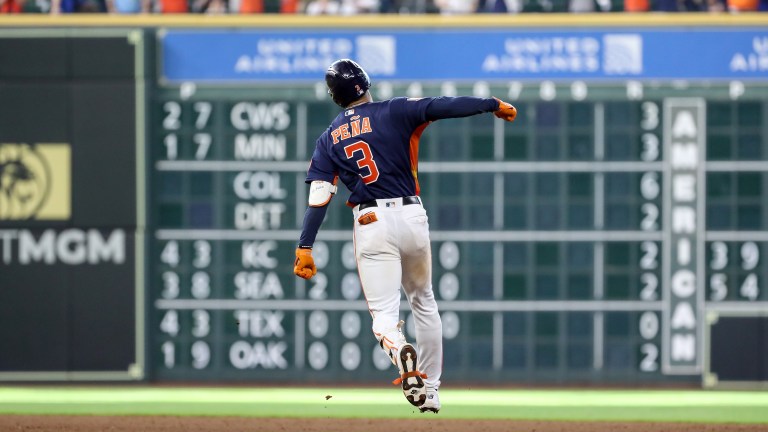 Back on the winning side! We were one strike away from a perfect 3-0 leather jacket today. The Astros decided that Ryan Pressly was the best man to close out the ninth off an injury. He wasn't; he left a hanging curveball that was launched into the seats to tie the game up. We lost on the spread, but our other picks BANGED.
I said yesterday the Rays are great in low-scoring tight games, and they won 4-3. I wrote about how Aaron Sanchez's pitch mix doesn't match up well in Coors Field; he gave up six earned runs in four innings. Just like our losing days, short memory. We move forward with today's three MLB Best Bets.
Peter's 2022 MLB Regular Season Record: 53-33 (62%) +18.34 units
Subscribe to my new Gambling/Fantasy Baseball Podcast: Not Gambling Advice.
Texas Rangers @ New York Yankees: 7:05 PM EST
Glen Otto (RHP, Rangers): [1-0, 2.89 ERA, 0.96 WHIP, 9.1 IP, 10 K, 3 BB]
Gerrit Cole (RHP, Yankees): [2-0, 3.00 ERA, 1.17 WHIP, 24 IP, 27 K, 10 BB]
Welcome back to the Bronx, Glen Otto. The former Yankees prospect was traded for Joey Gallo last season and now makes his first start against his former team. The Yankees are coming off an eleven-game win streak before losing to the Blue Jays in their last game. However, to paraphrase Nestor Cortes Jr, today's the day to start another winning streak.
Opposing Glen Otto will be the ace of the Yankees, Gerrit Cole. After some early-season struggles, he looks to be the same pitcher that finished second in AL CY Young voting last season. He's thrown 12 straight innings of scoreless ball and faces a Rangers lineup that hasn't sniffed a right-handed pitcher all season.
The Rangers beat up Cole last year, scoring five runs in five innings in his only appearance against them. This is a different Texas lineup, so I'm more concerned with his stats against the Rangers' current roster.
Through 79 PA, Cole has pitched to a 4.51 FIP, a .309 xwOBA, a .194 opponent batting average, and a .437 xSLG. Those numbers aren't sparkling, but he has held a 30.4% K rate against them. Adolis Garcia and Corey Seager could do damage today as they are 5-13 against Cole. Marcus Semien is an abysmal 5-29 with nine strikeouts against Cole, and Calhoun is 4-20 with ten strikeouts.
No other current Ranger has a hit against Cole. If he can keep Garcia and Seager at bay through the early goings, I don't think the Rangers muster even one run through the first five innings.
The Yankees are the best team in baseball right now. They have one of the top pitching staffs, an elite bullpen, and one of the best offenses overall. Not only do they know Otto well, but they hold the best Team OPS at their home ballpark of any team in baseball. Typically, pitchers who excel against the Yankees are high-velocity right-handers with a wipeout slider.
While Otto does feature a fastball/slider combination, he sits at 92 MPH. In Otto's career, he has a 7.44 ERA and a 1.50 WHIP in 32.2 innings of work. If he allows just two runs, I think the Yankees cover this.
This is a fade on a young pitcher on the road against a team that knows him well. Otto is off to a great start, but his 4.36 xERA compared to his 2.89 ERA shows some regression. Although this doesn't mean much, the Rangers were 1-6 against the Yankees last year, and they were swept at Yankee Stadium. That regression will come today. I'll take the Yankees through the first five innings up to -140.
The Pick: New York Yankees First 5 Innings -0.5 (-130)
_____________________________________________________________________________________
Detroit Tigers @ Houston Astros: 8:10 PM EST
Beau Brieske (RHP, Tigers): [0-1, 3.60 ERA, 1.00 WHIP, 10 IP, 6 K, 4 BB]
Luis Garcia (RHP, Astros): [1-1, 4.15 ERA, 0.97 WHIP, 21.2 IP, 19 K, 5 BB]
As an Astros spread bettor yesterday, I was in shambles after Ryan Pressley threw one of the worst curveballs in baseball history. A 79 MPH cement mixer that Jeimer Candelario deposited into the seats in the ninth inning with two outs and two strikes. The Astros were cruising to a 2-0 win but won 3-2 in the bottom of the ninth.
The Astros have won four straight games, covering the first five-inning spread every time. Let's go for five in a row today against a rookie pitcher on the road.
The Tigers have the second-lowest scoring offense in baseball, averaging 3.08 runs per game and a .617 team OPS. They hadn't scored more than three runs in a game since April 26, when they lost 5-4 to the Twins. This team has a chance against lefties (.653 OPS), but they can't hit righties (.606 OPS).
Luis Garcia takes the ball for the Astros, and I love today's matchup. He is historically a better pitcher at Minute Maid Park (2.39 ERA vs. 4.24 ERA on the road), but he has excellent numbers against the Tigers. Albeit a short sample of just 31 PA, he's pitched to a 1.79 FIP, a .253 xwOBA, a .194 xBA, and a .333 xSLG. Akil Baddoo is 3-4 against Garcia, but the rest of the lineup is a combined 3-25 with eight strikeouts. Like yesterday, I'm not sure where their offense will come from.
Beau Brieske toes the rubber for the Tigers, and he's showed some potential through his first two starts. In an incredible performance, he held the Dodgers to just one run on the road in his first road start. The Dodgers hit five balls over 94 MPH against him, but he was effective. His xERA is 5.16 compared to his current ERA of 3.60. I'm expecting some regression on his second career start on the road against this Astros offense.
Despite the offense not performing to its full potential, the Astros have been on a tear the previous two weeks. This pitching staff appears to be too good for Detroit's struggling offense. Beau only has two starts above AA ball in his career, and the Astros are playing winning baseball right now.
Altuve has returned from injury, and Alvarez, Peña, and Kyle Tucker are all playing quality baseball. Fading the 86 wRC+ Tigers has been a good move this season, and they will come out depleted after a crushing loss. Give me the Astros to come out hot and for Luis Garcia to shut down this Tigers offense.
The Pick: Houston Astros First 5 Innings -0.5 (-135)
_________________________________________________________________________________
Kansas City Royals @ Baltimore Orioles: 7:05 PM EST
Carlos Hernandez (RHP, Royals): [0-1, 6.00 ERA, 1.89 WHIP, 18 IP, 8 K, 10 BB]
Jordan Lyles (RHP, Orioles): [2-2, 4.50 ERA, 1.62 WHIP, 26 IP, 21 K, 10 BB]
This may not be the most entertaining game, but there is a winner here. This will be the Orioles' first appearance in my MLB Best Bets, and if they don't pull it out for us, it may be the last.
The Royals take on the Orioles in the first game of a three-game series at Camden Yards. The Royals sit with an 8-15 record, losing five of their last six games. The Royals now have to travel from Kansas City to Baltimore to play an Orioles team on a long homestand.
The Orioles are 4-3 against the Red Sox and Twins during this homestand. Not only are they the better team right now, but they have the starting pitching advantage.
Jordan Lyles gets the ball for the Orioles, who's been one of their better pitchers this year. He's not great, but he has been excellent at home this year. He's made two starts at home against the Yankees and Red Sox, only allowing two earned runs over 11.1 innings. The Royals' offense is one of the worst in baseball, and they are at their worst against righties (.602 OPS).
Opposing Lyles will be Carlos Hernandez, who hasn't shown he can be an effective big leaguer. He comes into this game with a 6.00 ERA and an astonishingly poor 1.98 WHIP. Hernandez has been incredibly wild to start the year, walking more opponents than recording strikeouts. The Orioles' offense has also been much better against righties (.683 OPS) than lefties (.572 OPS).
Cedric Mullins, Austin Hays, and Ryan Mountcastle are beating up on dominant fastball pitchers, and opponents are hitting .500 against Hernandez's fastball. That's a recipe for disaster.
This is a fade on Carlos Hernandez and, honestly, the tailing of the Orioles. This isn't your classic "fade the road pitcher"; it's the confidence that Jordan Lyles turns in an above-average start. The Orioles have scored 14 runs in their past two games, and I think that continues today against an inferior pitcher on the road. I'll take the better team at home with the better starter through the first five innings.
The Pick: Baltimore Orioles First 5 Innings -0.5 (+115)
__________________________
I've written up a quick guide with critical terms and helpful advice if you choose to tail my daily picks. This daily column is updated every day between 9:00 AM – 12:00 PM EST.