Analysis
MLB Best Bets Today: Predictions, Odds for Diamondbacks vs. Dodgers, Astros vs. Red Sox for May 16, 2022.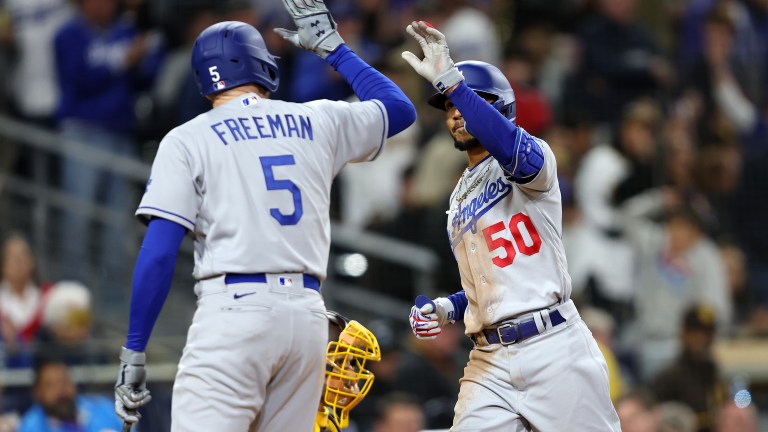 Alright, folks, new week. Last week was the worst of my career, posting a staggering 6-15 record.
The toll on my mental health and bank account is apparent, we were up over 20 units just a week ago, and we've seen that tail off to below ten. We are still up on the year, which may be surprising, but I still believe in my way of picking these games.
I follow the numbers and trends and watch as much baseball as humanly possible. I do hours of research to give you the best picks for free. I'm playing the long game, and I'm confident I'll turn it around.
We hit the Brewers on the first five innings yesterday, which cashed, but we got lucky. The Brewers put up a four-spot in the top of the fifth to give us the win. We took the Rockies through the first five innings and on the money line, which was a double loser.
Have to give it up to Daniel Lynch, who carved through a Rockies offense that ranked first in OPS against lefties. Not to mention it was his first start at Coors Field.
The ball hasn't bounced our way, but we will turn the tides today with two MLB Best Bets.
Peter's 2022 MLB Regular Season Record: 62-49 (56%) +9.16 units
Subscribe to my New Gambling/Fantasy Baseball Podcast: Not Gambling Advice.
Arizona Diamondbacks @ Los Angeles Dodgers: 10:10 PM EST
Madison Bumgarner: (LHP, Diamondbacks) [2-1, 1.78 ERA, 1.12 WHIP, 30.1 IP, 20 K, 12 BB]
Tony Gonsolin: (RHP, Dodgers) [3-0, 1.33 ERA, 1.07 WHIP, 27 IP, 23 K, 13 BB]
We start in Los Angeles with two teams with plenty of experience against each other. Considering the Dodgers' success against the Diamondbacks over the past decade, I wouldn't call this a rivalry. However, I will say this is a divisional matchup that should not produce a high run-scoring environment.
We have two pitchers at the top of their game with appealing matchups versus the current offenses. Madison Bumgarner hasn't allowed more than two runs in a start this year, and Tony Gonsolin is working with a 0.60 ERA at home.
The Diamondbacks have the third-worst bullpen ERA in baseball, so it's very likely the Dodgers will piece together a few runs in the later innings. I have my eyes set on isolating this starting pitching matchup and taking the under through the first five innings.
Tony Gonsolin will get the ball for the Dodgers, who's allowed just one run over ten innings in May and has allowed one run or fewer in five of his six starts. The one outing where he allowed three runs was against the Diamondbacks on April 26, where he went four innings in a game the Diamondbacks won 5-3.
When we look at history with Gonsolin against the Diamondbacks, we see a clear difference in how he's pitched against them on the road versus at Dodger Stadium. Last season, he had five starts against Arizona. He threw 10.2 innings and allowed five earned runs through three starts on the road. He threw nine innings in two starts at home and only allowed one run.
This isn't a coincidence, as Gonsolin has posted better numbers at Dodger Stadium throughout his career. Every year he's been in the league, he's posted an ERA at least a run lower at home.
He'll face a Diamondbacks lineup averaging 2.5 runs in their last four games. The Diamondback's offense is not very good, as they've scored the second-fewest amount of runs in the National League.
Through 85 PA against the Diamondbacks' current roster, Gonsolin is rocking a 2.02 FIP, a .227 xwOBA, a .165 opponent batting average, and a .262 xSLG. Those are some of the best-advanced numbers against any lineup on today's slate. Gonsolin doesn't usually pitch past the fifth inning, but I'm confident he can limit the Arizona bats to 1-2 runs at the most.
Madison Bumgarner gets the ball for Arizona, and he's been spectacular through 30 innings of work. He's coming off a dominant performance against Miami, but his start against the Cardinals, who have demolished left-handed pitching all year, was even more impressive. He'll face a Dodgers team that is one of the best in baseball, but not against lefties this season.
The Dodgers pounce all over right-handers (.754 OPS) but are slowed by lefties (.667 OPS). The Dodgers offense hasn't gotten off to many good starts lately, either. They've averaged 2.2 runs through the first five innings in their five previous games. Against left-hander Jose Quintana, they were held scoreless. Against left-hander Ranger Suarez, they mustered three runs over seven innings.
Freddie Freeman, Max Muncy, Trea Turner, and Chris Taylor have posted career batting averages under .200 against Bumgarner. The current roster has a .224 batting average against Bumgarner over 235 PA.
The Dodgers lost two of three to the Pirates and three of four to the Phillies. They are in a funk right now, and seeing a left-hander on a Monday game after a long series should hurt them.
I found this +100 line on Draftkings, and I love it for the value. Ballparkpal forecasts a run environment with a 4% decrease in runs. While the Dodgers have the possibility of adding runs against the bullpen, I'll take it through the first five innings up to -110.
The Pick: Diamondbacks vs. Dodgers First 5 Innings Under 4.5 (+100)
______________
Houston Astros @ Boston Red Sox: 7:10 PM EST
Jake Odorizzi: (RHP, Astros) [3-2, 3.38 ERA, 1.24 WHIP, 26.2 IP, 17 K, 11 BB]
Garrett Whitlock: (RHP, Red Sox) [1-1, 2.19 ERA, 0.93 WHIP, 24.2 IP, 34 K, 8 BB]
Two offensive juggernauts meet in Fenway today, where the environment, according to ballparkpal, calls for an 11% increase in run-scoring. We should see winds blowing out to left field, plenty of extra-base hits off the green monster, and hopefully, a few leave the yard.
If we are talking home runs, let's talk Astros. They are fourth in baseball in home runs, led by Yordan Alvarez with 11 and four players with at least five of them.
They'll face Garrett Whitlock today, who's been dominant, but has been privy to the home run ball this year with three allowed in 24 innings.
Whitlock is a former failed starter turned elite reliever but is now re-entering the starter world. He pitched well in his first two starts of over three innings, allowing one run over seven innings.
In his last two starts, he's allowed five earned runs in eight innings of work. In both of those games, 27 runs were scored, with each game soaring over the current total of this game at 8.5.
It's a small sample, but through 24 PA against the Astros' current roster, he's pitched to a 5.40 FIP, a .401 xwOBA, a .318 opponent batting average, and a .538 xSLG. The Astros have been mowing down anyone in their path, scoring at least five runs in their past seven games. Over this seven-game stretch, they've averaged 6.6 runs.
It doesn't matter who they've faced lately, but they are at their best against right-handed pitchers this season, posting the fifth-best OPS in the league against them.
Jake Odorizzi will get the ball for the Astros, and I think he's also in for a tough one against this Red Sox lineup. He threw against them on three separate occasions last year, posting a 6.75 ERA over just eight innings. In a large sample of 133 PA against the Red Sox's current roster, he holds a 5.16 FIP, a .294 opponent batting average, and a .544 xSLG.
The two best hitters in the Red Sox lineup, Xander Bogaerts, and Rafael Devers, are 17-for-47 (.361 AVG) combined with eight doubles and two home runs. Alex Verdugo and Kike Hernandez are a combined 5-for-8 with a double and a home run.
The Red Sox have had a very inconsistent offense this season. The good thing is they have performed much better against righties (.661 OPS) than lefties (.588 OPS).
The Red Sox opened as -120 favorites, and that line has moved to -130. The line indicates the Red Sox have a great chance to win in this one, which means they'll have to put up runs if they want to beat this loaded Astros team.
This year, the Red Sox bullpen has been terrible, posting the seventh-worst bullpen ERA in the sport. Whitlock could perform well, and we still see the Astros total approach 4-5 runs. The Astros bullpen has been elite this year, but they've thrown 9.1 innings in the last two days and don't have the luxury of an off-day.
I've seen this line creep up to 9 on some books, but I took it at 8.5, and I love the price at -110. I would play this number at nine, but 8.5 is still readily available in multiple books.
The Pick: Astros vs. Red Sox Over 8.5 (-110)
__________________________
I've written up a quick guide with critical terms and helpful tips.