Analysis
MLB Best Bets Today: Predictions, Odds for Phillies vs. Brewers, Yankees vs. Twins for June 9, 2022.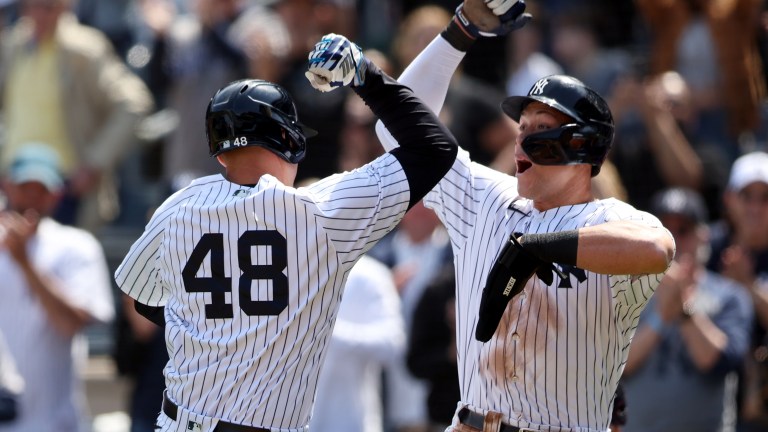 It's hard to be better than we were yesterday. We went 2-0, and I even game out two NBA picks on my Twitter, and both of those hit. Overall, I was up 4.15 units on the day, with 2.15 units of those coming in baseball.
We took the Padres as a +115 underdog through the first five innings. Not only did they win, but they won 13-2. They got to Bassitt early, and the Mets struggled against Sean Manaea.
We took the Guardians through the first five, and the rain almost canceled it. The Guardians were winning 4-0 with two outs left in the bottom of the fifth, and we had to sit through a 90-minute rain delay before they finally finished off the win.
We have two more picks today containing teams I probably shouldn't be betting on. I love these too much to not. Let's stay in the green with two MLB Best Bets.
2022 MLB Regular Season Record: 91-73 (55%) +12.60 units
Subscribe to my New Gambling/Fantasy Baseball Podcast: Not Gambling Advice
Philadelphia Phillies @ Milwaukee Brewers: 2:10 PM EST
Zach Eflin (RHP, Phillies) [2-4, 3.88 ERA, 1.14 WHIP, 51 IP, 45 K, 10 BB]
Corbin Burnes (RHP, Brewers) [3-3, 2.50 ERA, 0.92 WHIP, 68.1 IP, 84 K, 13 BB]
You read that right; I'm betting on a game that includes the Phillies. Hold your breath.
We head to Milwaukee for the third and final game between the Brewers and Phillies. The Brewers have lost five straight, including the first two games to the Phillies. They lost in a heartbreaking loss in game one, then were trounced 10-0 yesterday. The buck stops with Corbin Burnes, and I believe he'll turn the ship around today.
Let's start with Corbin Burnes. The 2021 AL CY Young award winner was coming off the worst start of his career since April 17th against the Cardinals in 2019. That was the last time Corbin Burnes threw under four innings and allowed at least five earned runs.
Going into that game, he had a 1.95 ERA and has been one of the best pitchers yet again. His cutter and sinker velocity are slightly down, but he's still throwing in the mid to upper 90s. It's easy to love Corbin Burnes on a bounce-back game, but I especially like his matchup against this Phillies' current lineup.
Corbin Burnes became famous for the cutter, throwing it 55.3% of the time this season. The Phillies are a fastball-hitting team, but they aren't very successful against sinker/cutter combinations. Harper performs the worst against cutters, sinkers, and split fingers regarding run value. Nick Castellanos has been slightly above average against those pitches, but he can't hit a slider. That's Corbin Burnes's best-offspeed pitch. The cutter is the hardest pitch for Hoskins to hit, and it's the pitch Kyle Schwarber has also struggled against.
With all that said, I think Corbin Burnes comes back with an epic outing after one of the worst starts of his career. He matches up well against the Phillies, and I love fading teams after a ten-run performance like they had last night.
Zach Eflin will get the ball for the Phillies, who has crazy home/road splits. Eflin has been worse on the road throughout his career. This season, he's rocking an 8.10 ERA on the road in 20 innings versus a 1.16 ERA at home in 31 innings. This is far too small of a sample to conclude, but this trend has continued since he came into the league in 2016. Outside of 2017, he's had a far worse ERA on the road than at home. Last year, it was a 5.12 ERA on the road. In 2020 and 2019, the ERA on the road was over four.
Zach Eflin's main pitches are his sinker, curveball, and cutter. Five hitters in the Brewers lineup have positive run values against these pitches, and they've been much better against right-handed pitching than left-handed. The Brewers' offense has also been much better at home this season.
Christian Yelich is vital here. He has negative values against all three of those pitches, but he is 2-10 with a home run against Eflin. If Yelich can perform, we should win this easily.
The money line is priced at -165, which is a bit expensive for my taste. I think the Brewers cover the run line, but I'd like to isolate the starting pitching matchup and take the Brewers through the first five innings.
The Pick: Milwaukee Brewers First 5 Innings -0.5 (-105)
1.05 Units to Win 1 Unit
______________
New York Yankees @ Minnesota Twins: 7:10 PM EST
Gerrit Cole (RHP, Yankees) [5-1, 2.78 ERA, 0.96 WHIP, 64.2 IP, 81 K, 15 BB]
Dylan Bundy (RHP, Twins) [3-3, 5.57 ERA, 1.45 WHIP, 42 IP, 36 K, 9 BB]
Disclaimer: I am a Yankee fan. I never shy away from the fact, and that's why you'll rarely see me give out a play on the Yankees. I will only do this if I feel the numbers line up and the line makes sense. Both have come true today, and I'm willing to go for it. If this scares you off this pick, I understand and wouldn't blame you in the slightest. But I'm going for it.
We head to Minnesota for a three-game set's third and final game. The Yankees won big in the first game, 10-4, but the Twins beat them up yesterday 8-1. The Yankees are 10-4 off a loss and have their ace pitcher, Gerrit Cole, on the mound.
Cole is coming off back-to-back phenomenal starts, throwing 13 combined innings while only allowing four hits and one earned run with 19 strikeouts. He's at the top of his game right now, and he'll face a Twins lineup that hasn't been able to touch him.
Through 54 PA against the Twins' current roster, he has a .208 batting average against with a .174 xBA. He's striking out 31.5% of Twins with a .241 xwOBA and a .286 xSLG.
While the Twins are solid against fastballs, they are one of the worst teams in baseball against the slider. Every single hitter in their lineup outside of Byron Buxton has a negative run value against sliders. Cole mainly displays his slider against righties, and opponents have a .159 batting average against the pitch. We should see plenty of strikeouts from Cole today.
The Yankees money line is priced at -200, which I believe to be fair. It's not often I think the Yankees have a reasonable price, but I do today when you consider the success they've had off Dylan Bundy.
Bundy has plenty of experience against the Yankees, and it hasn't been very good. He's held them to a .259 opponent batting average with a .290 xBA. The xwOBA sits at .398, and the average exit velocity is 91.4 MPH, leading to a .523 xSLG. That sample is over 131 PA.
Bundy has a five-pitch mix, so it's hard to center on a couple of his pitches and look at the run value data. His two main pitches are his fastball and slider, and Aaron Judge is the best in the game against those two pitches.
The Yankees are the best fastball hitting team and have been very good against sliders. Even Aaron Hicks can hit a slider, recording a positive run value against that pitch.
Due to the Yankees money line being priced that high, I'm targeting the first five innings of this one. While it is a bit expensive, it's worth it to me. I think the Yankees piece together 3-4 runs off Bundy while Gerrit Cole shuts down the Twins through five innings
The Pick: New York Yankees First 5 Innings (-140)
1.4 Units to win 1.0 Units
______________
I've written up a quick guide with critical terms and helpful tips.