Analysis
MLB Best Bets: Predictions, Odds for Padres vs. Diamondbacks, Cardinals vs. Brewers for June 20, 2022.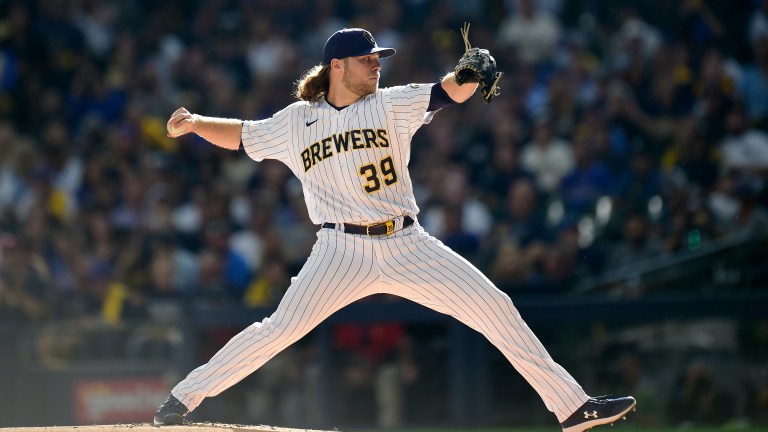 We reached a tipping point this week and went 1-1—all that buildup for nothing special.
We won on the under between the Mariners vs. Angels. It got sweaty there for a second, but it ended with two runs to spare.
We took the Twins to beat Arizona yesterday, and it went terribly. The Twins couldn't manufacture anything, which is the opposite of what has been happening lately. The Twins came into this game with the best offense against righties in June, and Arizona was the worst in June. Of course, that flip-flopped right in front of our faces.
It's a new week, and I have two more MLB Best Bets for you. Let's start the week off with a bang and some iced coffee.
2022 MLB Regular Season Record: 102-84 (55%) +11.32 units
Subscribe to my New Gambling/Fantasy Baseball Podcast: Not Gambling Advice
St. Louis Cardinals vs. Milwaukee Brewers: 8:10 PM EST
Miles Mikolas (RHP, Cardinals) [5-4, 2.62 ERA, 0.97 WHIP, 82.1 IP, 66 K, 16 BB]
Corbin Burnes (RHP, Brewers) [4-4, 2.52 ERA, 0.95 WHIP, 78.2 IP, 100 K, 17 BB]
We head to Milwaukee for the first game of a four-game set between these division rivals. These two teams are tied for the division lead at 38-30, so expect one of the year's best series so far. We get a phenomenal game one, and I lean to one side based on the starting pitching matchup.
Let's start with Corbin Burnes. As you can probably tell from reading this daily column, I tend to bet frequently on this man. He's one of the best pitchers in baseball and, by my account, the second-best pitcher behind Jacob deGrom. Without deGrom in the fold due to injury, it's not a far stretch to call him the best pitcher on the planet.
The reason being is the cutter, curveball, and slider combination. Opponents are hitting just .190 against those three pitches. If the Cardinals have one weakness offensively, it's against high-velocity right-handers with a cutter and curveball. That's why Burnes has been so effective against them in the past. As a lineup, they demolish fastballs, with Arenado and Goldschmidt ranking near the top of the league against that pitch.
Corbin Burnes threw against the Cardinals on May 29th, shutting them out through seven innings, allowing just two hits, and striking out 11. That was also with Omar Narvaez catching him, who's the better option for Burnes.
When you look at how the lineup has fared against cutters and curveballs especially, it's not very pretty. Edman, Donovan, and Goldschmidt's worst pitch to hit against is the cutter. Arenado struggles mightily against sliders, and Gorman also can't hit the cutter. There is a recipe here for success, and Burnes has done that in start over start against the Cardinals.
Through 106 PA against the Cardinals' current roster, He holds an absurdly high 41.5% strikeout rate with a .209 xwOBA, a .169 xBA, and a .240 xSLG. While Goldschmidt and Edman have decently high averages against Burnes in their career, there is no power and plenty of strikeouts.
Opposing Burnes is Miles Mikolas, who's coming off a 129-pitch performance against the Pirates, where he was an outstretched glove away from throwing a no-hitter. It was an incredible performance, but it had to have tired him. One hundred twenty-nine pitches are the most of this year, and now he'll face a Brewers lineup that's seen him twice this year and was able to get to him the last time he met them.
Mikolas faced the Brewers back on April 15th and pitched great. He threw 6.2 innings, allowing three hits on one run while striking out seven. The second time around, he got bombed, allowing six runs and nine hits over 5.2 innings. This will be the third time they've seen him, which should not bode well for Mikolas.
Mikolas has pitched decently against the Cardinals in a large sample of 104 PA. He holds a 23.1% strikeout rate, a .291 xwOBA, a .247 xBA, and a .401 xSLG.
I expect a rougher outing from Mikolas after throwing 129 pitches and giving it everything he has against the Pirates in his last start. He'll face a lineup that's seen him twice already this season and should be ready to roll behind their ace in Corbin Burnes, which has dominated the Cardinals over his career.
The Pick: Milwaukee Brewers First 5 Innings -0.5 (-110)
1.1 Units to Win 1 Unit
______________
Arizona Diamondbacks vs. San Diego Padres: 9:40 PM EST
Zach Davies (RHP, Diamondbacks) [2-3, 3.78 ERA, 1.20 WHIP, 69 IP, 57 K, 22 BB]
Yu Darvish (RHP, Padres) [6-3, 3.35 ERA, 0.97 WHIP, 75.1 IP, 61 K, 15 BB]
We head to San Diego for the first game of a three-game set between division foes. While this isn't exactly the Brewers vs. Cardinals, this is a solid matchup between two teams with good starters on the mound. I'll be isolating the first five innings in this one, similar to the last pick. I see the value with the starting pitchers.
Yu Darvish will get the ball for San Diego, who has been lights out at Petco Park this season. This isn't a new trend for Darvish, as his ERA last year was two full runs lower at home. This season, he has a 1.35 ERA at home versus a 4.93 ERA on the road. While I expect that road ERA to normalize, pitching well at home is nothing new.
Today, he'll face the Diamondbacks, the worst team in June against right-handed pitching. We banked on that fact yesterday, and while the stat still holds, they roughed up Chris Archer yesterday. Archer and Darvish are entirely different pitchers; the results should show that today.
Darvish threw a six-inning no-hitter against the Diamondbacks in his first season start, which was in Arizona. While I expect Darvish to give up some hits, I think he completely shuts out this Diamondbacks offense. Ketel Marte is expected to be back today, but he's still dealing with a hamstring injury. I'm unsure if he's entirely at 100%, but he's expected to rejoin the club for this series.
Opposing Darvish will be Zach Davies, who has been tough to square up this season. He keeps the ball on the ground with heavy usage of sinkers and changeups. He has a similar pitch mix to Kyle Hendricks, who the Padres consistently struggle against. They did fine against Davies in his lone start against them this year, allowing two runs in five innings.
The Padres will be without Manny Machado, which is an enormous blow to this offense. He has a .945 OPS this season, and he's the only hitter in the Padres lineup with an OPS over .800. Especially after playing a series at Coors Field and then adjusting after an off-day, I think the bats will be slow in the early goings.
We saw this line open at 7.5, which has since been bet down to seven. I see the value in the first five innings with the line at four runs. That's the best pick, and that's what I'll be riding with today.
The Pick: Padres vs. Diamondbacks First 5 Innings Under 4 Runs (-110)
1.1 Units to Win 1 Unit
____________
I've written up a quick guide with critical terms and helpful tips.