Analysis
MLB Best Bets Today: Predictions, Odds for Braves vs. Marlins, Twins vs. Royals for May 21, 2022.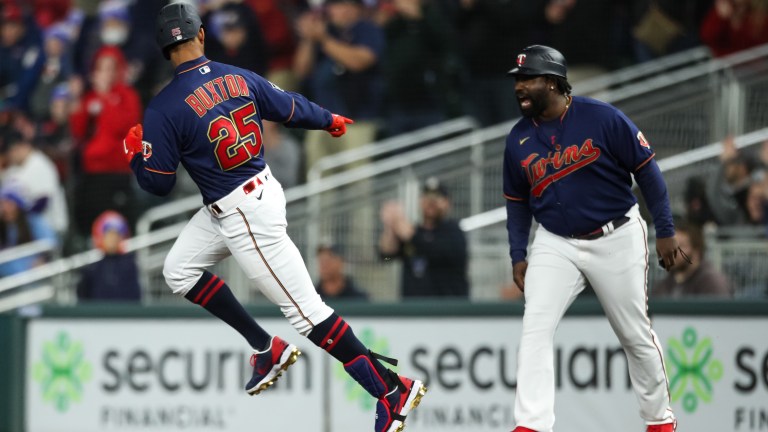 We got screwed yesterday. No other way around it.
We took the under in Rays vs. Orioles, which looked sharp through the first four innings. Mike Zunino ruined Tyler Wells's no-hitter in the fifth with a home run, but the Orioles couldn't touch the Rays' pitching. A few bloop hits and some walks, and the Orioles tied it.
The game went into extra innings tied at three, and we had to watch as the runner on second rule destroyed any hopes of the under hitting.
We took the Angels to win through the first five, which was blown up in the top of the fifth. Taylor Ward hit three balls with an xBA over .500 and only had one hit. The Angels pieced together two runs, but a two-run bomb by Seth Brown basically walked it off for them through five innings.
An absolute travesty. With all that said, I stand behind those picks. Unlucky bounces didn't go our way yesterday, but I'm confident they will today. Let's roll with two MLB Best Bets.
Peter's 2022 MLB Regular Season Record: 69-53 (57%) +11.76 units
Subscribe to my New Gambling/Fantasy Baseball Podcast: Not Gambling Advice.
Atlanta Braves @ Miami Marlins: 6:10 PM EST
Kyle Wright: (RHP, Braves) [3-2, 2.79 ERA, 1.10 WHIP, 42 IP, 50 K, 13 BB]
Elieser Hernandez: (RHP, Marlins) [2-3, 6.15 ERA, 1.43 WHIP, 33.2 IP, 30 K, 12 BB]
We head to Miami for the second game of a three-game set. The Braves won 5-3 in the first game of the series after three home runs from Marcell Ozuna, Dansby Swanson, and Travis d'Arnaud. As the Braves bats heat up, they'll face a young starter who gives up a ton of home runs.
Elieser Hernandez gets the ball for the Marlins today, and he's had his ups and downs, to say it politely. The problem with Hernandez has been the long ball. He's surrendered ten home runs in just 33 innings this year, as opponents are crushing his fastball.
Only Nathan Eovaldi and Kyle Hendricks have allowed more home runs this year than Hernandez, and he'll face a lineup that's seventh in home runs over the last two weeks.
In Hernandez's last five starts, he's averaged nearly four earned runs a start in less than five innings. He faced the Braves on April 23, allowing five earned runs in 4.2 innings.
Through 77 PA against the Braves' current roster, Hernandez holds a 4.31 FIP, a .275 opponent batting average, a .319 xwOBA, and a .427 xSLG.
Marcell Ozuna has a hit in six straight games, with back-to-back games with two hits in the same game. He is 6-11 off Hernandez in his career. Travis d'Arnaud, who also homered yesterday, is 2-4 with two walks against him.
The Marlins will have to face Kyle Wright, who's coming off a solid performance against the Padres. He allowed just one earned run while working into the seventh innings, striking out nine.
The Marlins faced Wright on April 22 and couldn't muster a single run. Wright dominated, throwing six shutout innings and striking out 11 Marlins.
Through 57 PA against the Marlins' current roster, he's pitched to a 2.85 FIP, a .140 opponent batting average, a .281 xwOBA, and a .327 xSLG.
Jazz Chisholm, Jesus Sanchez, Jacob Stallings, and Avisail Garcia are all hitless over 14 AB with eight strikeouts.
The Marlins won the first series they played, and I know the Braves remember that and want to exact vengeance. They'll face Sandy Alcantara tomorrow, so they know this is a pivotal game. Knowing this, I expect them to pounce early on a fly-ball pitcher they've shelled before.
After a loss last night, the Marlins should indeed be motivated, but they don't match up well against Wright. While they've been successful against right-handers this year, they haven't been successful against high-velocity and ground-ball pitchers.
I like the value of the first five innings. With the way these two bullpens operate, I'd instead isolate this starting pitching matchup. The way I see this game going is that whoever gets up early will win the game.
Due to this, I'll take the spread on the first half rather than the entire game money line for a +105 line rather than a -140 money line.
The Pick: Atlanta Braves First 5 Innings -0.5 (+105)
_____________
Minnesota Twins @ Kansas City Royals: 7:10 PM EST
Joe Ryan: (RHP, Twins) [4-2, 2.39 ERA, 0.96 WHIP, 37.2 IP, 36 K, 12 BB]
Brad Keller: (RHP, Royals) [1-3, 2.89 ERA, 1.01 WHIP, 43.2 IP, 25 K, 9 BB]
We travel to Kansas City for the second game of a three-game set. The Twins won the first game 6-4 after putting up three early runs on Daniel Lynch in the first inning. The Twins should do the same to a pitcher they have more success against than Lynch.
The Twins have started to roll. They've scored 20 runs in their past two games and are winners of five of their last seven games.
The Royals' offense is beginning to heat up, but they've lost four of their last six games. They are the seventh-worst offense in terms of OPS against right-handed pitching this season.
Overall, both of these offenses are getting better. The Royals started slow, recording a .593 OPS in April. As the weather has warmed, their May OPS rose to .703.
The Twins have felt similar momentum. In April, they were solid, holding a .688 OPS. They've been surging in May, recording a .737 OPS.
This season, Brad Keller has been fantastic for the Royals, but I'm unsure how long it will last. His fastball got destroyed last year; opponents hit .327 against the pitch. This year, it's coming in slower, yet hitters are only hitting .260 against it. Hitters have crushed his sinker his entire career, but the slider has been what's working this year.
The slider itself isn't registering a higher spin, and it's ticked up slightly in velocity from 86.1 to 86.8 MPH. He's had spotty command with it all year, but he's had some luck on his side.
Luck shouldn't be in his corner today, as the Twins have crushed him in the past. This is a new Twins team, so it's essential to look at how each hitter on the current roster stacks up against Keller.
Through 67 PA, Keller has pitched to a 5.47 FIP, a .418 xwOBA, a .293 opponent batting average, and a .571 xSLG. Those are not good.
Luis Arraez, Max Kepler, and Carlos Correa are a combined 11-25 (.440 AVG) with a double and two home runs against him.
Here's my thing. If Keller made massive changes, I would have to discount these stats. Keller has not been good in his career, highlighted by an ERA north of five in 2021. I'd be a bit more nervous if he threw much harder, added a new pitch, or changed up his arsenal. That's not the case here.
Joe Ryan will take the ball for the Twins, who's been nothing short of phenomenal. He and Jeremy Pena will be fighting for the Rookie of the Year title at the end of this season, as he's the real deal.
This season, he faced the Royals, limiting them to two hits and no runs through six innings of work. That was his lone appearance against the Royals, so the advanced numbers, as you can imagine, are incredibly low.
Typically, a rookie may have harsh home/road splits that we have to be careful of. Not Ryan; he's rocking a 1.62 ERA on the road this season versus a 3.00 ERA at home. He's been especially lethal against right-handed bats, and the Royals lineup is full of them.
Like the game above, I believe the winner of this game will get out to the early lead. I'd instead take the Twins to win through the first five for the value at +105, rather than taking a -140 money line.
The Pick: Minnesota Twins First 5 innings -0.5 (+105)
__________________________
I've written up a quick guide with critical terms and helpful tips.