Analysis
MLB Best Bets Today: Predictions, Odds for Orioles vs. Rays, White Sox vs. Yankees, Athletics vs. Angels for May 20, 2022.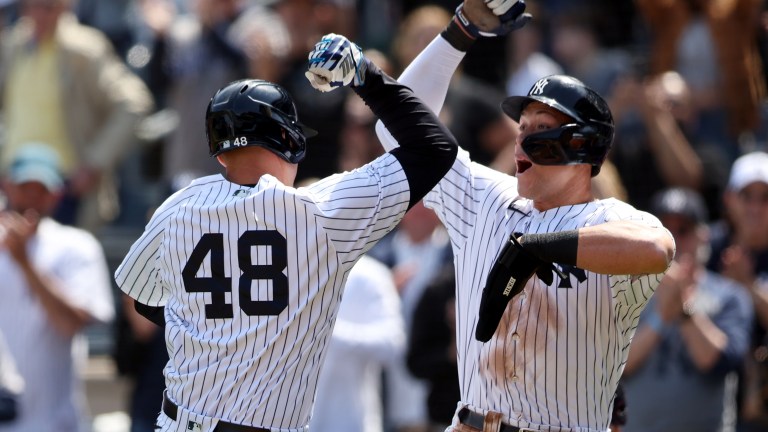 Hello, all you beautiful people. I'm feeling amazing this Friday. I'm 6-1 in my last seven picks, highlighted by a perfect sweep yesterday.
In our bread and butter game, we took the Reds vs. Guardians under through the first five innings, one of the easiest wins of the season. Both pitchers shoved as I predicted, only allowing two runs in five innings between them.
We took the under through the first five innings in Diamondbacks vs. Cubs, which was incredibly scary. It looked amazing through the first three innings, as both pitchers didn't allow a hit. It got hairy real quick, as Stroman allowed three earned runs and Gallen allowed one. We sat with one run to spare for a bases-loaded bottom of the fifth, but Gallen did his job.
We move forward today with three MLB Best Bets. Let's stay hot.
Peter's 2022 MLB Regular Season Record: 69-51 (58%) +14.06 units
Subscribe to my New Gambling/Fantasy Baseball Podcast: Not Gambling Advice.
Baltimore Orioles @ Tampa Bay Rays: 7:05 PM EST
Jalen Beeks: (LHP, Rays) [1-0, 1.72 ERA, 0.83 WHIP, 15.2 IP, 17 K, 4 BB]
Tyler Wells: (RHP, Orioles) [1-3, 4.18 ERA, 1.25 WHIP, 28 IP, 19 K, 4 BB]
We head to Baltimore for the first game of a three-game set between these division foes. The Rays sit five games back of the Yankees in second place in the AL East. After losing seven of their last nine games, the Orioles have fallen to last place.
Since May 1st, both teams are rocking a 103 wRC+, which has them tied at 15th in baseball. Since May 9th, the Orioles are 24th in baseball in wRC+ while the Rays are 22nd. These offenses have not been good lately, and both of these starters have solid matchups.
Let's start with Jalen Beeks, as he's an opener that doesn't tend to last more than two innings. This will be his first appearance as an opener after proving he can limit the damage. If you take away the May 9th appearance against the Angels, where he allowed three earned runs in two innings, he would have a 0.00 ERA.
He's faced the Orioles once this year, throwing 1.2 innings, striking out four, and allowing an earned run.
The Rays had the luxury of an off-day, so their bullpen should be at full strength. I have a struggling Orioles offense against one of the best bullpens in the league. It will be challenging for them to score.
Tyler Wells will toe the mound for the Orioles, one of my favorite young pitchers. He's a 6'8, 255-pound right-hander with a high spin fastball and four secondary pitches. After watching him, he's better than a 4.18 ERA, and his 3.57 xERA agrees.
He faced the Rays in his first start of the year, and it was a disaster. He allowed four earned runs in under two innings of work. Brandon Lowe ended his night with a two-run home run, but he won't play today as he's out for a month with a back injury.
Wells has severe home/road splits this year. In four starts on the road, he's winless at 0-3, and he has a 7.62 ERA. At home, he's 1-0 over three starts with a 1.20 ERA. The left-field fence was moved back 30 feet from last year and now under are 13-7 at Camden Yards.
This total is a bit higher than we might expect due to the weather. The wind should be blowing out to left, but I don't think that'll be enough to get these two offenses going. This year, the Orioles bullpen has been fantastic, rocking a 3.35 ERA, eighth-best in baseball.
I see this game going far under the total of nine and would even play at 8.5, considering I have this game ending around 6-7 runs.
The Pick: Tampa Bay Rays vs. Baltimore Orioles Under 9 (-110)
___________
Chicago White Sox @ New York Yankees: 7:05 PM EST
Dallas Keuchel: (LHP, White Sox) [2-3, 5.54 ERA, 1.96 WHIP, 26 IP, 16 K, 15 BB]
Nestor Cortes Jr: (LHP, Yankees) [2-1, 1.35 ERA, 0.85 WHIP, 40 IP, 49 K, 11 BB]
The White Sox are in for a tough one today as they travel to New York without an off-day after playing ten games in nine days. The Yankees are coming off a loss against the Orioles but have been the best team in baseball this season. They have won 10 of their last 13 games, including taking three of four from the White Sox just last weekend.
Dallas Keuchel will get the ball for Chicago today, and in his last start, he shut down the Yankees through five innings of work. I don't think he has the stuff to do again, especially considering how harsh his home/road splits are.
Keuchel clearly prefers pitching at Guaranteed Rate Field, rocking a 3.32 ERA in four starts. In two starts on the road, he has an 11.57 ERA after allowing nine earned runs in seven innings. It's a small sample but coupled with the fact that the Yankees just saw him, and they crush lefties, I don't think he makes it very far in this one.
The Yankees have the fourth-best Team OPS in baseball against left-handed pitching. Giancarlo Stanton and Aaron Judge are red-hot, and they both have crushed Keuchel in the past. Stanton and Judge are a combined 12-28 (.429) with two doubles and two home runs. Gleyber Torres and Isiah Kiner-Filefa are hitting over .380 against Keuchel.
Overall against the Yankees' current roster through 176 PA, he's pitched to a 5.17 FIP, a .326 xwOBA, a .250 opponent batting average, and a .414 xSLG.
Nestor Cortes Jr takes the ball for the Yankees, who's been phenomenal this year. He also just threw against the White Sox, throwing eight innings of one-run ball and only giving up three hits. While the White Sox hold the sixth-best OPS against lefties, they haven't been able to touch Cortes Jr. Nestor has also been better pitching at Yankee Stadium, holding a 1.00 ERA versus a 1.64 ERA on the road.
Through 56 PA against the White Sox current roster, he's holding a 3.13 FIP, a .281 xwOBA, a .200 opponent batting average, and a .426 xSLG. Yoan Moncada was held out of last night's game due to some discomfort in his leg, and he is currently day-to-day. He's one of three players who have a .300 batting average or better against Cortes.
I see the Yankees going up early and pulling away. I have much more faith in the Yankees offense at home getting to Keuchel on the second go-around. The Yankees are 14-4 at home and 3-0 in home games started by Cortes Jr. I think they get it done and cover the entire game spread.
The Pick: New York Yankees -1.5 (+100) Play to -110.
___________
Oakland Athletics @ Los Angeles Angels: 9:38 PM EST
Paul Blackburn: (RHP, A's) [4-0, 1.67 ERA, 0.90 WHIP, 37.2 IP, 29 K, 5 BB]
Chase Silseth: (RHP, Angels) [1-0, 0.00 ERA, 0.50 WHIP, 6 IP, 4 K, 2 BB]
This is an interesting one. The A's and Angels both had off-days yesterday and will meet in Los Angeles for the first game of a three-game set. Last weekend, the A's played the Angels at home, losing three out of four. These pitchers recently faced the opposing team, and I see one team here with the clear advantage.
Paul Blackburn toes the rubber for the A's today, and he's also been nothing short of incredible. He hasn't lost a game yet, and he's rocking a 1.67 ERA. His command has been excellent, but he doesn't have the wipe-out secondary pitches to accumulate a bunch of strikeouts. Nevertheless, he's been fantastic.
Here's my thing, how long will this last? In 2019, he had a 10.64 ERA through 11 innings of work. In 2020, he barely pitched but allowed seven earned runs in 2.1 innings. In 2021, he threw 38.1 innings, rocking a 5.87 ERA.
His prior history and his 2.99 xERA alert me this should be a let-down game for him. He threw 6.2 innings, allowing five hits and one earned run against the Angels at home.
The Angels are 7th in wRC+ since May 9th, while Oakland sits at 23rd. This is a far superior Angels offense that should get to Blackburn on his second time around in less than a week.
Chase Silseth takes the mound for the Angels, and while he has a blank picture on his ESPN profile, he's nasty. He threw six shutout innings in his first career start while only allowing one hit. That was against the Angels on the road, and the eye test matched up the numbers.
He produces a lot of ground-balls and throws between 95-97 MPH with his fastball. He throws an 86 MPH split-finger that drops off the table and has a wipe-out slider.
The A's and Angels have had staunch differences in how they hit right-handed pitching. The Angels have the third-best Team OPS, while the A's sit dead last.
I see the Angels getting an early lead while the A's attempt to put up one run through five innings. I'm taking the Angels all day through the first five innings.
The Pick: Los Angeles Angels First 5 Innings -0.5 (-120)
__________________________
I've written up a quick guide with critical terms and helpful tips.