Analysis
MLB Best Bets, Predictions, Odds, for Angels vs. Orioles, Giants vs. Padres for July 8th, 2022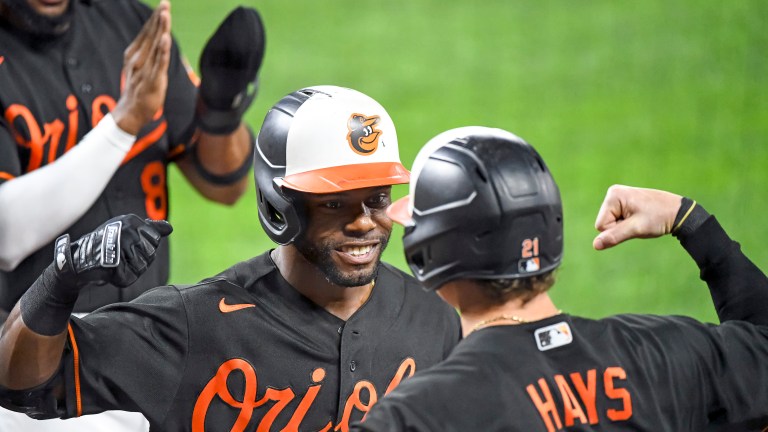 We had a bit of a blip yesterday; we lost our only MLB Best Bet.
It was such an excruciating game to watch. The Braves had many chances to capitalize on Matthew Liberatore, but he ultimately made a solid start. They seemed to have baserunners every inning but couldn't drive them home.
That's baseball, and it happens. It was good to see the Cardinals pull one out, as they needed the win. This is why I hate taking full game spreads, and you may never see one again for the rest of the season.
You know I love my first five innings bets. I have two MLB Best Bets targeting some starting pitching matchups today and an underdog pick in our Chalkboard Group Chat!
2022 MLB Regular Season Record: 127-101 (56%) +19.19 units
Subscribe to my Gambling/Fantasy Baseball Podcast: Not Gambling Advice
Los Angeles Angels vs. Baltimore Orioles: 7:05 PM EST
Reid Detmers (LHP, Angels) [2-3, 4.66 ERA, 1.10 WHIP, 58 IP, 44 K, 21 BB]
Tyler Wells (RHP, Orioles) [7-4, 3.09 ERA, 1.00 WHIP, 75.2 IP, 50 K, 17 BB]
The Baltimore Orioles host the Angels in game two of their four-game series. The Orioles have won their last five games, while the Angels have lost four of their last five. These two teams are going in opposite directions, as are the starting pitchers
Reid Detmers has fallen back to earth since his no-hit performance against Tampa Bay earlier in the season. The Angels have lost each of his last five starts, and he also has an abysmal 6.86 ERA on the road this season. His baseball savant page is ice cold, and his 5.01 xERA indicates there is more damage to come.
Tyler Wells has been fantastic in the recent weeks surrendering only three runs in his last 22 innings. The Orioles are only five games out of a wildcard spot, trending in the right direction as a ball club for the first time in a long time.
The Angels have the wheels falling off right now as they look lost as a unit. The contracts of Mike Trout, Anthony Rendón, and soon-to-be Shohei Ohtani will make up the average salary of an entire MLB team in 2022. Unfortunately for the Angels, other than Taylor Ward, the Angels have not found any help at a bargain price on the offensive end.
In the past month, the Angels have an 82 wRC+ against right-handed pitching, placing them 27th in baseball during that span. If we shorten that sample to the past two weeks, they drop to 29th in wRC+ with an abysmal 62 wRC+ with a .195 batting average. The Orioles rank 6th in wRC+ at home against southpaws this past month with a 161 wRC+ and a .314 batting average.
The Orioles have been the best home team to bet on this season, netting $100 unit bettors $1,007 in profit in 2022. They are in great hands with the smoldering hot Tyler Wells on the bump. He did struggle to start the season but has been fantastic recently to the tune of a 4-0 record with a 1.23 ERA in his last four starts.
On the other hand, the Angels have lost 22 straight games on the road and 13 in a row against AL East opponents. With all of these factors working in the Orioles' favor, I'm more than happy to jump on the Orioles through the first five innings at plus value. I would take this line up to -110.
The Pick: Baltimore Orioles First 5 Innings -0.5 (+105)
1 Unit to Win 1.05 Units
_________
San Francisco Giants vs. San Diego Padres: 9:40 PM EST
Sam Long (LHP, Giants) [0-1, 1.78 ERA, 1.02 WHIP, 30.1 IP, 19 K, 8 BB]
Blake Snell (LHP, Padres) [0-5, 5.13 ERA, 1.46 WHIP, 40.1 IP, 50 K, 23 BB]
We head to San Diego for the second game of a four-game set between division rivals. Yesterday, the Padres won 2-1, but Padres spread bettors were upset. Jorge Alfaro walked it off in the tenth with a ground-rule single, only allowing one run to score. Of course, they only needed one, but that's the kind of play that grinds some gears.
Regardless of that, this matchup again favors the Padres. While the starting pitcher's ERA's are drastically different, this looks like a "get-right" spot for Blake Snell, while Sam Long isn't quite as good as the surface-level stats would indicate.
Long has done an excellent job of avoiding hard contact this season. He ranks in the 97th percentile in barrel rate and the 71st percentile in Hard-Hit rate. While those numbers are solid, he doesn't produce whiffs or gets hitters to chase outside the zone.
While his fastball nears 95 MPH, the lower spin doesn't allow it to play up, resulting in a batting average over .300 against the pitch. With these factors working against him, it makes sense that his xERA of 3.34 is almost two runs higher than his actual ERA.
Over the past month, the Padres have been league average regarding wRC+ against left-handed pitching. They started as one of the best, and this past month has been a bit lower with Manny Machado missing time. Machado is back in the lineup with his .943 OPS against left-handed pitching this year.
In the same period, the Giants rank 25th in wRC+ (94) against southpaws, and Blake Snell has pitched well against them in a smaller sample. Through 38 PA, Snell rocks a .242 opponent batting average, a .317 xwOBA, and a.352 xSLG.
Most of that damage has come from Darin Ruff, while the rest of the lineup has almost no success. While Darin Ruff has been solid this year against lefties, he's much worse than last year, dropping almost .200 points in OPS.
Snell has been overall worse at home this season, but that should change. He was fantastic last year at home, rocking a 2.50 ERA. He's also coming off a phenomenal start against the Dodgers, and while his overall results haven't been great, his 3.71 xERA indicates positive regression is coming. This is a great spot to back Snell, so I'll be riding the Padres through the first five innings.
The Pick: San Diego Padres First 5 Innings -0.5 (+100)
1 Unit to Win 1 Unit
____________
I've written up a quick guide with critical terms and helpful tips.