Analysis
MLB Picks Today, Best Bets, Odds, Predictions for May 16, 2023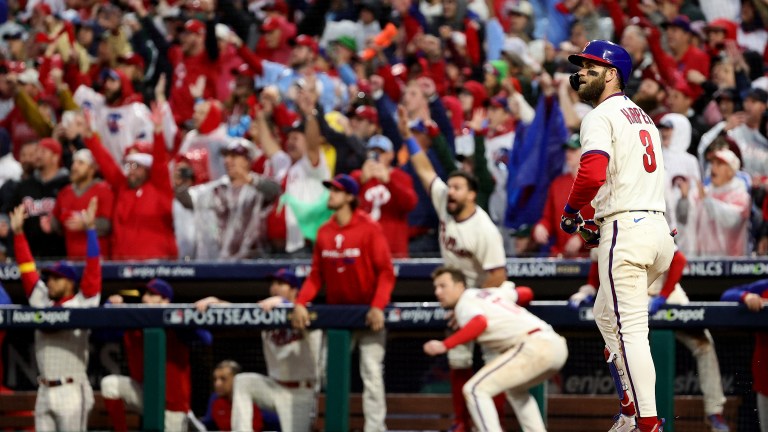 Dodgers, did you have to make us sweat like that? I stayed up until 2 am last night watching that back-and-forth battle after the Dodgers took an early lead, not once, but twice. The Twins tied it up with a three-run home run, and it went all the way to the 12th inning before a walk-off walk by Trayce Thompson. That was an incredible game, and I'm glad we were on the right side of it.
I'm a big fan of the board today in three different spots. We have a system play, two totals I watch, and a PrizePicks entry. We are on a 13-6 run; let's make it 16-6.
2023 Straight Plays Record: 61-48 (+8.68 U)
I'm using BetMGM lines only this year. Here's a link to get started with a risk-free $1000 bet. You can also use code "JBFANS" if you're betting on MLB. Wager $10 on any MLB moneyline and receive $100 once the bet is settled.
All prop entries will be on PrizePicks: Here's a link to get a 100% deposit match.
Los Angeles Angels vs. Baltimore Orioles @ 6:35 PM EST
Pitching Matchup: Chase Silseth vs. Dean Kremer
This bet has a good chance of hitting later in the game, but the most significant edge is in the first half.
Chase Silseth has thrown eight solid innings this season, pitching to a 3.24 ERA. Even in a short sample, he's had most of the balls bounce his way. His walk and strikeout rates are 14.3%, which is terrible on both sides. He has a 52% Hard-Hit rate, one percent higher than last year, where his ERA was 6.59. He has been unbelievable with getting the ground ball out in this short sample, but his ground-ball rate has been up 20% since last season. It's such a small sample, but he hasn't proven yet that he's a long-term solution in the rotation for the Angels.
I don't want to be disrespectful because he has good stuff. He's only 22 years old and was pushed to the majors because his stuff can be very effective. The problem is that he hasn't learned how to command it, and he'll have one of his toughest challenges.
He threw against this Orioles team in July of last year, allowing four runs in four innings. He threw five shutout innings to start this year in 1-2 inning spurts, but his last start was the first time they extended him to three innings. He allowed six runs, three of them earned, against the Texas Rangers. The Orioles haven't been very explosive against right-handers this season overall, posting a 97 wRC+. They are still a great offense, and they'll face a pitcher that will do them a favor.
On the opposite side, Dean Kremer has rattled off back-to-back excellent starts against the Braves and the Rays. Incredibly, he could do this with the hard contact he consistently allowed. He willed his way to these two starts, but I have to figure the regression monster will get him today. His 6.96 xERA is one of baseball's worst and is even higher than what it was in 2021 when he posted a 7.55 ERA.
He doesn't have quality stuff or the command to weather the storm. The Angels' offense is legit, ranking 10th in the league in wRC+ against righties and ninth in OPS. They actually out-rank Atlanta this season when facing right-handed pitchers.
Kremer has faced these Angels bats before, and the contact quality was absurd. Through 25 PA against the Angels' current roster, he's rocking a .455 xwOBA, a .302 xBA, and a .643 xSLG. It's a tiny sample, but coupled with other areas of concern for Kremer, I don't see how he pitches well again today.
Camden Yards also sees 5-10 MPH wind blowing out to left field. Oriole Park is the fourth-highest projected run-scoring environment of the day, so the park conditions won't help these pitchers today.
The Orioles have their two horses in the bullpen ready to go, and the Angels have their best arms as well. I wouldn't be surprised if this full game went over, but if it does, the edge is early on.
The Pick: Orioles vs. Angels First 5 In Over 5 (-110) 1.1 U to win 1 u
Cincinnati Reds vs. Colorado Rockies @ 8:40 PM EST
Pitching Matchup: Brandon Williamson vs. Chase Anderson
Fading a rookie pitcher on the road. One of our favorite systems is back again, but it's in Coors Field this time.
Brandon Williamson will make his Major League debut for the Reds today, and they are putting him in a really tough spot. Coors Field is the toughest park to pitch in. You have to adjust to the altitude, and the outfield grass is so vast that normal flyouts turn into singles and doubles. The air is so thin that balls fly out of the park at higher rates than a field with normal dimensions would dictate. If you have command issues, the park becomes unforgiving. Allowing free passes in this park leads to trouble, as walks turn into runs more rapidly with how easy it is to hit at Coors Field.
Williamson has long been considered one of the better arms in the Reds' farm system, but he hasn't performed like a top-100 prospect this season. In 156 innings over his past two seasons, he's allowed 97 walks to 140 strikeouts. That's a sign of a pitcher without elite stuff that can't command the baseball at the lower levels. In 34 innings this season, he's posted a 6.62 ERA with 20 walks and 27 strikeouts. This is not a pitcher who is ready for the big leagues.
On the flip side, we have Chase Anderson. Anderson hasn't allowed a run yet this season, but he's only thrown five innings. It's challenging to know how he'll perform today because he's had shutout performances and complete blow-ups in his career at Coors Field.
The Rockies and Red's offenses aren't that different from each other. The Rockies lead them in OPS against right-handers, and the Reds lead in wRC+. The Rockies do have a higher hard-hit rate against righties, but the reality is that these offenses aren't that different.
I have more faith in a big leaguer with experience at Coors over the rookie making his debut. Give me the Rockies early.
The Pick: Colorado Rockies First 5 In ML (-130) 1.3 U to win 1 U
Philadelphia Phillies vs. San Francisco Giants @ 9:45 PM EST
Pitching Matchup: Zack Wheeler vs. Alex Cobb
This total is too low for how bad these two teams on defense are and how suspect the bullpen arms are. I like both starting pitchers, but they would have to throw gems to make this go under the total. I'm willing to bet that at least one of them doesn't have a great start.
Zach Wheeler is very good, but the Giants can get him. His 3.80 ERA and 3.40 xERA are the highest he's posted since 2019. Those are still solid, and I'm not here to tell you he's got some major problem, but he doesn't have an easy matchup today. The Giants rank sixth in baseball in wRC+ and in OPS this season against right-handed pitchers.
Wheeler has faced the Giants before. It's been a while, but he allowed five hits and four earned runs in 5.2 innings in 2021. Through 60 PA, he's rocking a .283 opponent batting average, a .269 xwOBA, and a .297 xSLG. From a counting numbers perspective, they've done damage. Wheeler has done a fantastic job of limiting hard contact, but that's when the Phillies' 18th-ranked defense by OAA can hurt him.
Alex Cobb is third in baseball in ERA. What he's done so far this season is amazing, but things have to change at some point. His xERA is at 3.63, higher than the 3.15 mark he posted last season. He has been masterful at keeping the ball on the ground.
He doesn't have an easy matchup today against the Phillies. They rank eighth in baseball in wRC+ and seventh in OPS against right-handed pitchers. They have also seen him before. Through 60 PA against this Phillies' current roster, he's rocking a .327 xwOBA and a .430 xSLG. That's around average.
I don't expect either of these two starting pitchers to be the reason this over hits easily. Considering the other edges in the game, it's simply too much respect for them.
We are looking at the third-worst and ninth-worst bullpen by ERA. We have two of the best teams in baseball against right-handed pitching with below-average defense. We have a ballpark calling for offense, ranked as the third-highest projected run-scoring environment of the day with 5-10 MPH wind blowing straight out.
The model has this total closer to 8.5, not the 7.5 that's being posted. I think this game is 3-2 going into the fifth, and we see three more runs come in at the end with the possibility of more. 7.5 is just too low.
The Pick: Phillies vs. Giants Over 7.5 (-105) 1.05 U to win 1 U
PrizePicks Entry
First Leg: Anthony Santander Over 0.5 Runs
I was shocked to see how low the lines are for Anthony Santander today. He has the third-highest odds of hitting a home run in this game. His total bases line is juiced towards the over, and among the left-handers in the Orioles lineup, he has the best odds in most categories. It makes sense, as Silseth has had problems against left-handed bats. I think he'll be at the forefront of the offensive attack.
Second Leg: Byron Buxton Under 6.5 Fantasy Score
Buxton is an exceptional talent, but he hasn't hit a left-handed pitcher all year. There is a reason he has a 0.5 base prop on PrizePicks; he doesn't match up well at all against Clayton Kershaw. The only book with a 1.5 bases line open for him is -195 towards the under. Buxton has a .459 OPS against left-handers this season and a .876 OPS against right-handers. He's 0-3 with three strikeouts in his career against Kershaw. He only has two stolen bases this year and hasn't been aggressive, so it's doubtful he steals a base, especially with a left-hander on the mound. 6.5 is just too many points.