Analysis
MLB Best Bets: Predictions, Odds for Marlins vs. Nationals, Orioles vs. Twins for July 3, 2022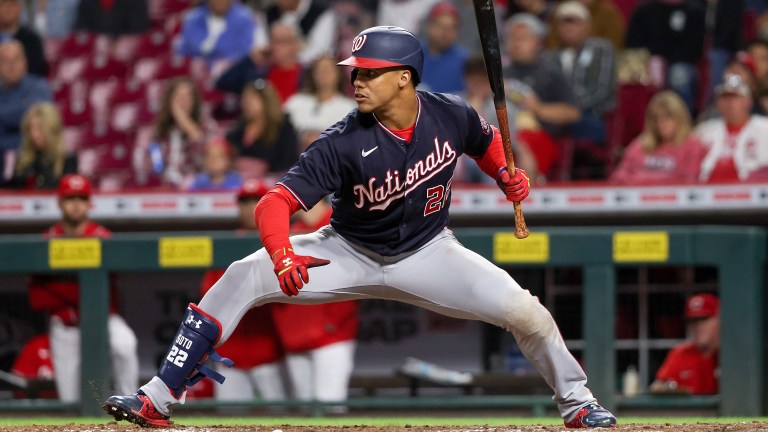 Sound the alarms; we are undefeated in July. What a day yesterday was.
We had a miracle win with the Tigers on the money line after they were losing 3-2 for most of the game, before back-to-back home runs by Victor Reyes and Riley Greene gave them the 4-3 win in the bottom of the ninth.
We took the Rockies to crush Keuchel through the first five innings, and they did exactly that. They put up seven runs against him and easily won through five innings.
Our bonus pick in our Chalkboard Group Chat was the White Sox money line as an underdog, and they beat the Giants 5-3.
It was a fantastic day where we won three units, but that was yesterday. It's a new day, and I have two more MLB Best Bets for you. Let's stay hot.
2022 MLB Regular Season Record: 122-96 (56%) +19.39 units
Subscribe to my Gambling/Fantasy Baseball Podcast: Not Gambling Advice
Miami Marlins vs. Washington Nationals: 1:35 PM EST
Pablo Lopez (RHP, Marlins) [5-4, 2.98 ERA, 1.08 WHIP, 87.2 IP, 88 K, 24 BB]
Erick Fedde (RHP, Nationals) [5-5, 4.40 ERA, 1.44 WHIP, 73.2 IP, 59 K, 34 BB]
Here at Just Baseball, we know a deep-dark secret that we deploy a couple of times a year. Today is that day, it's Erick Fedde against the Marlins.
For those unaware, Erick Fedde is the Marlins' father. Erick Fedde first debuted in 2017, and unfortunately, he didn't face the Marlins in his rookie season. In that season, he only threw 15.1 innings and had an ERA of 9.39. Fast forward to 2018, Erick Fedde throws 50 innings, recording an ERA of 5.54. He faced the Marlins for the very first time, and was mildly successful, throwing 4.1 innings while allowing two hits and two runs.
In 2019, we started to see the real Erick Fedde against the Marlins. Fedde improved in that season, rocking a 4.50 ERA in 78 innings. Against the Marlins, he had one start, throwing five innings of shutout ball. 2020 was one of Fedde's best seasons to date, and he again threw six shutout innings against the Marlins in his lone appearance. At this point, Fedde has thrown 15 innings against the Marlins and only allowed two earned runs.
2021 was a rough season for Erick Fedde. He threw 133.1 innings, most of his career, but finished the season with 5.47 ERA. In 2021 against the Marlins he went 2-0 over four starts with a 1.61 ERA. He threw 22.1 innings against them while only allowing four earned runs. The tally for Fedde against the Marlins rose to 37.1 innings, while only allowing six earned runs to give him an ERA against the Marlins of 1.45.
Fedde already faced the Marlins this season, and we finally saw a kink in the impeccable armor. He threw 4.2 innings while allowing three hits and two earned runs. Jazz Chisholm and Jorge Soler went 2-6 in that game with two walks and an RBI. Both of those players will not be able to suit up as they currently sit on the IL.
In that game, Pablo Lopez pitched against the Nationals, throwing six shutout innings where the game ended 2-1.
After reading all of that, I hope you catch my drift. It's Erick Fedde day against the Marlins, and Pablo Lopez has consistently bounced back after a bad start he just had.
Knowing that both bullpens have been used extensively in this series, I'm going to isolate this starting pitching matchup and take the under through the first five innings.
The Pick: Nationals vs. Marlins First 5 Innings Under 4.5 (-115)
1.15 Units to Win 1 Unit
__________
Baltimore Orioles vs. Minnesota Twins: 2:10 PM EST
Tyler Wells (RHP, Orioles) [6-4, 3.23 ERA, 1.03 WHIP, 69.2 IP, 43 K, 16 BB]
Devin Smeltzer (LHP, Twins) [4-1, 2.86 ERA, 69.2 WHIP, 50.1 IP, 31 K, 11 BB]
We head to Minnesota for the third and final game of a three game set. The Twins have been the winners of the first two games by a combined score of two runs. Each game has ended in a Twins walk-off home run. While the Twins have had all the luck on their side, it's the Orioles turn to scrape together a win.
Tyler Wells will get the ball for Baltimore, who's been excellent this season. The only problem here is the way the Orioles want to limit his innings, as he was pulled after just 63 pitches in his last start. Wells is the upper echlon of pitchers who limit hard contact, ranking in the 73rd percentile of average exit velocity this season.
His fastball sits at 94 MPH, but his ability to locate it up in the zone with an extremely high spin rate has made the pitch tough to barrel. His slider and changeup have performed as plus this year, and his xERA of 3.55 sits in the 62nd percentile.
The Twins are no sloutches at the plate, they can really hit. This will be a tough matchup for Wells, but we did already see him perform well against them this season. Back on May 2, he threw five innings of one run ball while striking out four batters.
In the last three weeks, the Twins rank 10th in wRC+ at 112 against right-handed pitching, but they have not been very successful this series. Spencer Watkins and Jordan Lyles have combined for 12 innings and two runs against them. I think this will be another let-down spot for them after two freak walk-off wins.
Opposing Wells will be Devin Smeltzer, who can't keep getting away with it. Semltzer has done a great job limiting hard contact with impeccable command, as nothing he throws is north of 90 MPH. While his 2.86 ERA is very impressive, his xERA sits right next to Wells at 3.50, putting him in the 63rd percentile.
In that same three week span, the Orioles sit with the ninth best wRC+ and the third highest hard hit-rate. Smeltzer has a 1.50 ERA at home; I truly think he can't keep getting away with this.
The Orioles have the better overall bullpen by ERA, FIP, and xFIP, and while the Orioles have blown the last two games by the hands of Jorge Lopez, the rest of the bullpen has performed well against these Twins. On the other side, the Twins have been prone to blow-ups back there, especially in their last series against the Guardians.
We've also seen some interesting line movement in this game. At the time of writing, the Twins are getting about 80% of the money, yet the Twins have moved from -175 to -165 on the money line.
I think the Twins come out slow in this one, and the Orioles salvage the series and go home without being swept. With all of these factors combined with the line movement, the Orioles money line has plenty of value for me to go for it as an underdog.
The Pick: Baltimore Orioles ML (+140)
1 Unit to Win 1.4 Units
____________
I've written up a quick guide with critical terms and helpful tips.