Analysis
MLB Best Bets: Predictions, Odds for Marlins vs. Nationals for July 1, 2022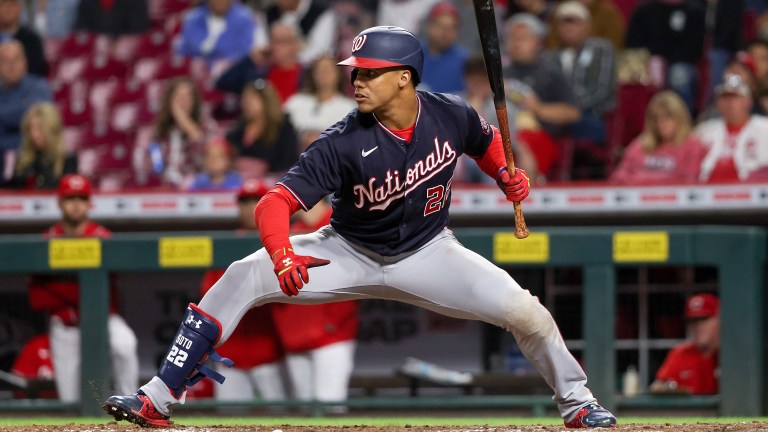 Yesterday was a disaster. We've had worse losing days before, but the picks themselves got blown up so quickly.
We had the Reds winning through the first five innings, ending abruptly with a grand slam from Patrick Wisdom.
We had the under in the Mariners vs. A's game which lost in the fifth inning.
Even though yesterday was terrible, we've had a very strong June. We went 39-28 last month, suitable for +9.03 Units.
Today, I only have one MLB Best Bet. The favorites are widely overvalued, yet the underdogs don't seem to have much of a chance. We'll play it safe today, as we have a long season to make more plays. Let's start July off with a bang.
2022 MLB Regular Season Record: 118-96 (55%) +15.39 units
Subscribe to my New Gambling/Fantasy Baseball Podcast: Not Gambling Advice
Miami Marlins vs. Washington Nationals: 6:05 PM EST
Trevor Rogers (RHP, Reds) [3-6, 5.86 ERA, 1.63 WHIP, 63 IP, 58 K, 31 BB]
Josiah Gray (RHP, Nationals) [6-4, 3.82 ERA, 1.21 WHIP, 75.1 IP, 82 K, 33 BB]
We head to Washington for the first game of a four-game set. This will be the third series between these two teams this year, and we have two pitchers who have both had success against the opponent. This will be Gray's fourth appearance against the Marlins and Roger's third time against the Nationals.
The total opened at 10 and has moved to 9.5, and 9 at plus money on some books. We saw the total come down, yet at the time of writing, Vegas Insider has 93% of the money on the over, but the Action Network has slightly more money on the under. I already liked the under, so this line movement makes me even more confident.
Trevor Rogers will get the ball for Miami. He's been going through it this season after finishing second in NL Rookie of the Year voting in 2021 with an ERA under three. This year, his fastball is getting hammered, but he's not throwing it any slower, and he hasn't lost any spin on it either. His problem is location, as he continues to leave balls in the middle of the zone.
The key here for Rogers will be fastball command; if he can locate today, he should do very well as the Nationals have not performed well against changeups or sliders by run value.
While his 5.68 ERA is certainly not pretty, his 4.80 xERA implies some positive regression is coming. Rogers is still getting whiffs at an above-average rate but they haven't translated into as many strikeouts as last season. He's not giving up hard contact, ranking in the 81st percentile in hard-hit rate; something has to change.
Luckily for Rogers, he's had the National's number since he entered the league and he's pitched well against them this season. In 11 innings in 2022, he's allowed just three earned runs on eight hits.
Against the Nationals roster in his career through 96 PA, he holds a .259 xwOBA, a .226 xBA, and a .280 xSLG with a 21.9% strikeout rate. When all of those numbers start with a two, we should be in for a solid outing. Rogers has performed much better on the road this year, and Washington ranks 21st in wRC+ against left-handers in the past two weeks.
Opposing Rogers will be Josiah Gray, who's been dealing with severe home/road splits since he entered the league. It's no secret that Gray is worse off at home, recording an ERA that's a full two runs worse at home. I'm not sure how much longer this will last, however, and in his last two starts at home, he's allowed one earned run in 11 innings against the Rockies and Phillies.
While the Marlins have been solid against right-handed pitching this season, they have been putrid lately, especially on the road. This Marlins team ranks 29th in wRC+ against right-handed pitching on the road over the past two weeks with a .208/.268/.290 slash line. Overall, Gray has pitched well against the Marlins roster in 88 PA. He holds a .249 xBA, a .311 xwOBA, and a .434 xSLG with a 28.4% strikeout rate
Jazz Chisholm, the Marlins' best offensive player, hit the IL, and Jorge Soler is day-to-day with back discomfort that forced him out of the lineup on Wednesday. The Marlins lineup is mostly right-handed, and Gray holds a .583 OPS against right-handers compared to a .583 OPS against left-handers.
While both bullpens are not very strong, they both had a day off to recoup. Both of these offenses have performed better in the opposite environments that they are in now. The Marlins hit much better at home, while the Nationals hit much better on the road. I grabbed the under at 9.5 but would play it at plus money at 9.
The Pick: Marlins v Nationals Under 9.5 (-115)
1.15 Units to Win 1 Unit
____________
I've written up a quick guide with critical terms and helpful tips.