Analysis
MLB Best Bets: Predictions, Odds, for Guardians vs. Rockies, Angels vs. Mariners for June 16, 2022.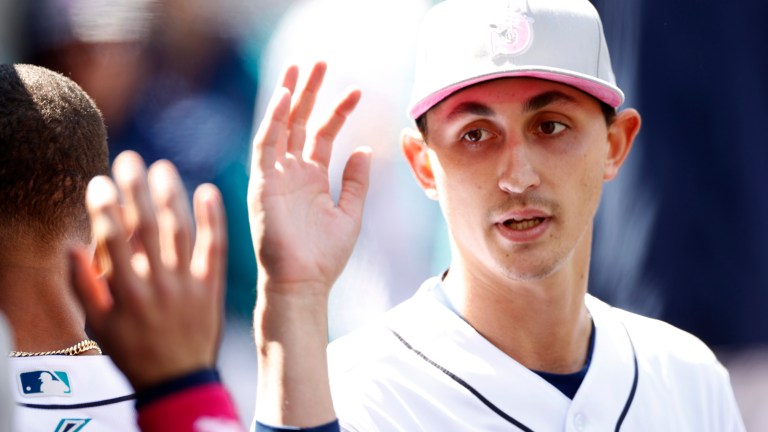 Crazy day yesterday! We swept our MLB Best Bets but lost on two underdogs featured in our Chalkboard group chat. I predicted a Christopher Morel home run, but we lost our PrizePicks entry.
Regardless, it was a winning day for the leading picks, and we are starting to roll in the MLB. We have hit our last four out of the previous five MLB Best Bets, with one of those being a push, not a loss.
Let's stay in the green this Thursday with only nine games.
2022 MLB Regular Season Record: 99-77 (56%) +16.15 units
Subscribe to my New Gambling/Fantasy Baseball Podcast: Not Gambling Advice
Cleveland Guardians vs. Colorado Rockies: 3:10 PM EST
Triston McKenzie (RHP, Guardians) [3-5, 3.09 ERA, 0.89 WHIP, 64 IP, 55 K, 18 BB]
Chad Kuhl (RHP, Rockies) [4-3, 3.70 ERA, 1.39 WHIP, 58.1 IP, 42 K, 25 BB]
We head to Colorado for the final game of a three-game set. The Guardians won the first two games, and I expect them to continue to roll against a starting pitcher they match up well against.
Chad Kuhl gets the ball for Colorado, and regression has already started. He was beaten up against the Padres, throwing four innings and allowing five earned runs on eight hits, but he also allowed five walks. He's starting to lose his command, and he gets blown up when he does.
For Chad Kuhl to be effective, he must have pinpoint command because he doesn't have strikeout stuff. He's in the 19th percentile in strikeout rate and has called to the 28th percentile in walk rate. His slider is the wipeout pitch, but the Guardians have performed as one of baseball's best teams against the slider.
Kuhl is operating with a 4.48 xERA and a 4.65 FIP, and he's especially susceptible against left-handed bats. Jose Ramirez will be a massive problem for Kuhl, but don't sleep on Josh Naylor, who has performed well against Kuhl's pitch arsenal. Other lefties include Andres Gimenez and Steven Kwan, who all match up well against Kuhl.
Opposing Kuhl will be Triston McKenzie, also due for a bit of regression. His 4.08 xERA tells us that, but I don't see it necessarily happening today. Mckenzie's problem is the home run ball, but Colorado's offense against right-handed pitching is weak right now.
Since the start of June, the Rockies have a 72 wRC+ with a .351 slugging percentage against right-handed pitching. That places them at 27th in wRC+ and 22nd in slugging over that period. The pitches most affected by Coors Field are curveballs, changeups, and sinkers. McKenzie features a most fastball/slider combo, similar to Bieber, who threw 6.2 innings while allowing three runs against this lineup.
The Guardians have used relievers Clase and Shaw in two straight games, while Bard and Colome should be rested for the Rockies. Due to this, I'd instead isolate the first five innings and take the better value with the spread through the first five innings.
The Pick: Cleveland Guardians First 5 Innings -0.5 (-105)
1.05 Units to Win 1 Unit
____________
Los Angeles Angels @ Seattle Mariners: 10:10 PM EST
Shohei Ohtani (RHP, Angels) [4-4, 3.64 ERA, 1.12 WHIP, 54.1 IP, 71 K, 13 BB]
George Kirby (RHP, Mariners) [1-1, 3.65 ERA, 1.14 WHIP, 37 IP, 35 K, 4 BB]
We head to Seattle for the first game of a five-game set between these division foes. We never see five-game series, but they must make up a postponed game. None of that matters for this matchup, but it will be entertaining.
We see the total at seven and a short favorite money line for the Angels, which means Vegas thinks the game will be a close, low-scoring game. I agree, as the Angels' offense has been dreadful lately, and the Mariners have one of the weaker lineups in the game. We have two great starting pitchers, and while one is the more prominent name, I think the rookie comes out on top in this one.
That rookie is George Kirby, who has excellent command, ranking in the 99th percentile in walk rate. He's going to force the Angels to hit the ball, something they haven't been doing lately.
Since the start of June, the Angels have a 76 wRC+ against right-handed pitching. That places them 24th among all teams during that time. The Angels' bats may be even slower after traveling from Los Angeles to Seattle without an off day. That may not seem far, but you're looking at a three-hour flight, a bit less than flying from Phoenix to Chicago.
That travel business is just a tiny part of this, as I also think Ohtani doesn't dominate today. Ohtani is historically a worse pitcher on the road, and he's never pitched in Seattle before. He faced them twice last year and fared well, but both starts were at home.
It's a very small sample, but the current Mariners roster has had some early success. In 17 PA against the Mariners, he has an 11.8% strikeout rate, much lower than normal. They also have a .333 opponent batting average, a .438 xwOBA, and a .650 xSLG. JP Crawford is 2-5 against him and should be back in the lineup after being held out with an illness yesterday. Even if he doesn't play, I still like the Mariners to piece together a few runs.
This game will be close, but I'll take the home underdog. The Mariners' offense has been above average since June began against right-handed pitching. They rank 11th in wRC+ against righties at 114.
I'm relying on the Angels' bats to stay quiet in this one, which they've shown plenty of in the past couple of weeks. Give me the Mariners in what should be a great game.
The Pick: Seattle Mariners ML (+105)
1.0 Unit to win 1.05 Units
____________
I've written up a quick guide with critical terms and helpful tips.