Analysis
MLB Best Bets: Predictions, Odds for Guardians vs. Dodgers, Rangers vs. Tigers, Padres vs. Rockies for June 17, 2022.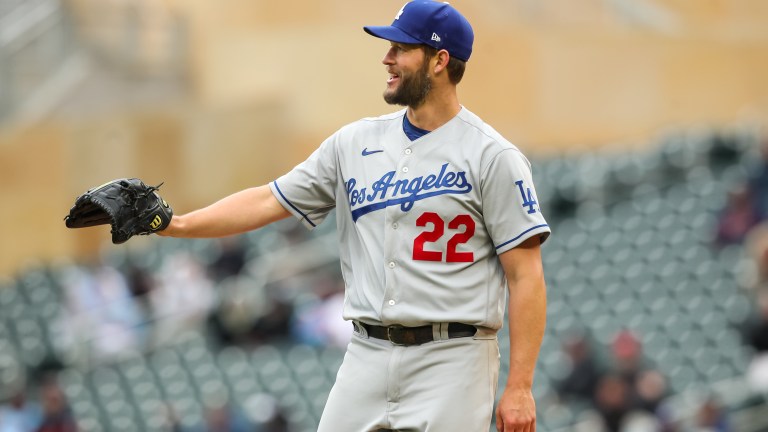 Decent day yesterday, I guess. Whenever we can place some baseball bets and come out even, I'll take that as a win. Another positive is we've won 100 games this season!
We took the Guardians through the first five innings yesterday, which they won 3-1. They ended up winning the game outright 4-2, so if you took Guardians money line, you came out on top.
We took the Mariners' money line against the Angels yesterday, losing as an underdog. The Mariners gave Ty France a day off, a death sentence for their offense. Only Mike Trout provided the offense; without him, they would have been scoreless.
We have three picks today, so going even is impossible. Let's kick it in gear with three MLB Best Bets.
2022 MLB Regular Season Record: 100-78 (56%) +16.15 units
Subscribe to my New Gambling/Fantasy Baseball Podcast: Not Gambling Advice
Cleveland Guardians vs. Los Angeles Dodgers: 10:10 PM EST
Zach Plesac (RHP, Guardians) [2-4, 4.70 ERA, 1.29 WHIP, 61.1 IP, 43 K, 13 BB]
Clayton Kershaw (LHP, Dodgers) [4-1, 2.12 ERA, 0.79 WHIP, 34 IP, 36 K, 5 BB]
We head to Los Angeles for the first game of a three-game set. The Guardians just swept the Rockies at home but will now have to transition from the high altitude at Coors Field to the low altitude at Dodger Stadium. Not only that, but the Dodgers had an off-day to get rid of their offensive woes, and the Guardians have been one of the worst offenses this year against left-handed pitching. I think you already know where I'm going in this one.
Toeing the rubber for the Dodgers will be Clayton Kershaw. Kershaw threw on June 11, his first start back from injury. In that start, he allowed three hits and two earned runs in four innings. That was against the Giants, who are much more familiar with him and have almost 100 points more of OPS this year against southpaws.
I've spoken about how tough it is to directly transition from Coors Field to another ballpark in this collum. The air is different, pitches don't move the same way, and adjusting without a proper off-day is hard.
In the past month, the Guardians rank 19th in wRC+ against left-handed pitching. If we shorten that sample to June, they drop to 20th, rocking a 95 wRC+. The Dodgers' offense has been terrible lately, rocking an 85 wRC+ in June against right-handed pitching, but I expect them to have a day against Zach Plesac.
That's Zach Plesac's pitching profile on baseball savant. Blue is bad, and he has a lot of it. While his 4.70 ERA isn't outstanding, his 6.05 xERA, which puts him in the sixth percentile, is one of the worst in baseball. He doesn't have swing and miss stuff, but he throws a lot of strikes. He gives up plenty of hard contact, and even with the Dodgers' struggles lately, they still have the second-best Team OPS against right-handers in the league.
Emmanuel Clase and Brian Shaw have pitched in three straight games, and they are the two best relievers in Cleveland's pen. The Dodgers had an off-day and have one of the best bullpens in the sport. Not only with the Dodgers get to Plesac, but they'll be able to get into the depths of the Cleveland bullpen.
The Dodgers are the clear pick, and I'm willing to take them on the spread. When the Dodgers win, they usually win big, and I think this will be the first game where we see the actual Dodgers come to play.
The Pick: Los Angeles Dodgers -1.5 (-120)
1.2 Units to Win 1 Unit
__________
Texas Rangers vs. Detroit Tigers: 7:10 PM EST
Jon Gray (RHP, Rangers) [1-3, 4.85 ERA, 1.27 WHIP, 52 IP, 57 K, 22 BB]
Tarik Skubal (LHP, Tigers) [5-3, 2.71 ERA, 1.02 WHIP, 69.2 IP, 75 K, 12 BB]
We head to Detroit for the second game of the series. The Rangers won last night 3-1 behind a strong performance from Martin Perez. The Tigers held the lead for most of the game before an Ezequiel Duran triple scored three for the Rangers in the top of the ninth. I think the Rangers keep that momentum rolling against the worst team on offense in the majors.
The Tigers' offense is brutal. While Jeimer Candelario is on the IL and can't defend himself, he finds himself as the third-worst qualified hitter in terms of wRC+. His two teammates, who are healthy and can protect themselves, Javier Baez and Johnathan Schoop, are the two worst hitters in baseball by wRC+.
This entire offense just can't hit. They can scrape a few runs against a left-hander, but against righties, they are the worst offense in baseball by every number. They rank dead last in wRC+ and OPS against them and now face Jon Gray coming off an excellent start.
Jon Gray is weird. When I say "weird," I mean he needs a set amount of off-days between starts to be effective. What I mean by that is if you look at his game log, whenever he has an extra off-day, or a rain delay hurts his progression, he tends to get blown up. He shoves whenever he gets in a rhythm and pitches on the fifth day like he's supposed to.
Even if you don't believe in that, which I'm unsure if I entirely do, he still matches up very well against them. We played this logic against Gray a couple of starts ago, and it worked out very well for us.
Javier Baez is the single worst player against the slider, Gray's best-offspeed pitch. None of these Tigers can hit hard fastball/slider combo's from right-handers, and that's what Gray brings to the table.
Opposing Gray will be Tarik Skubal, a tough pitcher to crack. While the Rangers aren't the scariest team in the world, they have been fantastic against left-handers lately. Since June began, the Rangers are the eighth-best offense against left-handed pitching in terms of wRC+ at 141.
We've seen Skubal tail off slightly in his last two starts, allowing seven earned runs over his final eleven innings. He doesn't look as sharp as he did in May, and I think the Rangers can get to him today. Not only that, we saw the Rangers get to the Tigers closer Gregory Soto last night, who is also a left-hander. The confidence the Rangers have against their bullpen, combined with their ability to hit Skubal, give me the Rangers as an underdog.
The Pick: Texas Rangers ML (+110)
1.0 Units to Win 1.1 Unit
__________
San Diego Padres vs. Colorado Rockies: 8:40 PM EST
MacKenzie Gore (LHP, Padres) [4-2, 2.50 ERA, 1.19 WHIP, 50.1 IP, 60 K, 21 BB]
Kyle Freeland (LHP, Rockies) [2-5, 4.39 ERA, 1.42 WHIP, 65.2 IP, 48 K, 22 BB]
We head to Colorado for the first game of a three-game set. This is a highly lopsided pitching matchup in my eyes, so I'll be isolating the first five innings.
The Rockies enter this game on a three-game slide, and now they'll have to face one of the best left-handed pitchers in the league. MacKenzie Gore is no ordinary rookie, he's rocking a 2.50 ERA, and his 3.31 xERA is in the 68th percentile in the major leagues. What's most important about Gore is his ability to keep the ball on the ground and limit the home run ball. That will be especially important in Coors Field, as we know it's easy to hit it out of the ballpark.
MacKenzie Gore's pitch arsenal should bode well against the Rockies but also at Coors Field. Fastball/slider combinations are the best at Coors Field, and Gore throws those pitches almost 80% of the time. Additionally, the Rockies have a -8.8 run value against fastball this year.
The Rockies' offense this year has been great against left-handed pitching, rocking the fifth-best team OPS against lefties. The problem is that they were number one not so long ago, before struggling against them lately. In June, the Rockies rank 27th in wRC+ against left-handers with a 68 wRC+. When we look at how they've done at Coors, it's not much better, posting a 79 wRC+.
The Padres offense has been rolling with the help of the Wrigley wind. While they don't have that going for them today, they have a matchup they should feast on in one of the most hitter-friendly ballparks in the major leagues.
The Padres have the 13th best Team OPS against lefties this year and have a 104 wRC+ against left-handers in June. That's around the middle of the pack, but those numbers should jump against Kyle Freeland.
The Padres can hit a slider, ranking as the fourth-best team in baseball against that pitch. That's Freeland's main out-pitch and the pitch he throws the most. If he isn't able to get whiffs with that pitch, it'll be a very tough day for him.
This matchup happened on June 11 in San Diego, where the Rockies won 6-2. I see that completely reversing today, with the Padres taking the early lead against Freeland's 24th pecerntile xERA.
The Pick: San Diego Padres First 5 Innings -0.5 (-110)
1.1 Units to Win 1 Unit
____________
I've written up a quick guide with critical terms and helpful tips.