MLB Best Bets, Odds, Predictions: Yankees vs. Guardians, Mariners vs. Royals for April 23, 2022
Two MLB Best Bets for April 23, 2022!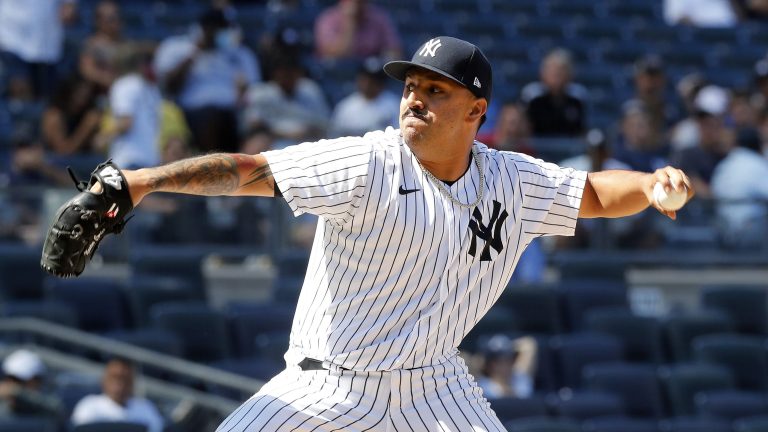 We were hit with a 1-1 day yesterday after an incredible comeback by the Dodgers. Rockies vs. Tigers was postponed, so we made out exactly even. Today we have three picks in three different games.
Peter's 2022 MLB Regular Season Record: 29-18 (62%)

Subscribe to my new Gambling/Fantasy Baseball Podcast: Not Gambling Advice.
Guardians vs. Yankees First 5 Innings Under 4.5 (-115)
Cal Quantrill (RHP, Guardians): [1-0, 3.72 ERA, 1.03 WHIP, 9.2 IP, 4 K, 4 BB]
Nestor Cortes Jr (LHP, Yankees): [0-0, 0.00 ERA, 0.75 WHIP, 9.1 IP, 17 K, 1 BB]
It's Nasty Nestor day! Nestor Cortes has been everything that Yankees fans wish Gerrit Cole was this season. He looks to continue his excellence against an inconsistent team in the Cleveland Guardians. The Yankees' offense is struggling right now, as their only offense came from two home runs from Aaron Judge yesterday. They get the tough task of facing Cal Quantrill today in the second game of a three-game set. Quantrill was just activated from the COVID-19 list.
The weather in this game is going to suppress runs. Ballparkpal.com projects Yankees Stadium to yield 12% fewer runs than average and 20% fewer extra-base hits. We have temperatures in the 50s, expected rain, and the wind will be blowing in from right field.
Neither pitcher has much experience against the opposing offense. Nestor hasn't faced the Guardians before, and Qwuantrill only threw four innings against the Yankees last year. In those four innings, he allowed one run on two hits. This will be his first start against the team, as all appearances have come out of the bullpen. Donaldson has strong numbers against him, but besides him, only Anthony Rizzo and Kyle Higashioka have at least one hit off him. The Guardians also have had struggles against left-handed pitching this season compared to right-handers.
The Yankees staff did an excellent job holding this streaky Guardians offense to one run yesterday. This season, the Under is 11-3 in the first 14 games of the Yankees' season.
Seattle Mariners First 5 Innings -0.5 (-115)
Kris Bubic (LHP, Royals): [0-1, 10.80 ERA, 2.60 WHIP, 5 IP, 4 K, 8 BB]
Matt Brash (RHP, Mariners): [1-1, 3.38 ERA, 1.22 WHIP, 10.2 IP, 11 K, 7 BB]
The Mariners begin game 2 of their series against the Royals, facing the struggling southpaw: Kris Bubic. The Royals sit at 5-7 and their offense has been a real problem. They've scored a combined 10 runs in their past five games, and they have a tough task with an electric young pitcher in Matt Brash.
Last Thursday, the Mariners hit two home runs off LHP Taylor Hearn. They will be ready for another left-hander today. And, to make matters worse for Bubic, current Mariner's starters own a brutal .306/.402/.517 slash line in a combined 40 plate appearances against the Royals' southpaw. Kris Bubic has been getting smacked around in his first five innings, including eight walks over two starts. The Seattle Mariners have been ripping the cover off the ball recently, and their recent success against left handed pitching bodes gives me confidence they can get to Bubic early. Through 40 PA against the Mariners' current roster, he's pitched to a 5.33 FIP, .377 xWOBA, and a .453 xSLG. Expect the Mariners' offense to come alive in the early goings.
Matt Brash has been great to start his 2022 big league campaign. His first two starts came against very solid offenses in the Astros and White Sox, and he put up a 3.38 ERA with 11 strikeouts through 11 innings. He is going to face a much more pitcher friendly offense in the Roayls and I expect him to cement himself firmly in the AL Rookie of the Year race after a quality performance. With Bubic's struggles to begin the season, especially in the beginning of his starts combined with the Mariners recent hot hitting, we are rolling with Mariners F5 at -115.