Analysis
MLB Best Bets: Predictions, Odds for Brewers vs. Reds, Cardinals vs. Red Sox for June 18, 2022.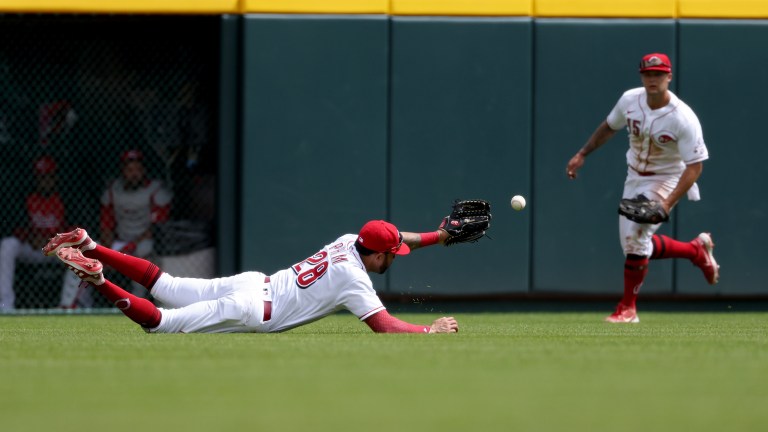 Such an annoying day yesterday. I can handle MacKenzie Gore getting blown up by the Rockies; that can happen.
Los Angeles Dodgers, what is wrong with your offense? Are you allergic to scoring with a runner in scoring position? It seemed like it last night, as the Guardians beat the Dodgers 2-1. I thought the off-day would turn around the offense. It did not.
We did have the Rangers money line as an underdog who was a big success. They won easily, and Jon Gray dominated.
Today, I have three MLB Best Bets for you, with two being in the same game. Let's get back what was lost yesterday.
2022 MLB Regular Season Record: 101-80 (56%) +14.95 units
Subscribe to my New Gambling/Fantasy Baseball Podcast: Not Gambling Advice
Milwaukee Brewers vs. Cincinnati Reds: 4:10 PM EST
Jason Alexander (RHP, Brewers) [0-0, 2.16 ERA, 1.74 WHIP, 16.2 IP, 6 K, 8 BB]
Graham Ashcraft (RHP, Reds) [3-0, 2.22 ERA, 1.02 WHIP, 28.1 IP, 15 K, 5 BB]
We head to Cincinnati for the second game of a three-game set. The Brewers won yesterday's game 5-4 after Keston Hiura broke the tie with a home run. I don't see the Brewers getting lucky in this one, as I believe the Reds have the advantage today.
Graham Ashcraft will get the ball for the Reds, who is in an excellent rookie campaign. He's been a breath of fresh air for this Reds pitching staff, as he's been their best arm this season.
While he doesn't rack up many strikeouts, he's rocking a 58.9% ground ball rate. He throws gas, averaging 97.5 MPH on his cutter and 97.1 MPH on his sinker. He also mixes in a fantastic slider that opponents only hit .143 against.
He'll face a Brewers lineup that is struggling with right-handed pitching. They got to Hunter Greene for four runs on four hits in five innings, but that was the third time they faced him, and they've beaten him up specifically every time. Since June began, the Brewers have a 74 wRC+ against right-handed pitching. That ranks them 25th in baseball.
The Reds are not an offensive juggernaut, but they sure do put up runs at home. They have a .796 OPS at home, one of the best in the sport. Not only that, they've been better against right-handed pitching than the Brewers lately. Since June began, the Reds sit at 17th with a 97 wRC+.
They'll face Jason Alexander, whose ERA and xERA aren't very close. While Alexander has experienced solid results, the underlying metrics suggest he's due for negative regression. A 2.16 ERA is excellent, but a 4.60 ERA and a 1.74 WHIP are concerning. He's made three starts this year, allowing seven hits in every single one. This will catch up to him, and I think it's today.
Josh Hader is on paternity, Devin Williams pitched yesterday, and Boxberger has thrown two days in a row. The Brewers bullpen is not quite as elite right now, but it's not like the Reds bullpen is any good. I think the Reds pull away early and can win it in a close one at the end.
The Pick: Reds First 5 Innings ML (-115), Reds ML (-110)
1.1 Unit on Each to Win 1 Unit (2.25 Units Total)
__________
St. Louis Cardinals vs. Boston Red Sox: 7:15 PM EST
Dakota Hudson (RHP, Cardinals) [4-3, 3.29 ERA, 1.25 WHIP, 65.2 IP, 36 K, 27 BB]
Kutter Crawford (RHP, Red Sox) [1-1, 5.74 ERA, 1.79 WHIP, 15.2 IP, 21 K, 12 BB]
We head to Boston for the second game of a three-game set. The Red Sox took an early 6-1 lead, but the Cardinals added four runs in the top of the ninth to almost squeak out a win. I lean towards the home team in what should be another great game.
Dakota Hudson has been an anomaly this season. He's done an incredible job of keeping runs off the board without striking anyone out, walking many hitters, and allowing a lot of hard contact. While his 3.29 ERA is impressive, his 4.42 xERA, 4.20 FIP, and 4.65 xFIP would alert us that more regression is coming.
When I say "more" regression, I mean we already saw it starting to take place. In his last start, he allowed nine hits and six earned runs against the Reds in his previous start, and another trend is starting to evolve.
Hudson is a better pitcher at home. This season, he has a 2.67 ERA at Busch Stadium but a 3.94 ERA everywhere else. He's allowed at least three earned runs in three of his last four road starts. The Red Sox rank 11th in wRC+ since June began against right-handed pitching, and they can hit a sinker.
Opposing Hudson will be Kutter Crawford. Kutter has the eighth-most horizontal movement versus the average cutter in the bigs. His name is Kutter. That's so cool.
While his name doesn't factor into winning, he has pitched reasonably well lately. The Red Sox gave him five innings in his last start when he usually doesn't go more than 2-3 innings. He was fantastic, throwing five shutout innings while only allowing one hit.
While it's basically impossible to get out Paul Goldschmidt right now, the only pitch that gives him trouble is the cutter. Nolan Arenado is around league average against the pitch, and Tommy Edman is below average against that pitch. The Cardinals rank 9th in wRC+ since June began, I don't expect a shutout outing from Crawford, but I do expect plenty of offense from the Red Sox.
Seeing the Red Sox as favorites in this one was strange, considering Hudson's success this season, the Sox winning last night and Crawford's inexperience. We see the Red Sox favored for a reason, and I'll ride with them to win it.
The Pick: Boston Red Sox ML (-120)
1.2 Units to Win 1 Unit
____________
I've written up a quick guide with critical terms and helpful tips.