Analysis
MLB Best Bets: Predictions, Odds for Braves vs. Dodgers, Orioles vs. White Sox, Tigers vs. Diamondbacks for June 26, 2022.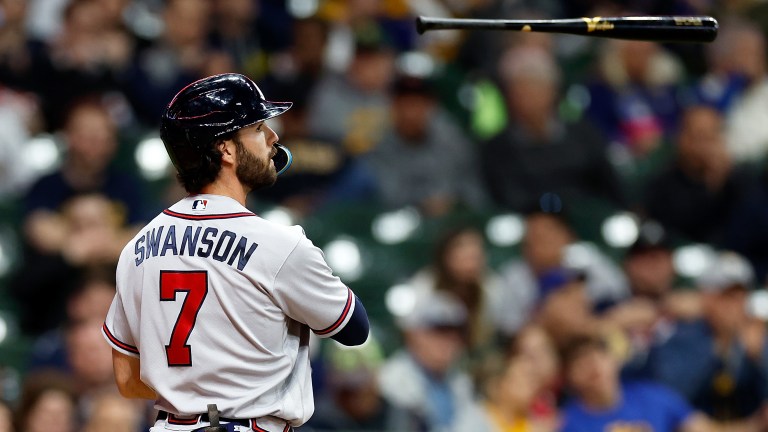 We took yesterday rather easy, as the board felt scary. We ended up going positive, even though we were just 1-1 on our MLB Best Bets.
We lost on the Marlins money line. That one was on me, I got a bit cheeky and went overboard against a Mets team that should never be faded. They are too good, and the Marlins just aren't at their level.
We did take the Tigers as a big underdog, and they won pretty easily 6-3. Taking multiple underdogs gave us some wiggle room, and now for the week, we are 9-5-1, good for 3.7 units in the green.
I have three more MLB Best Bets to end the week, deploying 3.45 Units. Let's end the week on a high note.
2022 MLB Regular Season Record: 111-89 (56%) +15.02 units
Subscribe to my New Gambling/Fantasy Baseball Podcast: Not Gambling Advice
Baltimore Orioles vs. Chicago White Sox: 2:10 PM EST
Jordan Lyles (RHP, Orioles) [4-6, 4.92 ERA, 1.50 WHIP, 78.2 IP, 66 K, 27 BB]
Dylan Cease (RHP, White Sox) [5-3, 2.68 ERA, 1.28 WHIP, 74 IP, 108 K, 36 BB]
We head to Chicago for the fourth and final game of the series after the Orioles won the first three games. This Orioles squad has been impressive, especially on the mound. They've held the White Sox bats to just three runs in these three games. I don't expect that to continue today against Jordan Lyles, and the buck stops with Dylan Cease.
The White Sox as a team are tricky. They have plenty of talent but are managed by quite possibly the worst manager in baseball. He makes head-scratching bullpen decisions and I have zero confidence in him late in games. Knowing this, I'm isolating the starting pitching matchup and taking the White Sox through the first five innings.
While the Sox haven't been hitting this series, they have been crushing right-handed pitching in the past two weeks. They rank fourth in baseball in wRC+ (126) holding a .291/.355/.422 slash line with a .342 wOBA. All the White Sox will need to do to cover is score 1-2 runs against Jordan Lyles, as I'm expecting a fantastic outing from Cease at home. In this same span, the Orioles sit at 19th in wRC+ (91) and have a much tougher matchup today.
Cease is coming off one of his best starts of the season, and all of his peripherals tell us he is the real deal. His 2.68 ERA is impressive, but his xERA being in the 91st percentile at 2.62 is even more impressive. He's sporting a FIP and xFIP below 3.00, and he ranks in the 95th percentile in whiff rate and K rate. He's a true ace and should be spoken about as one. He'll show that today.
Opposing Cease will be Jordan Lyles, who in limited time, has been shelled by the White Sox. He faced the White Sox last year on September 19th, allowing eight hits on five earned runs in less than four innings.
In 50 PA against the White Sox current roster, he holds a .417 opponent batting average, a .375 xwOBA, and a .525 xSLG. Those numbers are really bad, but Josh Harrison has done a lot of the damage, and it's unclear whether he will play as he's day-to-day, but is projected to be in the lineup.
The worst version of Jordan Lyles is on the road. He's been fantastic at home, rocking a 2.92 ERA in 37 innings. On the road, that ERA balloons to 6.70. He's also been regressing lately, rocking a 6.65 ERA in June. His 4.92 ERA is already concerning, but his xERA sitting in the 11th percentile at 5.37 is what seals the deal for me today.
Tim Anderson will be back in the lineup today, and the White Sox should be looking for vengeance after being embarrassed at home. While this line has a ton of juice, it's there for a reason. The White Sox will cover this with ease.
The Pick: White Sox First 5 Innings -0.5 (-145) Play to -150
1.45 Units to Win 1 Unit.
___________
Los Angeles Dodgers vs. Atlanta Braves: 7:00 PM EST
Tony Gonsolin (RHP, Dodgers) [9-0, 1.58 ERA, 0.82 WHIP, 68.1 IP, 64 K, 21 BB]
Spencer Strider (RHP, Braves) [3-2, 3.40 ERA, 1.11 WHIP, 47.2 IP, 72 K, 22 BB]
Sunday Night Baseball! We head to Atlanta for the third and final game of a three-game set. If you can believe it, the Dodgers were underdogs yesterday for the first time this year, and not only did the Braves win, they covered the run line.
Max Fried continued his dominance of the Dodgers, striking out nine and only allowing two runs in 6.2 innings. With how good the Braves have been combined with the line movement, I'll be all over the Braves today.
At the time of writing, 98% of the money has come in on the Dodgers. They opened as +100 underdogs, and the line has since moved to -115. You're telling me that 98% of the public will win tonight backing an undefeated pitcher with a clear ERA advantage when they just saw Strider get blown up by the Giants. I can't conceive that happening, but I also truly think the Braves have the advantage in this one.
Let's start with the offenses because both are pretty damn good. In the last two weeks, the Braves rank second while the Dodgers rank third in wRC+ against right-handed pitching. Hard to find an edge there. When we look at the entire month of June, the Braves rank fourth in wRC+ while the Dodgers sit in 10th.
Facing this Braves lineup will be Tony Gonsolin, who has to be considered one of the front-runners for NL Cy Young at the moment. He's undefeated with a 1.58 ERA. He's been incredible, but we are slowly starting to see him come back down to earth. It's not much, but he did just allow two runs in five innings against the Reds, which is a far cry away from this Braves offense. He has the best ERA in baseball, but his xERA sits in the 86th percentile at 2.80, meaning the numbers would show he's due for a bit of regression.
Gonsolin has been incredible at home this season, rocking a 0.81 ERA in 33.1 innings. He does get slightly worse on the road, rocking a 2.31 ERA. I don't put a ton of stock in these numbers, as the FIP is much closer and he's just been straight up awesome everywhere he's been this year, but it is something to note.
The top of the lineup should do some damage today against Gonsolin. Austin Riley, Ronald Acuna Jr, and Dansby Swanson are a combined 5-17 (.294 AVG) with two home runs. Even if they don't get much against Gonsolin, they should be able to get to this Dodgers bullpen that ranks ninth in ERA compared to the Braves at number three.
Spencer Strider will oppose Gonsolin, who is coming off his worst start of the season against the Giants. His overall ERA jumped from 2.45 to 3.40, and his ERA at home now looks inflated. That started seemed flukey to me, and his xERA sitting at 3.15 puts him in the 74th percentile. He's in the 99th percentile in K rate and the 95th percentile in whiff rate. The Dodgers have never seen him before, which bodes well for Strider.
Following Strider will be on the best bullpen units in baseball. Minter, Smith, and Jansen all threw yesterday, but they all had an off-day in the first game, so they should be ready to go. They should have Dylan Lee as well, who's been unhittable in 14.2 innings this year.
I cannot fathom Vegas losing on this one. 98% of the freaking public on the Dodgers on Sunday Night Baseball. This is a bet that regardless of if the Braves lose, I would bet it again. Go Braves!
The Pick: Atlanta Braves ML (+100)
1.0 Units to Win 1 Unit.
Detroit Tigers vs. Arizona Diamondbacks: 4:10 PM EST
Beau Brieske (RHP, Tigers) [1-6, 4.07 ERA, 1.21 WHIP, 59.2 IP, 41 K, 17 BB]
Dallas Keuchel (LHP, Diamondbacks) [2-5, 7.88 ERA, 2.16 WHIP, 32 IP, 20 K, 20 BB]
Dallas Keuchel is back! Let's fade him!
It can't just be that easy, right? Unfortunately for Keuchel at this point in his career, he is an automatic fade for me. Keuchel was DFA'd by the White Sox this season after putting up horrendous starts that normally ended in losses.
He was picked up by the Diamondbacks and threw in two starts at the Arizona Complex League, which is below low A in terms of a talent level. In those two starts, he allowed six earned runs in 12 innings. You can't tell me he's ready to get out big league hitters.
While the Tigers haven't really looked like big-league hitters over the entirety of the season, they are slowly heating up. Riley Greene has been a blessing for the Tigers' offense, and even after an 0-5 day yesterday, he's still hitting .280.
In the past two weeks against left-handed pitching on the road, the Tigers rank seventh in wRC+ at 149. It's a small sample, but when we look at just how they've fared against lefties in June, they are tied for 12th in wRC+ at 120.
Opposing Keuchel will be Beau Brieske, who most likely won't dominate in this game, but it'll be hard not to, as the Diamondbacks have been dreadful against righties in June and in the past two weeks. The Diamondbacks have a 31 wRC+ against righties at home in June, meaning they are 69% below league average in this spot. Not only are they last, but the Oakland A's sit with a 46 wRC+ in that time span; the freaking Oakland A's!
I have zero confidence in the combination of Dallas Keuchel and the eighth-worst bullpen by ERA this season. While the Tigers have won the first two games, the popular pick may be the Diamondbacks to bounce back. I can't see that happening, so I'll be on the Tigers again today.
The Pick: Detroit Tigers ML (+105)
1.0 Units to Win 1.05 Units.
____________
I've written up a quick guide with critical terms and helpful tips.