Analysis
Yankees Low-A Scouting Report
Takeaways from the Yankees vs. Marlins Low-A match-up.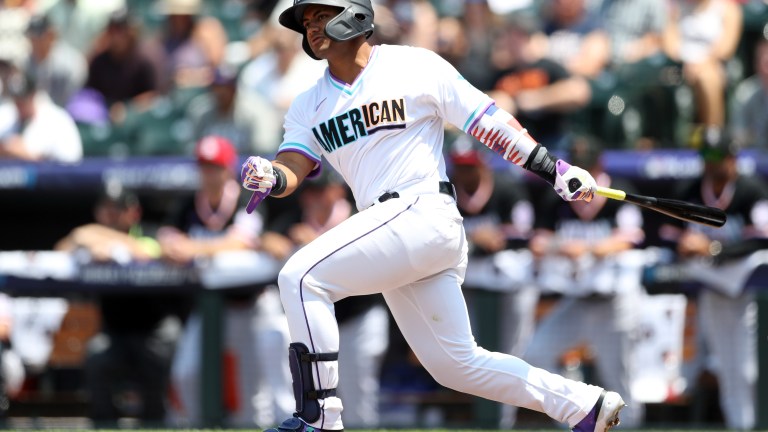 I had the pleasure of taking in Tampa Tarpons (NYY) vs. Jupiter Hammerheads (MIA) match-up Thursday evening, which featured some prospects of interest for the Yankees. Most notably, Yankees top prospect Jasson Dominguez went yard for the Tarpons, but some other Yankee farm hands caught my attention as well.
Jasson Dominguez – OF – Age: 18
There is no doubting the physical gifts that Jasson Dominguez boasts. If you asked 100 people who have never watched baseball in their life to pick the best player on the field, I'd guess 99 of them would pick Dominguez. He stands out that much physically.
When it comes to Dominguez's approach, that's where he looks a lot more his age. That's not to say he is totally lost at the plate, I mean he homered in this ballgame. But to expect a Wander Franco or even Julio Rodriguez type of hit-tool from Dominguez at this point will set you up for disappointment.
Batting from the right-side, Dominguez struggled to stay back on the soft throwing southpaw Luis Palacios. Mixing it up between upper 80s fastballs, lower 80s changeups, and upper 70s sliders, Palacios punched out the Martian in his first two at-bats. Dominguez made the adjustment in his third at-bat and sent one over the left center wall. Dominguez didn't even get all of it, but his bat speed and raw strength is so ridiculous that he sent it 387 feet (101 MPH).
The Hammerheads shifted Dominguez pretty heavily, who came into the game pulling 59% of batted balls in 16 games. Despite having four players to the left of second base, Palacios was giving Dominguez a steady diet of 86-88 MPH fastballs away. In the first plate appearance, Palacios pulled the string on Dominguez after he was early on a couple fastballs. Second at bat, he set Dominguez up with a slider, then sneaked an 88 MPH fastball by him.
The third at-bat, Dominguez was sitting dead red in a 2-0 count and jumped all over a belt-high 86 MPH fastball. I was able to see two at bats from the left side for Dominguez too, where his swing looked much more advanced. Dominguez has repeats his swing much better from the left side and has a more present and consistent lower half. There's some moving parts to the swing from both sides, but his present strength should allow him to hit for power without the extraneous movements.
Dominguez made his speed evident, stretching the soft liner to left field into a double. The 18-year-old has great straight line speed, but took some inconsistent routes in center field. I expect his reads to get better given that he has just started playing professional baseball and is young enough to still be in high school. That in mind, he is heavy on his feet and not the most agile. I do have some concerns as to whether he can stick in center field given how much his present build seems to affect his agility already at 18-years-old.
The sky is the limit when it comes to this kid's offensive upside, but some of the expectations set on The Martian are not even fair to him.
Ryder Green – OF – Age: 21
The most pleasant surprise of the night, for me, was Ryder Green. I came into the ballgame admittedly not knowing much on Green other than the fact that he packed a punch at the plate. After watching him smash three baseballs over 100 MPH, packing a punch may be putting it lightly.
Green was a third round pick out of high school in 2018, signed away from his Vanderbilt commitment with a bonus worth nearly double the slot value ($997,500). The 21-year-old spent 2018 and 2019, in rookie ball with the game I saw only marking his 17th ballgame in Low-A. You couldn't tell by Green's at-bats, picking up a pair of two-strike hits and spraying hits to left, center, and right field. Green's above average speed and good arm make him an above average fielder in either corner who can probably play a little center field in a pinch.
Along with what I could grade as borderline plus, plus raw power is some swing and miss. Green can get a bit long at times and I am definitely interested to see how he handles higher velocity. It is not outlandish to say that Green has the tools to crack the Yankees Top 10 Prospects soon. For now, he is someone who has my attention and if he can limit the swing and miss, ascend the prospect rankings.
Madison Santos – OF – Age: 21
Of the remaining players in action, Santos was the most intriguing tools wise. Santos is a burner with 70-grade speed and good bat to ball skills. The outfielder makes up for his slight build (5'10", 165 lb), with above average bat speed giving him a chance to produce solid gap to gap power.
Trying to generate, Santos can over-swing sometimes, but I don't expect swing and miss to be a big part of his game (1 whiff in 5 PA's). Santos is comfortable hitting the ball to all fields, thanks to his great feel for the barrel. Santos projects as a 4th outfielder type with great speed. There will be a bit of pressure on his hit-tool, but with the right approach Santos should hit enough.
Blas Castano – RHP – Age: 22
Castano started the game for the Tarpons, putting together five strong innings of one run ball with five strikeouts and a walk. The Dominican right-hander ran his fastball up to 95 MPH, sitting 93-94. Castano features a slider, curve and changeup as his secondaries, but relies heavily on his slurvy slider.
The slider features between 35-40 inches of vertical break and sat in the low 80s averaging around 2650 RPM's. Five of Castano's seven total whiffs came on the breaking ball.
At 5-foot-10, 165 pounds, Castano is not the most physically imposing. There is some effort to his delivery as well, though he did a pretty good job of repeating it. Castano's curve and change are far behind the other two offerings, only throwing them eight and seven times respectively.
The fastball, slider combination could give Castano a shot to be a viable reliever in the future.