Analysis
Three Players the Yankees Should Trade Jasson Dominguez For
The most hyped Yankee prospect in years shouldn't be untouchable for these guys.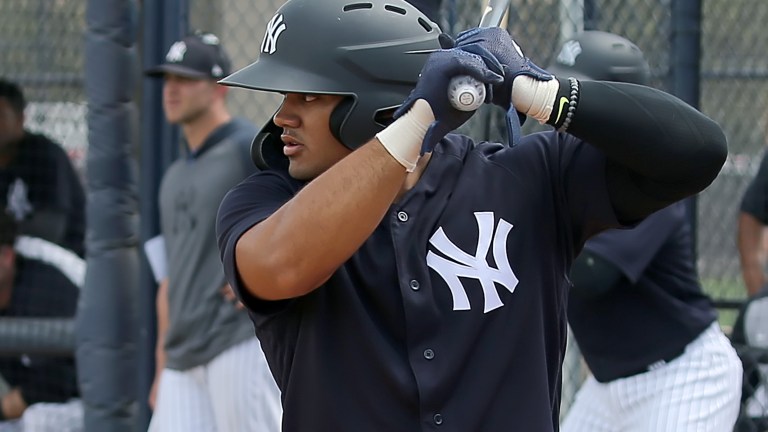 The Yankees are in a bit of a hole right now. The Bronx Bombers are treading water 40% of the way through the season with a record of 34-32, putting them a smidge higher than the Blue Jays for third in the division. Yankees GM Brian Cashman has said on several occasions that the Yankees are indeed buyers and a trade for a center fielder is a priority.
With Aaron Hicks out for the season, center field is a great start, but they need to add reinforcements across the roster. To make this exercise more fun, I am only including players who would make sense in a trade for super-prospect Jasson Dominguez. If you think Jasson Dominguez is absolutely un-tradeable, think about how well Jesus Montero panned out! These are the elite-of-the-elite. I promise, I wouldn't trade Dominguez for just anybody, but he is still far, far away from his Big League debut.
I refer to the Yankees as the Bronx Bombers a bit ironically as the offense has been abysmal to start the season. If I told you that the Yankees lineup would be the problem for them in 2021, you probably wouldn't have believed me, but here they are 26th out of 30 teams in runs scored.
Despite playing in one of baseball's more hitter friendly parks with some of the games most powerful hitters, the Yankees are 12th in home runs. The 2020 home run King, Luke Voit, has been out most of the year with knee troubles, and slow starts from DJ LeMaheiu and Gleyber Torres certainly don't help. Aaron Judge can't carry the load on his own and counting on both Judge and Giancarlo Stanton to be healthy has not paid off in the past so here are some hitters the Yankees should target before the July 31st Trade Deadline. Even if it requires Jasson Dominguez.
Ketel Marte – CF/2B – Arizona Diamondbacks
Every team in baseball should be lining up for Ketel Marte's services. The 27-year-old switch-hitting athlete can hit for power and play all over the field, which is a dream for any manager. Marte broke out in 2019, slashing .329/.389/.592 with 32 home runs while swiping 10 bags. Numbers like that will make you an All-Star and an MVP finalist (finished 4th). Marte could not quite get it going in the shortened 2020 season, but has recaptured his elite form for Arizona this year. In his 7th season, Marte is enjoying a .345/.390/.522 line in 30 games, despite playing for one of the worst teams in baseball. The versatile Marte has registered most of his games in CF, but is athletic enough to move anywhere on the diamond.
The Yankees have a history trading with the Diamondbacks (Notably: Didi Gregorius), and Marte is only making $4.8 million this season. The Yankees plan to stay under the $210 million luxury tax threshold, making Marte's salary even more intriguing. Inexpensive in price, but not inexpensive in terms of prospects. I truly can't think of a better player to add (cough, Cashman get going, cough), but Marte would require a haul.
Jesse Winker -OF – Cincinnati Reds
How about another 27-year-old left-handed outfielder destroying baseballs on his way to his first All-Star appearance? Jesse Winker has been kept a bit under wraps due to injuries before a monster first-half to this season thrust him into the spotlight. A first-round pick way back in 2012, Winker has hit at every level, but has only registered one season with more than 100 games played.
Through 366 MLB games, Winker has posted an OPS of .895 which seems to rise every day with the way he has been hitting. Now healthy and in his prime, Winker has been among the best hitters in baseball through the first third of the season, hitting .341 with 17 home runs and an OPS over 1.000.
Winker is a star and won't be a free agent until 2024. He's cheap, controllable, and raking. He's not the greatest fielder out there, but he's at least serviceable. Another guy who probably can't be attained without Jasson Dominguez, but damn it he's worth it.
Jose Ramirez – 3B – Cleveland Indians
The major caveat here, I'm not sure the Indians become sellers at the deadline. The Indians are currently 38-28 with a commanding lead of the second spot in the AL Central behind the White Sox. Despite sitting 10 games over .500, the contentious American League would have the Indians out of the playoffs if the season ended today. Cleveland is 16th in team ERA, 17th in runs scored, and ace Shane Bieber is now on the IL with a shoulder strain. Odds are, the Indians come back to earth, but that still doesn't necessarily mean they trade their superstar third baseman Jose Ramirez.
The switch-hitting 28-year-old would command the most value in a trade and it could be difficult for a small market team like Cleveland to extend him after his final team option in 2023. Jasson Dominguez would have to be the centerpiece in a deal like this, and it would take a lot more. Ramirez has finished in the Top 3 in MVP voting in three of the last four seasons and has team options of $11 million and $13 million in 2022 and 2023.
To make Yankee fans salivate even more, Jose Ramirez absolutely loves hitting in Yankee Stadium, hitting .455 with seven home runs in 18 games. A special power, speed threat who doesn't strike out much would do wonders for any lineup, but could just put the Yankees over the top.