Analysis
Tampa Bay Rays Offseason Outlook
The Tampa Bays Rays once again made the playoffs this year, but also had another early exit. What can they do to get over the hump next year?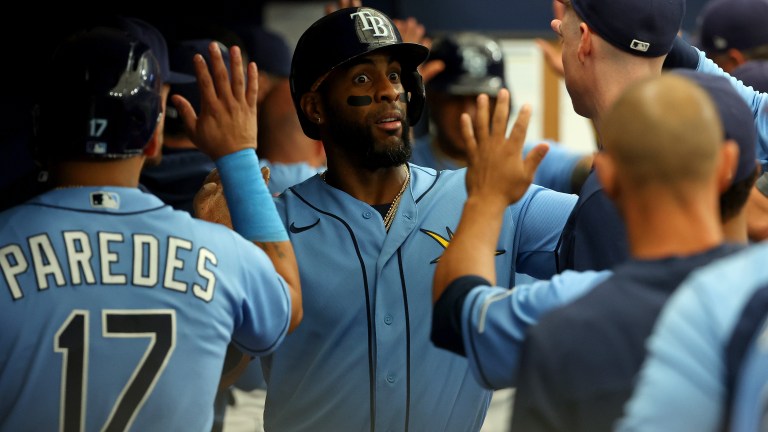 Year after year, the Rays continue to impress us with their ability to be successful, despite never having the "superstar" player on their roster. Yet, who are we to question it after the ability they have shown to be capable of developing their players at an elite level?
For the most part, it's an in-house development that has unlocked the All-Star potential in players. We have seen them draft, and develop, players like Shane McClanahan, Shane Baz, and Brandon Lowe. We have also seen Wander Franco make his debut, and make a huge impact on that lineup, despite missing the majority of this year with an injury.
What's the biggest advantage they have? Their ability to locate talent on other rosters, and transform them into reliable everyday regulars at the Major League level.
It was another disappointing end to the season for Tampa. After a season where their offense was surprisingly weak, accumulating a .239/.309/.377 team slash line, where will they go now to take that next step towards getting over the hump?
New Look Offense
Heading into 2023, there will, yet again, be quite a bit of new faces on this Rays team. Two notable players heading into free agency are Kevin Kiermaier and Mike Zunino. While neither is the "big-time" players that teams fear losing, they have both played key roles in the success that this team has seen over the past couple of seasons. Mid-season acquisition David Peralta will also be looking for a new home this offseason and will likely be playing elsewhere.
The inability to produce on offense is a big worry for this team. Franco being out the majority of this season definitely does not help this case, but it isn't all on the second-year player to carry the load.
Randy Arozarena struggled out of the gate and seemed to be able to find himself towards the tail-end of this season. Other lineup staples like Yandy Diaz, Brandon Lowe, and Manuel Margot all look to accompany Franco in the Opening Day lineup, but that's not going to be enough.
Over the past two seasons, we have heard rumors of the Rays doing non-Rays-like moves when they were reportedly trying to acquire Kris Bryant at the 2021 deadline. They did make a mid-season trade last season to bring in Nelson Cruz and had to part with a decent player in Joe Ryan to do so. They were also in the Freddie Freeman sweepstakes, but it never seemed as if it was actually an option for this ball club.
A big middle-of-the-order bat is what this team needs. A consistent power threat would piece this ball club together. Another thing they need to address is a starting catcher. There is one player this offseason that could knock out both of these issues with one signing; Willson Contreras.
Let's also not forget the young guys they continue to spawn. Jonathan Aranda translated his skillset to the majors, even in the limited chances he got. Another player about to break through is Curtis Mead who, like Aranda, can play multiple positions, and can consistently produce at the plate.
If Josh Lowe can correct his flaws, the Rays will look to be in a prime position to get back to putting out a consistent offense each day.
Do They Need a Five-Man Rotation?
For years the Rays have been able to piece together a "rotation" by relying on three full-time starting pitchers and working around them with the use of an opener. Since they decided to implement this system, we have seen the need for a strong bullpen grow league-wide.
Multiple teams have now attempted to recreate what the Rays have been able to do but without nearly as much success. Their process continues to work. Each year we see the emergence of successful relief pitchers come out of their bullpen on a nightly basis. Have we reached a point in time where they need to revert to a more "conventional" approach?
The emergence of the Shane's, Drew Rasmussen, and Tyler Glasnow has been incredible for this team. However, Glasnow has just made his brief return from Tommy John surgery, and Baz will be out all of 2023 after undergoing the same surgery himself.
Jeffrey Springs proved to be another reliable option for them down the stretch, but there's no guarantee he'll be as successful next year. They also brought in Corey Kluber on a one-year deal, as they did the previous year with Michael Wacha, and he provided them with what they hoped to get.
A free agent starting pitcher should be on the list for offseason needs and, based on their recent history, they will likely look for the next successful reclamation project.
Would Tyler Anderson or Andrew Heaney fit that mold for them? I believe they could.
The only knock on this idea would be that these two lefties will go into this offseason hoping to land multi-year deals after having successful seasons in LA. That is something the Rays are unlikely to do. If a one-year stopgap is what they're looking to revert back to, a veteran like Carlos Carrasco could take over the Kluber role (assuming the Mets don't pick up their option on him).
Offseason Outlook
The unorthodox approach the Rays take continues net them playoff berths, but hasn't resulted in much October success, other than their run to the World Series in the COVID-shortened 2020 season.
Inject a hitting catcher, continued development from their emerging prospects on the cusp, and one more veteran starter, the Rays could find their way back in the conversation as a team looking to challenge the rest of Major League Baseball for a World Series title.