Analysis
Video Breakdown: Rangers Jack Leiter is on a Hot Streak
While his minor league career hasn't gotten off to the start some expected, Jack Leiter is beginning to show signs of his elite potential.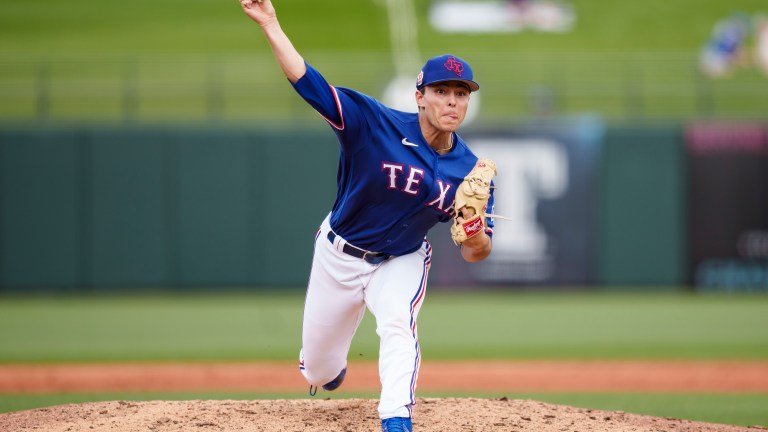 During the 2021 MLB Draft there was endless excitement for what Vanderbilt's Jack Leiter could become. When the Pirates took Henry Davis first overall it left what appeared to be a gift at the time for the Texas Rangers in the form of a talented righty with strong bloodlines.
They didn't hesitate and took Leiter second overall. The excitement to see him in a professional setting was off the charts, but we had to wait until the following season.
Finally the time came in 2022. Leiter was assigned to Double-A to start his career. A slow start turned into a slow season where he posted a 5.54 ERA with 109 strikeouts and 56 walks in 92.2 innings of work. He just never quite put any of it together.
Enter the 2023 season and Leiter's numbers look only marginally better at first glance. His ERA is 4.02 with a BB/9 of 5.46, which 0.02 BB/9 worse than a year ago. His K/9 is up nearly two strikeouts per nine at 12.21.
All that said, Leiter was the definition of dominance in the month of May. He threw 27 innings with 33 strikeouts and 13 walks while opponents hit just .148 against him. Prospect development isn't a straight line, so that performance in May begs the question of if he's turning a corner.
Here is a complete thread of this start.
Pitcher Profile
Leiter's calling card is his fastball. Out of college he was meant to have a close to unhittable fastball due to a low release height and high IVB. Those things are still present and he gets in zone whiffs on the pitch at a high rate.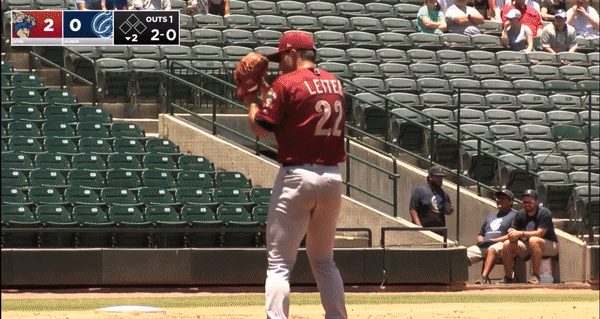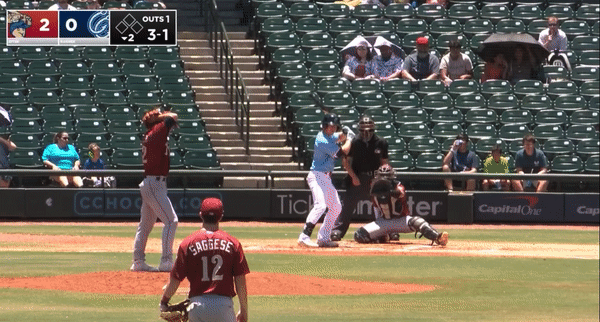 One of the biggest deterrents for me about this profile is that despite all the data backing, the fastball doesn't miss many bats. His command of the pitch is better than his other offerings, but it still isn't great at present. He shows the capability to hit corners, but tends to live in the big part of the plate pretty often. Hitters are able to sit on it and foul it off or drive it well. Both home runs surrendered came off the fastball.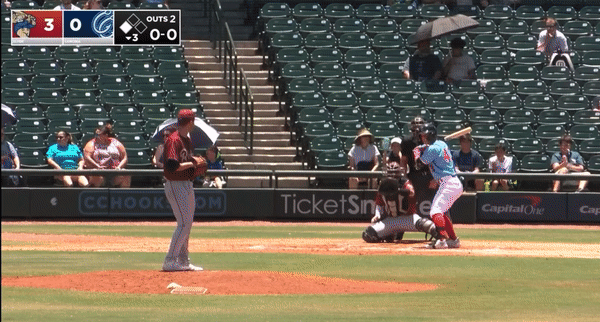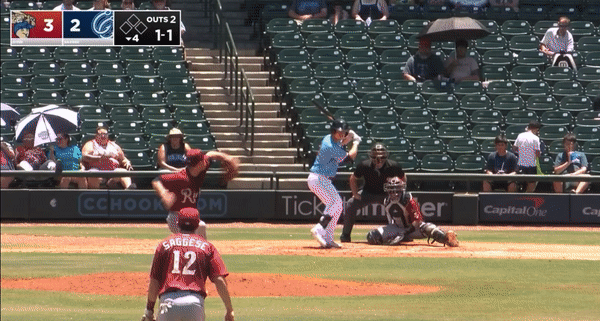 A hat tip to the pitch is deserving because it can be as successful as it is right now. Hitters can basically just sit on the fastball because Leiter has trouble with his offspeed command pretty frequently. The fact that he's able to only have the pitch fouled off more often than it getting barreled speaks to the uniqueness of the pitch profile.
While his fastball gets more than the lions share of usage, Leiter works with three other offspeed pitches: slider, curveball, and changeup. The most prominent of the trio is his slider.
In terms of getting whiffs, the slider is right up there with the fastball. In terms of command it's his most advanced pitch, too. He sequences it well off his fastball to get whiffs in the zone, sometimes in hittable locations.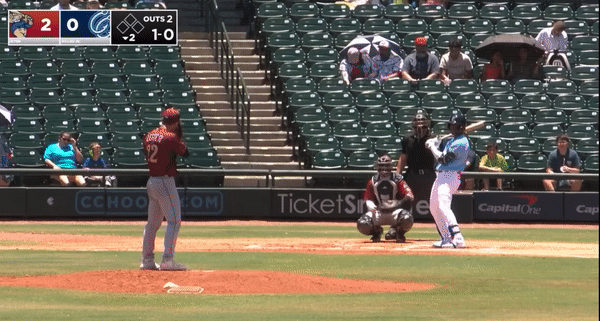 The curveball and changeup are not used as often, but he uses them to change pace. His curveball is prominent against opposite handed hitters trying to generate backfoot swings and misses. Same goes with his changeup, which is the clear fourth pitch at this point.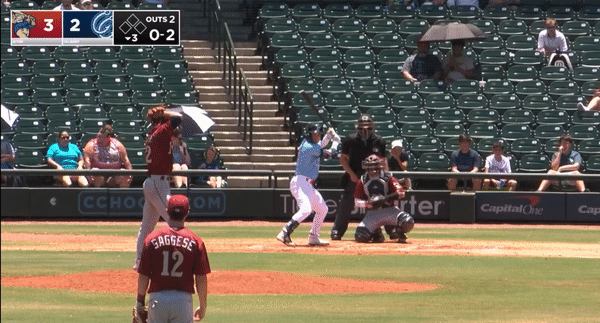 Projection
Leiter has a solid pitch mix, the eye test or data can tell you that. His fastball and slider both get plenty of whiffs in the zone. He just runs into trouble with his overall command. He has feel to be near the zone with his fastball, but also runs into issues with it catching too much of the plate. That's often a byproduct of being behind in counts and needing to find the zone.
His secondaries, outside of his slider sometimes, are where the command issues really start to arise. There were several occasions in just this one start where he spiked a non-competitive breaking ball in the left-handed batters box. That's the extreme example. Most the time he just isn't threatening the zone or he's catching too much of it.
The mega-star hype Leiter entered the league with covers up a couple key points. This is only his second year facing professional hitters after beginning with an aggressive Double-A assignment. There's a lot that Leiter is learning on the fly that he might've picked up pitching in the lower levels. He's also only freshly 23 years old. Again, prospect development is not a straight line.
Adjusting initial reports is necessary, but giving up on Leiter is not. There's more reliever risk involved right now than originally thought, but there's also plenty of starter upside.
From last year to this year there are clear improvements in how Leiter is attacking the hitters. That's a start. What's really going to determine his true upside will be how he reigns in his command. When he could live on the corners for a whole at-bat, he was simply unhittable.
When he's missing the zone early and falling behind in counts, things didn't go as well. Finding that extra tick in command of his whole arsenal will ultimately determine if this mega prospect will reach his mega upside. The pieces are there, but the puzzle is still being put together.