Podcast
Most Talented Minor League Baseball Teams For 2022
A look at the most talented rosters in Minor League Baseball.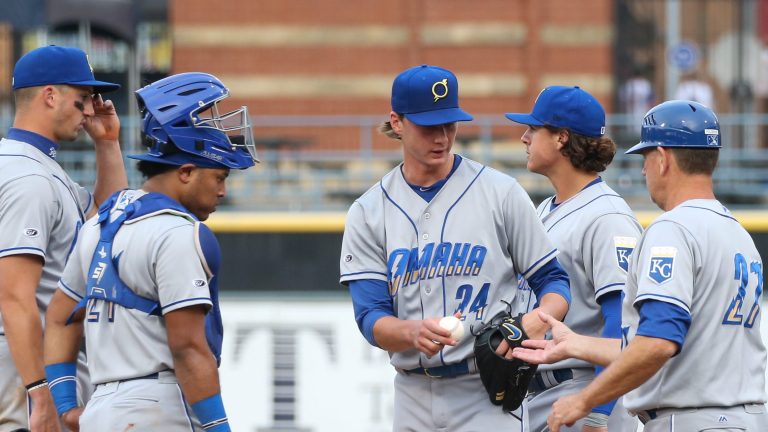 It seems like we say this every year, but the amount of young talent in baseball from the Major Leagues all the way down to the lower levels of the minors is as prominent as it has ever been. From the Low-A Salem Red Sox headlined by Marcelo Mayer and Blaze Jordan to the Triple-A Omaha Storm chasers led by MJ Melendez and Nick Pratto, here are the best teams in Minor League baseball!
Omaha Storm Chasers – (Royals Triple-A)
Notable Players: MJ Melendez (C), Nick Pratto (1B), Vinnie Pasquantino (1B), Emmanuel Rivera (3B), Austin Cox (LHP), Jon Heasley (RHP), Jackson Kowar (RHP)
Headlined by two top 50 prospects in MJ Melendez and Nick Pratto, the Storm Chasers have arguably the most lethal home run duo in the minor leagues. Add 230+ pound mashers Vinnie Pasquantino and Emmanuel Rivera to the equation and Omaha may just have the most powerful lineup below the big leagues.
Right-hander Jackson Kowar was unfortunately demoted after a disastrous outing for the Royals on Sunday and will likely spend some time in Omaha trying to recapture his dominance that helped him shoot up the boards as one of the top ranked pitching prospects in the Royals system early last year.
Austin Cox and Jon Heasley are intriguing pitching prospects as well, both of which enjoyed strong seasons in Double-A last year with Heasley even seeing some big league action.
Memphis Redbirds – (Cardinals Triple-A)
Notable Players: Matthew Liberatore (LHP), Nolan Gorman (3B/2B), Ivan Herrera (C), Luken Baker (1B/DH), Kramer Robertson (SS/2B), Juan Yepez (OF/DH), Alec Burleson (OF), Packy Naughton (LHP), Zack Thompson (LHP)
Top prospects Matthew Liberatore and Nolan Gorman lead the way for the Redbirds as both try to prove that they can help the big league team in some capacity this season. Given the Cardinals' thin pitching staff, it's more likely we see Liberatore make his big league debut first. The 21-year-old Gorman is poised for a big year after putting up respectable numbers as one of the youngest players in all of Triple-A last season.
Catching prospect Ivan Herrera is seen by many as the heir apparent to 19-year veteran Yadier Molina thanks to an exciting skillset and snippets of strong production. The 21-year-old will need to find some more consistency to prove that he can replace Molina next season making this a big year for the Panamanian backstop.
The Redbirds' lineup is deep with guys who can swing it as Luken Baker and Juan Yepez combined for more than 50 home runs last season while Alec Burleson climbed three levels in his first professional campaign.
Akron RubberDucks – (Guardians Double-A)
Notable Players: George Valera (OF), Bryan Rocchio (SS), Daniel Espino (RHP), Xzavion Curry (RHP), Jose Tena (SS/2B), Logan Allen (LHP), Joey Cantillo (LHP), Tanner Burns (RHP), Will Brennan (OF)
You'd be hard pressed to find a better pitching staff in all of minor league baseball, but on top of that, Akron has some extremely exciting bats as well. George Valera and Bryan Rocchio are two of the most highly regarded position players in the Guardians system while right-hander Daniel Espino is quickly making his case as one of the top five pitching prospects in baseball.
Xzavion Curry, Logan Allen, Tanner Burns and Joey Cantillo would be a good rotation alone, but fill in behind the electric Espino to give opposing teams zero nights off. Will Brennan and Jose Tena are two underrated prospects with an advanced feel to hit and could see their prospect stock continue to rise this season.
Montgomery Biscuits – (Rays Double-A)
Notable Players: Curtis Mead (INF), Greg Jones (SS), Taj Bradley (RHP), Kameron Misner (OF), Austin Shenton (3B), Niko Hulsizer (OF), Jayden Murray (RHP), Blake Hunt (C)
It was a given that the Rays would have a team on here and their Double-A squad may be the most loaded. Curtis Mead has become one of the best hit-tool guys in the minor leagues while Greg Jones continues to display his top of the scale athleticism.
21-year-old right-hander Taj Bradley was dynamite last season, pitching to a 1.83 ERA in 103 1/3 innings between Low and High-A. Jayden Murray was fantastic in 96 frames last year as well, pitching to a 2.16 ERA in 20 starts at the High-A and Double-A levels. Kameron Misner and Austin Shenton are two intriguing bats who were acquired by the Rays last year. Niko Hulsizer will hit tape measure shots on any given night and Blake Hunt (acquired in the Blake Snell deal) earns high marks for his defensive prowess and raw pop.
Tulsa Drillers – (Dodgers Double-A)
Notable Players: Andy Pages (OF), Michael Busch (2B), Bobby Miller (RHP), Clayton Beeter (RHP), James Outman (OF), Brandon Lewis (INF) Carson Taylor (C)
Starting with the tandem of top 100 bats, Andy Pages and Michael Busch are a ton of fun to watch in the batter's box. Another duo that combined for 50 home runs last year, both have the capability of launching crowd-silencing moonshots.
Bobby Miller and Clayton Beeter each have some of the best stuff you'll see as the former routinely hit triple digits with his fastball this spring and the latter boasts a pair of plus breaking balls that could work in a big league bullpen right now.
James Outman, Brandon Lewis and Carson Taylor are all different types of players, but all share the common ground of being underrated as a result of playing in one of baseball's best farm systems. All three prospects swung the bat well last year and are beginning to solidify themselves as potential MLB options for the Dodgers in the next year or two.
Frisco Roughriders – (Rangers Double-A)
Notable Players: Jack Leiter (RHP), Ezequiel Duran (INF), Justin Foscue (2B), Dustin Harris (1B/OF), Kevin Gowdy (RHP), Zak Kent (RHP)
Rangers top prospect and No. 2 overall pick in 2021's draft Jack Leiter is already worthy of the "must watch" designation every fifth day. Ezequiel Duran, Justin Foscue and Dustin Harris each enjoyed phenomenal seasons last year offensively, with the underrated Harris slashing a ridiculous .327/.401/.542 with 20 homers last season.
Duran, one of the centerpieces in the Joey Gallo return, has played his way onto many top 100 prospect lists with his exciting pop and developing approach. It is crazy that I am just getting to 2020 first round pick Justin Foscue, but that is how good the team is. Foscue lit High-A on fire, launching 14 homers in just 33 games last year before getting called up to Double-A Frisco.
Altoona Curve – (Pirates Double-A)
Notable Players: Nick Gonzales (2B), Liover Peguero (SS), Quinn Priester (RHP), Matt Fraizer (OF), Kyle Nicolas (RHP), Connor Scott (OF), Tucupita Marcano (INF), Jack Suwinski (OF), Lolo Sanchez (OF), Tahnaj Thomas (RHP)
A combination of drafted and acquired talent, the Altoona Curve have a deep roster with notable names. The homegrown middle infield duo of Nick Gonzales and Liover Peguero stacks up with just about any tandem in the minors while Matt Fraizer, Lolo Sanchez and Jack Suwinski enjoyed really strong seasons last year.
Both Kyle Nicolas and Connor Scott came over from Miami in the Jacob Stallings deal and should play a big part in Altoona's success this year. Nicolas has electric stuff and racked up a ton of strikeouts last season between High-A and Double-A while former first-rounder Connor Scott looks to gain his professional footing after a change of scenery.
Long regarded as a top 100 prospect, Quinn Priester has not quite made the leap many have hoped, but the 21-year-old right-hander was solid in his first full pro season. Tucupita Marcano was a bit of a surprise to see on the Double-A roster given the fact that he spent all of last year between Triple-A and the big leagues. While the demotion is disappointing for Marcano, he adds to a noteworthy roster.
Eugene Emeralds – (Giants High-A)
Notable Players: Marco Luciano (SS), Luis Matos (OF), Jairo Pomares (OF), Kyle Harrison (LHP), Hunter Bishop (OF), Patrick Bailey (C), Casey Schmitt (3B), Nick Swiney (LHP), Luis Toribio (1B/3B)
This team has FIVE top 100 prospects along with a couple others who could be knocking on the door. Marco Luciano and Luis Matos are two of the best prospects in baseball under 21 years old while fellow 20-year-old Kyle Harrison has solidified himself as one of the most exciting young southpaws in the minors.
Jairo Pomares and Patrick Bailey add to the loaded lineup as two back end top 100 prospects along with former first rounder Hunter Bishop who is looking for a bounce back campaign. Casey Schmitt, Nick Swiney and Luis Toribio are comfortably inside the Giants top 20 prospects and are names to watch moving forward as well.
Salem Red Sox – (Red Sox Low-A)
Notable Players: Marcelo Mayer (1B), Blaze Jordan (3B), Wilkelman Gonzalez (RHP), Niko Kavadas (1B/DH)
Widely anticipated to be the first overall pick in last year's MLB Draft, the Red Sox were thrilled when Mayer fell to them at the fourth overall selection and now Salem Red Sox fans will be able to reap the benefits.
The dynamic Mayer may not spend too much time in Low-A, so if you live in the area, now is the time to go watch the Salem Red Sox. Blaze Jordan has been a YouTube sensation since he was a young teenager by hitting mammoth home runs that defied what we thought someone his age was capable of.
Jordan received a big over-slot bonus in the third round of the 2020 MLB draft in order to entice him to forgo his commitment to Mississippi St. Since breaking in with the Red Sox, Jordan has proven that he is much more than a YouTube sensation, but rather a legitimate pro prospect who can still hit those tape measure shots. Speaking of tape measure shots, Niko Kavadas is capable of making any yard look small with his plus plus raw power form the left side.
Wilkelman Gonzalez is one of the highest upside arms in the Red Sox farm system and after throwing just 17 innings in Low-A last season, we will get a full season look at the talented 20-year-old.